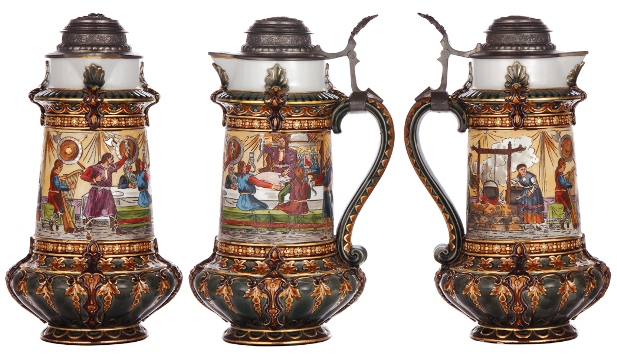 RORSTRAND STEINS / MUGS / SERVERS

Not much has ever been written about this Swedish company that has made porcelain beer drinking vessels, (faience very early on) and not too many of them it appear on the market. Most were hand decorated. The home page for brand new items is:  http://www.rorstrand.se/
A little of the old firm's info is on: http://www.steinmarks.co.uk/pages/pv.asp?p=stein1
Large 3 liter porcelain beer server with hand painted scene of Laplanders. The old pewter lid has been added. [Ex- FWTD]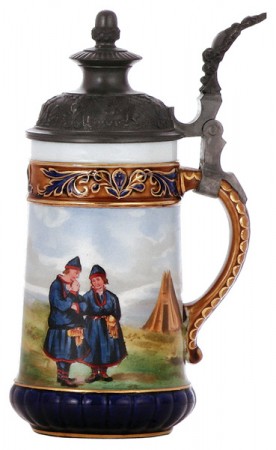 The matching hand painted, half liter mug, now stein with added lid.  Notice the tent has moved in this scene;  just artistic license.
.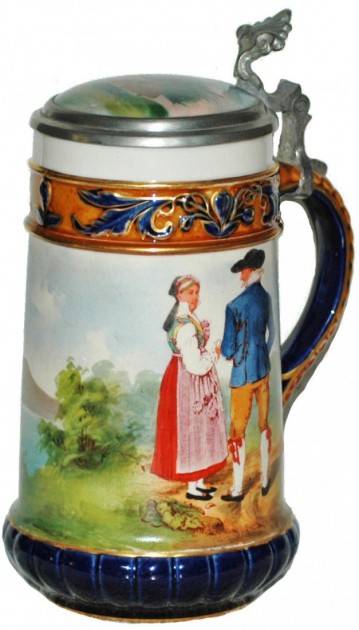 Another in this slanted sides series of Laplanders, .5 liter. Hand painted and again with an added lid! (A not  good  match too!) [RFA]
Both of these two pieces above have had their lids added within the last 25 years (most probably done by Don Doughtery [md. -RIP],  Jack Rives [pa.- RIP] or David Harr [conn.] all were in  SCI.  See "Links",  this web site.)
They perhaps are more appealing with lids, and they usually sell better, even though not original to the pieces. Most US beer stein collectors are very strange! They won't buy a V & B Mettlach without the correct lid, but they would buy these with one.
.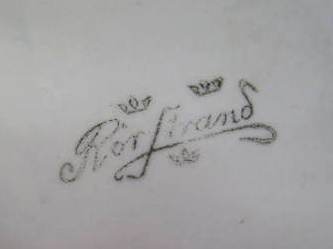 The mark on 13 inch tall incised beer pitcher shown above.
Below: One of the  set that goes with the pitcher above. Notice the darker top of the mug than on the one just below.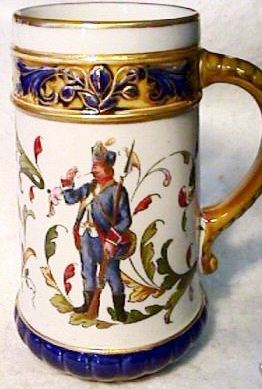 One of the matching engraved half liter un-lidded mugs that goes with the server above,  or by itself.
.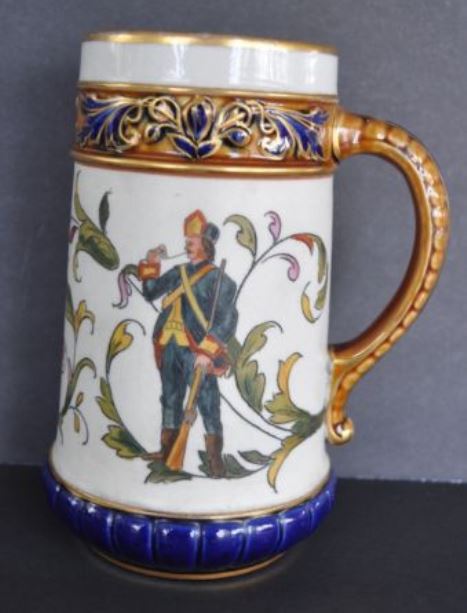 WITHOUT THE BAYONET.  PROBLY THE EARLIEST EDITION.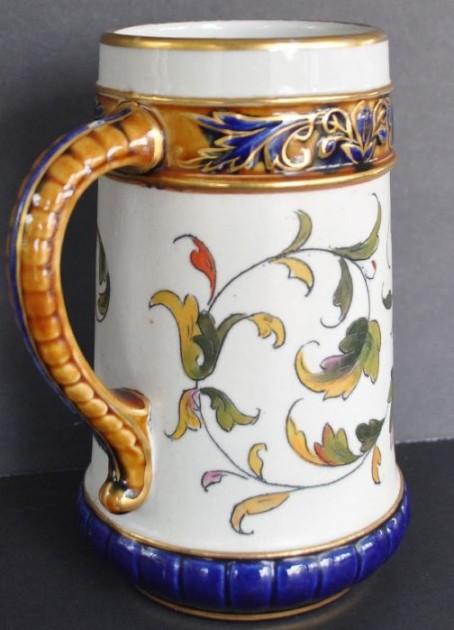 Rear  design
The below photos ▼ show the detail work on the sides for this set..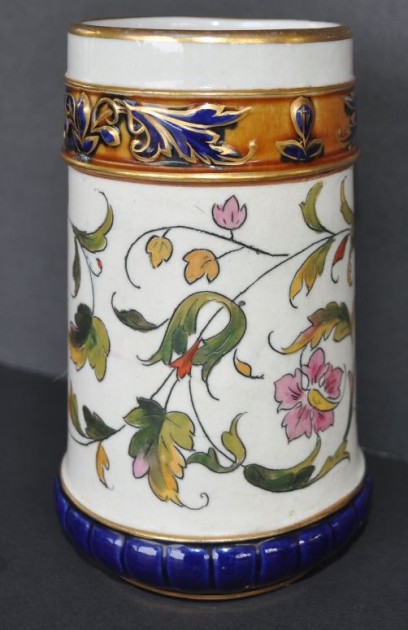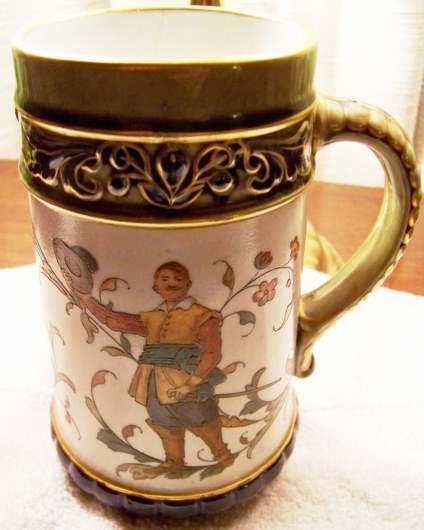 Yet one more variant of this series of soldiers; handle and ring on the top of body are colored differently.
.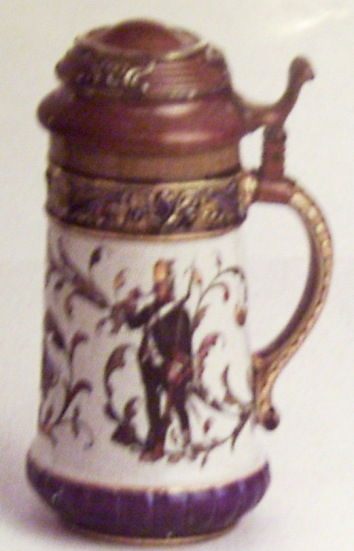 Another set. This body sides appear to  slightly slanted whereas  all the others are mostly straight sided. see photo 4 and 5 just below ▼.  This shows the same soldier as on the body, in photo five up ▲ 
This mug has had a Lenox  (USA) Copper and Silver lid added to it at a later date, whick I think doesn't match at all.   (Sorry = this is a Catalog photo.)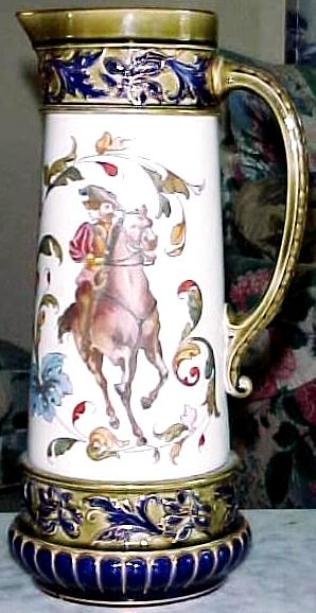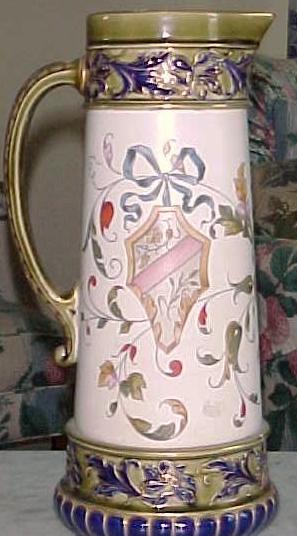 Server – 13 inches tall with slightly different top and base colorations, with the same leaf designs, and of course the different main scene of the horseman. [FWTD]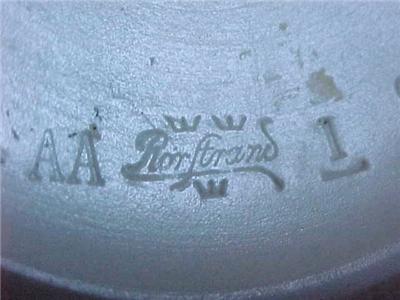 An additional mark on the server above.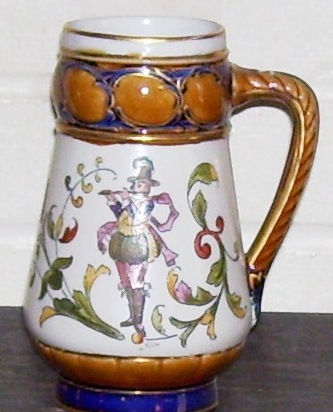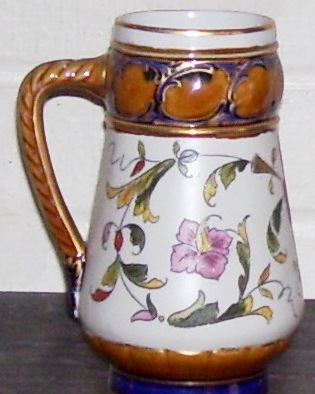 An engraved piper – another series  [with slanted sides and with large painted raised circles around the top. of probably the soldier's series of design  [?], = time will tell;   [FWTD]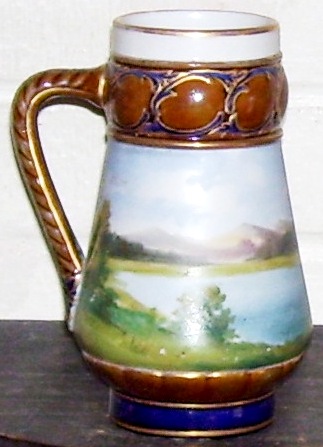 Another series with the large painted raised circles on the top row. Same body style as just above, but hand painted, and not body engraved as just above. [FWTD] Also a different series than that shown in photos No. 2 and 3 above.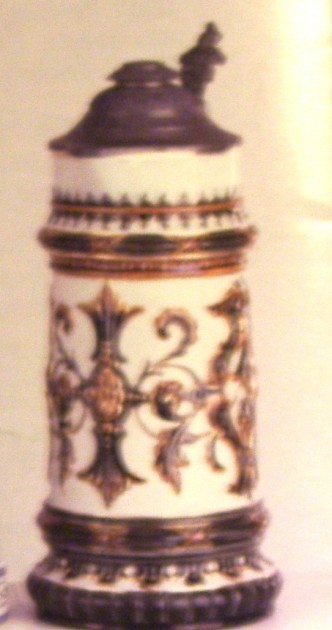 Server = from an old catalog photo – no data available at present.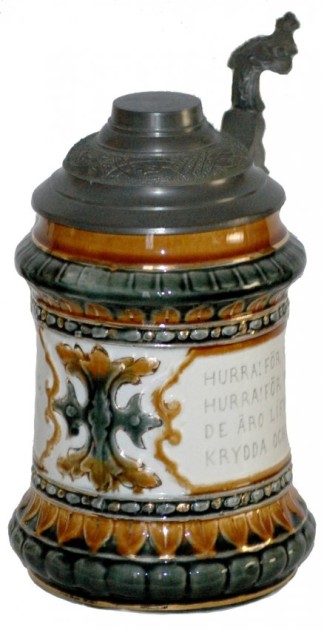 1/2L.  Relief by Rorstrand. Verse and floral.  Similar to the server above ▲ but not part of its set. [RFA] replaced
GNOMES ▼  ▼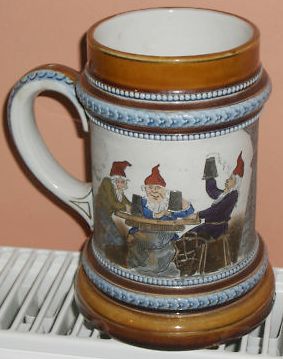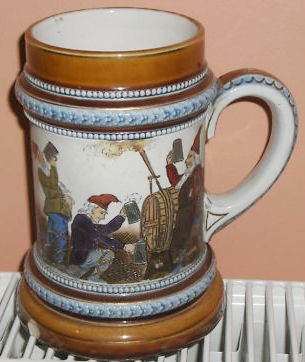 Gnomes / Dwarfs – There is another of thees where  the handle is placed on the other side, probably as part of a set.  (See another of the series in the old catalog photo below.) [FWTD]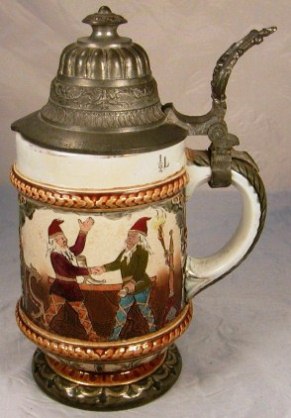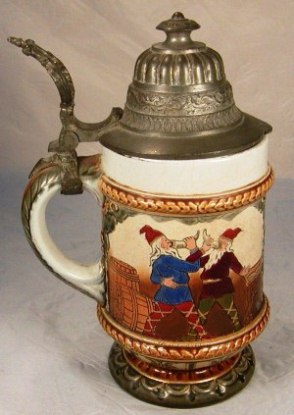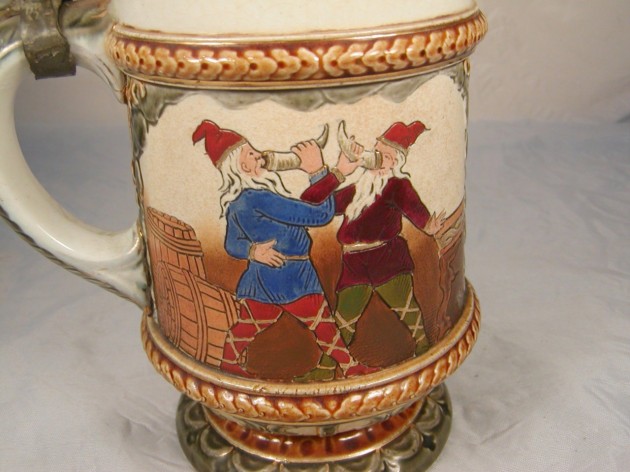 Detail of the Rorstrand gnomes toasting with small drinking horns.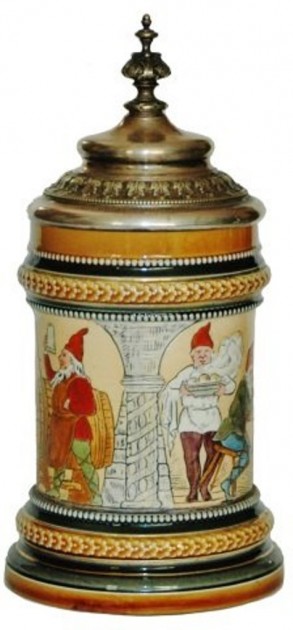 A much different body design with a silver plated lid., perhaps added by a local silver smith  [rfa] — .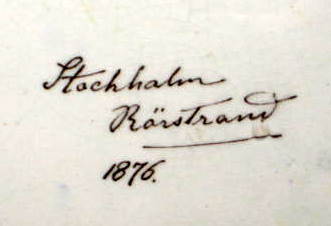 The mark on ball footed  Majolica looking piece just above. It has a set-on-lid.
.
Same beer jug  ▼, but done in different colors. As found  = no lid !
.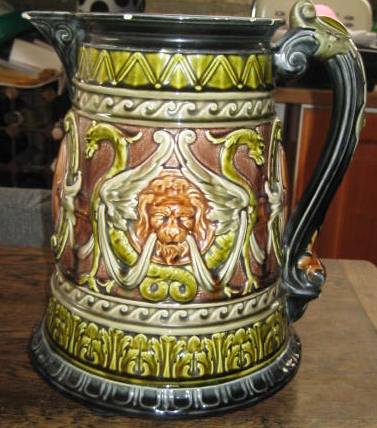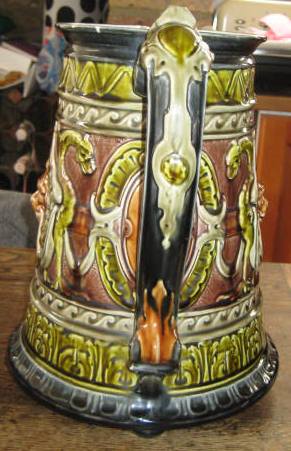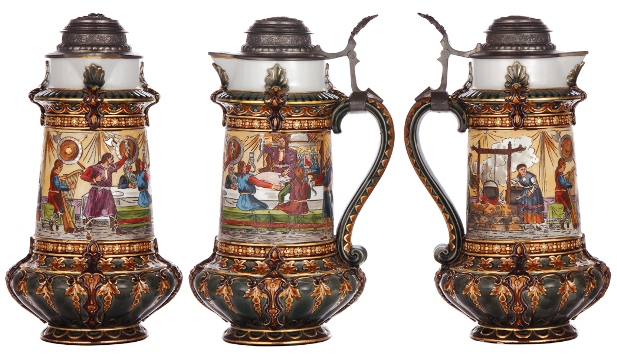 Just released  (2-2012.) a 3 liter master stein   I think the lid may have been added later, but they did an excellent job. One of the most colorful servers seen and not just for Rorstrand. [tsaco]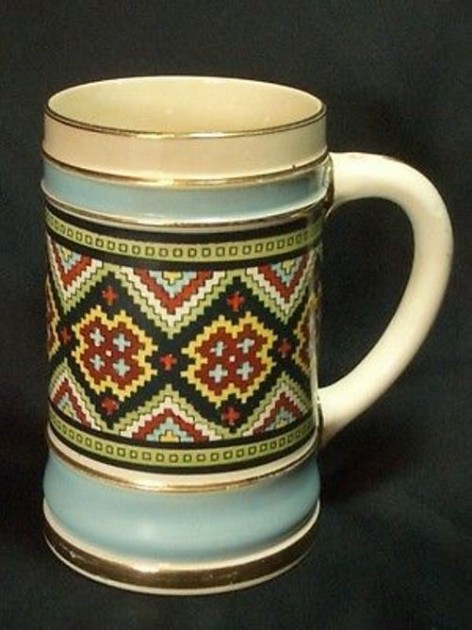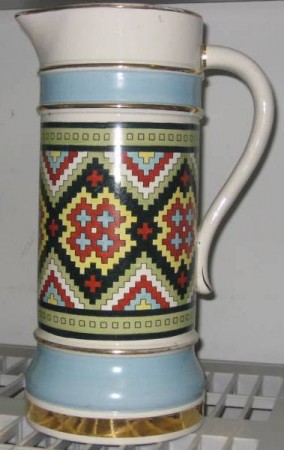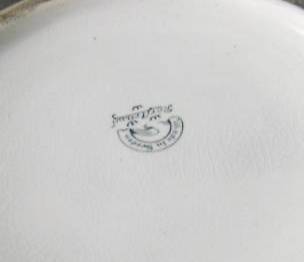 Mark found on the quilted design pitcher above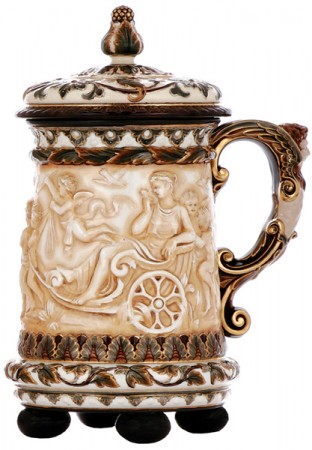 A 13 INCH TALL  [3 liter?] server or display "set-on-lid." The classical Roman scene done in an Ivory type majolica finish, with gilded outlines.  Mark not available.  I think circa 1880's.[FWTD]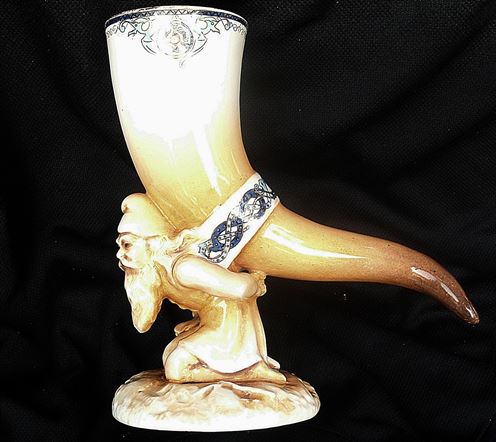 As a dual purpose  item ▲  ▲, either a drinking vessel  or a vase.; this mold with many color combinations was one of the company's best sellers .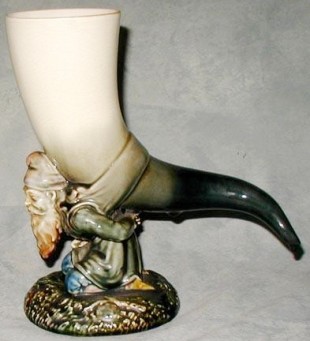 [L] Small drinking horn with the gnome supporter that one can pick up to use! This is most often found  in the same colors as the beer mug next to it.   [R] Beer mug with gnome; one of my favorites
15.5 inches pokal Dated on bottom  '1876.'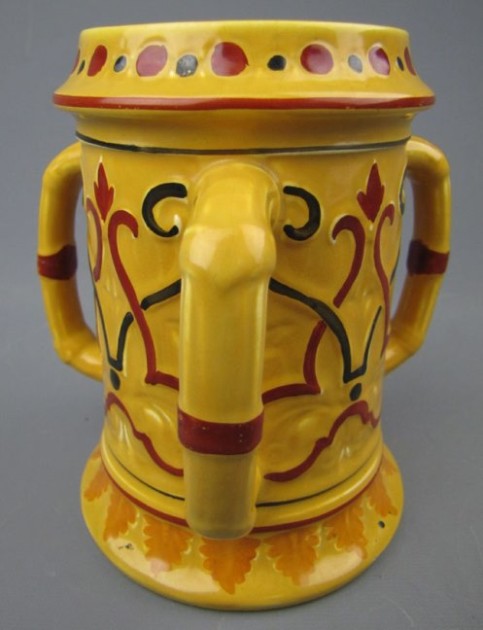 The Swedes perhaps made this "TYGE" for the English market or at least the tourists. I cant say the design does much for me,  but then  I liked the way Rene Zellweger  looked before!!
.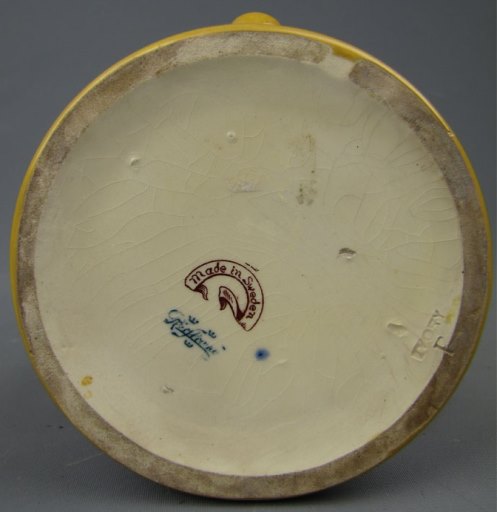 Marks on the  "tyge."
MODERN STYLES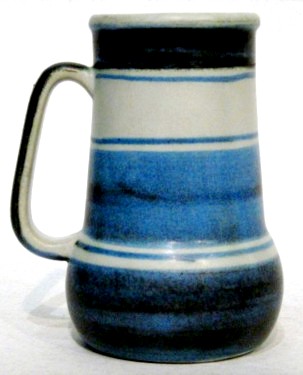 A modern Rorstrand beer mug, 1960's, 6.3 Inch. (Not quite the same collectable desirability, hey?)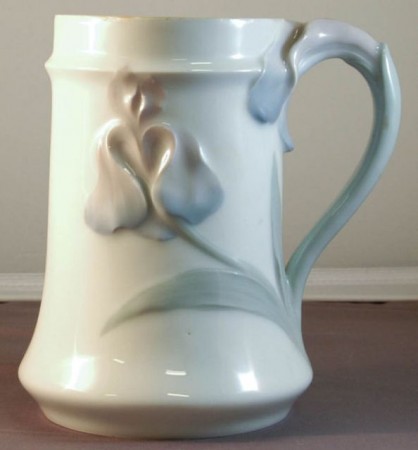 A lady's beer mug ; another of an earlier vintage, Circa 1920's (?)
For more information on this firm please go to:  http://www.steinmarks.co.uk/pages/pv.asp?p=stein666
[ AWPD –  SOK — 61 – 3D]
WISH  TO CONTACT (STEVE) STEPHEN  ?  =

"Life's tough   It's even tougher if you're stupid."
.