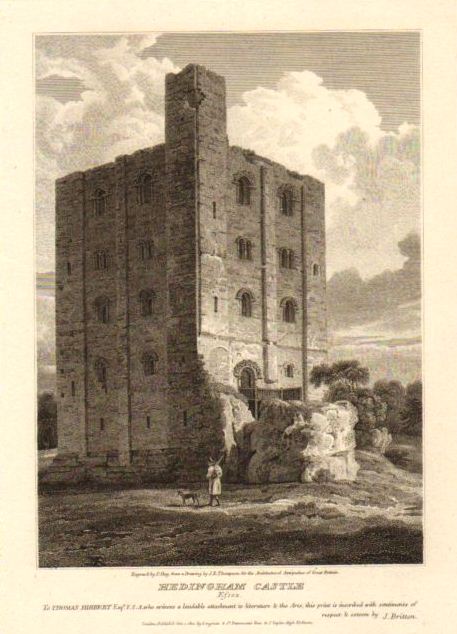 The Castle Hedingham – Circa 1810.
---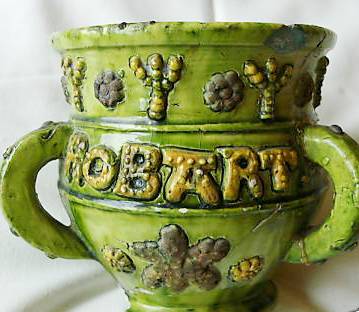 Castle Hedingham ware tyge / pass cup.
For more info on "Pass Cups" please see: http://www.steveonsteins.com/pass-cups-a-short-history-new-12-26-10

 Castle Hedingham was an art pottery studio founded by Edward Bingham at Castle Hedingham in Essex, England in production from 1864 to 1901 and made in a style reminiscent of medieval and Tudor wares.
Shown below: Signature and one of his marks = a real castle, not a "chapel" as on the V & B Mettlachs!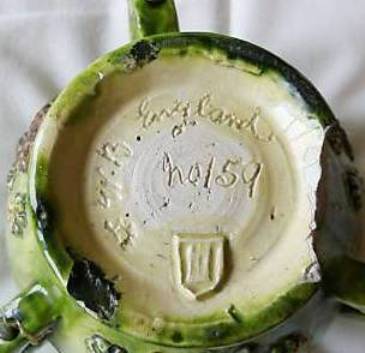 ---
MORE FROM  WIKI :
Castle Hedingham Pottery was an art pottery studio run by Edward Bingham at Castle Hedingham in Essex, England.  Bingham produced his Castle Hedingham Ware from about 1864 until 1901. It was made in a style reminiscent of medieval and Tudor wares. Bingham produced some large items, with 'Essex' jugs up to three feet high being typical.
Edward Bingham, born in 1829, was the son of a Lambeth potter who had set up in Gestingthorpe, Essex making mostly functional ware. The family moved to Castle Hedingham in 1837. Bingham assisted his father in his business, while experimenting with more artistic wares. He received commissions from some influential people, including Sir A.W. Franks, but the initiative was not commercially successful, and in 1859 he opened a school. After five or six years he returned to potting full-time, and in 1864 had five or six boys as assistants. In 1894, he showed his work at the Art and Industries Exhibition at the Albert Hall.  
Bingham passed the business on to his son in 1899. It was sold two years later to Hexter, Humpherson & Co., of Newton Abbot, and operated under the name of the " Essex Art Pottery" until its closure in 1905. 
The pottery is somewhat similar to Elton Ware pottery made by Sir Edmund Elton of Clevedon Court in Somerset at about the same time. However, Elton was more adventurous with his materials and experimented with slip as well as specialist glazes including a striking development of the crackle glaze. Castle Hedingham pottery was less refined in its finish.
There is a good collection of these wares in the Colchester & Essex Museum.
For much more into on the E. Binghams (as there were three) please go to: http://www.studiopottery.com/cgi-bin/mp.cgi?item=377
BEER  MUGS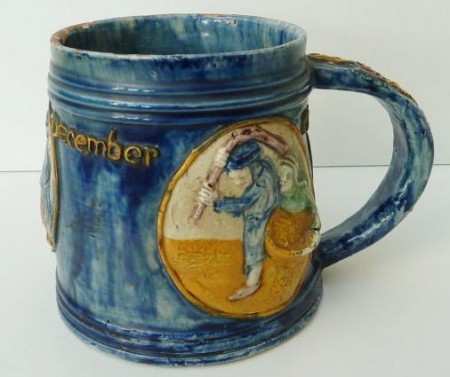 Beer mug with "December" and painted roundels. A monthly series?
---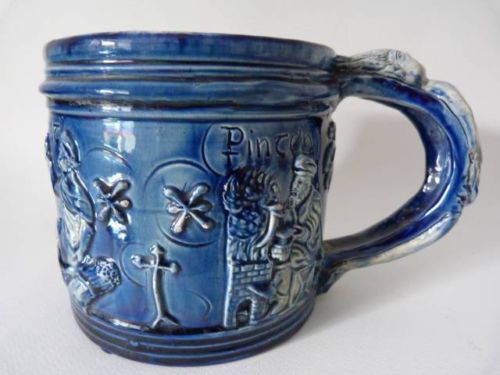 Shows scenes of the seasons .5 inches tall.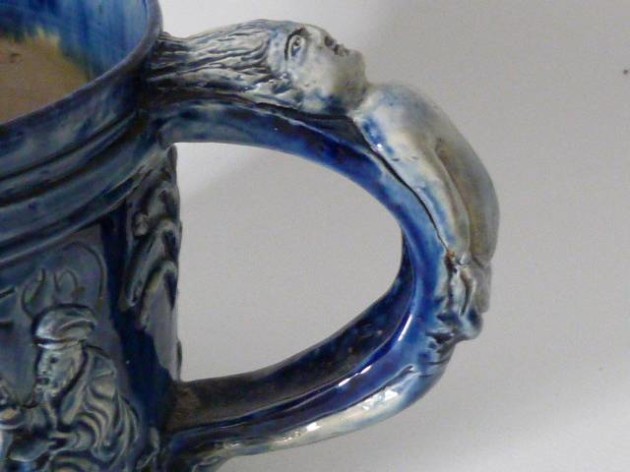 Detail of applied relief on the handle
---
Raised decoration of hop vines and tied up corn.  Length 17cms and 14.5cms tall.
"If you daily drink your fill. There'll be no need to make a will."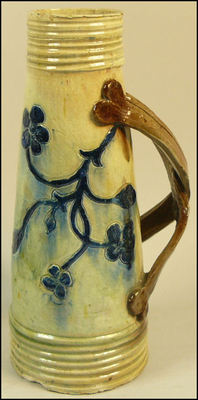 10 In. Seigberg style vessel, but with handles. Ca. 1860.
.
BEAKERS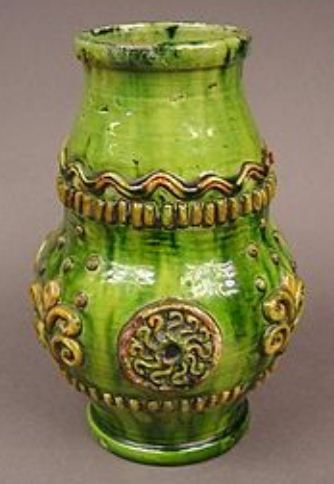 Castle Hedingham beaker – unknown size, with the very popular green glaze color.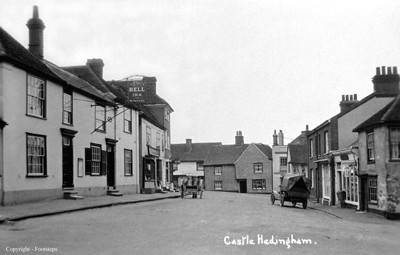 Town photo of  Castle Hedingham, Essex. Date is ?
SMALL BEER SERVERS  – APPLIED FIGURAL HANDLES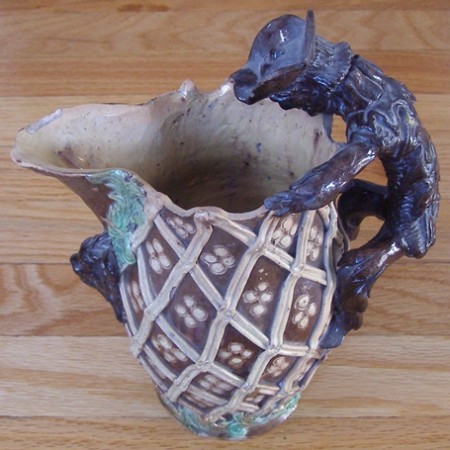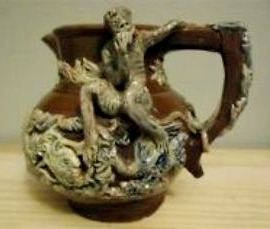 Ale jug – 7 Inches. With applied monkey or "Wild Man,"  Ca. 1870 (needs a better photo.)
For info on the "Wild man" see: http://www.steveonsteins.com/the-green-man-vs-the-wild-man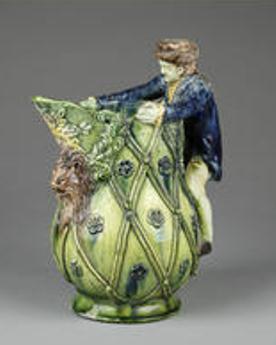 OTHER TYGS /  TYGES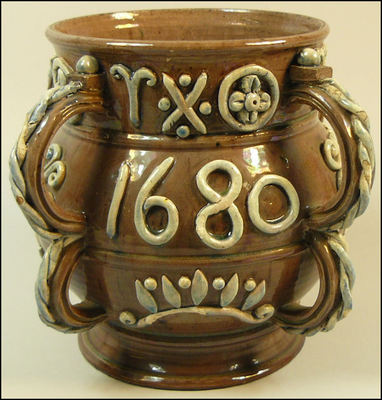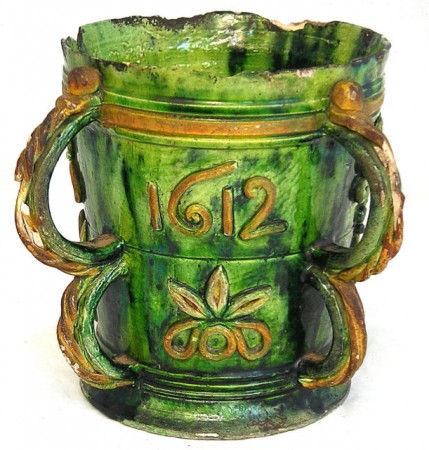 7  inch tyge with applied decor and handles with added relief.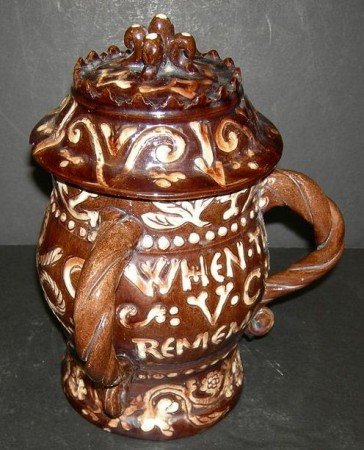 Tyge with lid, very unusual!
---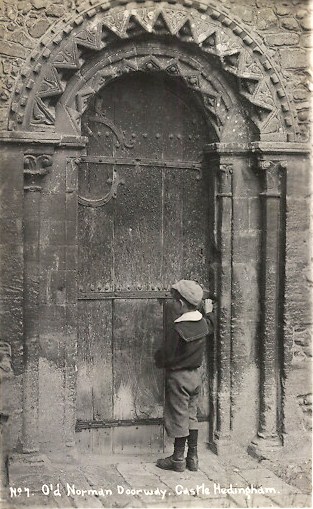 The Norman doorway at the Castle.
---
SERVERS / REGULAR BEER OR  ALE JUGS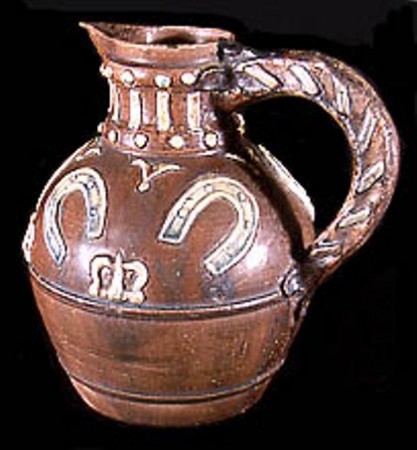 Height 160 mm / 6.4 inches – [Photo comps of the Ashmolean Museum.]
---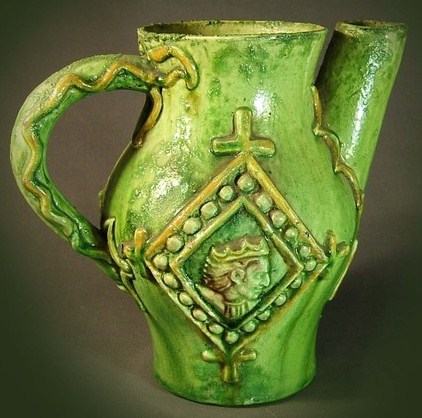 ---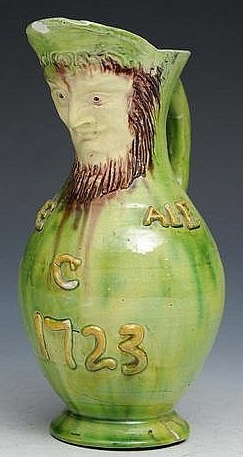 Server  with grotesque lip, slip applied "Fine Ale C 1723" to the body, pottery stamp and incised initials. 7.25 high.
---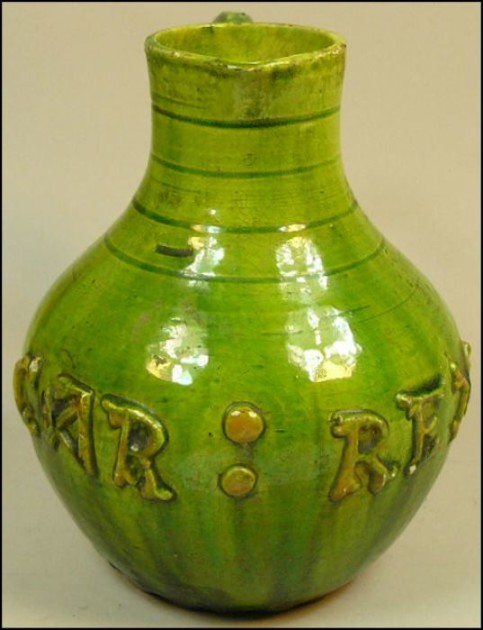 Along the same line as the one just above this but with nicer lines and style I believe.
---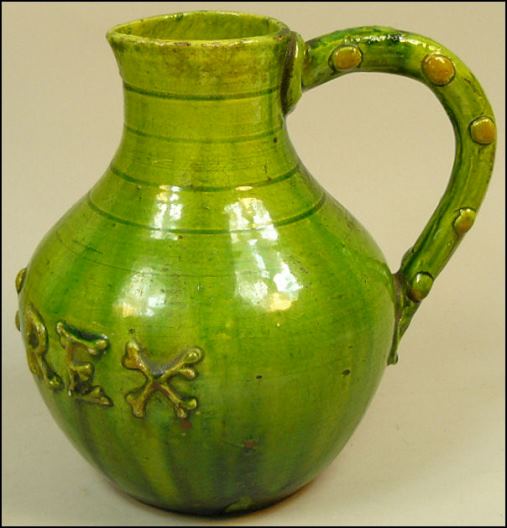 ---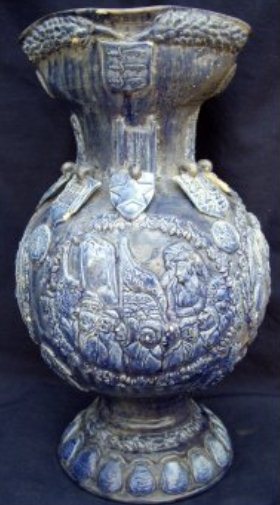 15 In. Castle Hedingham beer server with a blue glaze. Embellished with scenes from Essex history.
---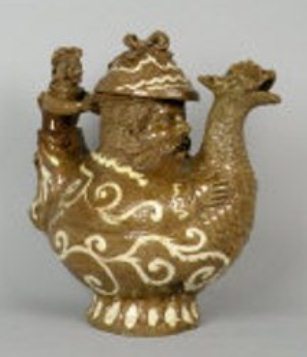 Fanciful wine [?] server. Notice the head on the body also. Height approx 26cm  / 10.4 inch high.
---
One of their best made beer / ale servers. 10.6 In.
---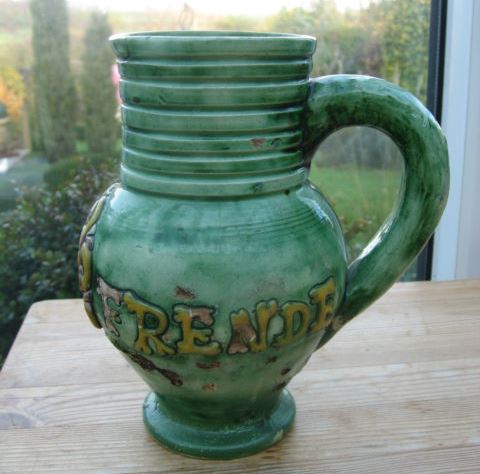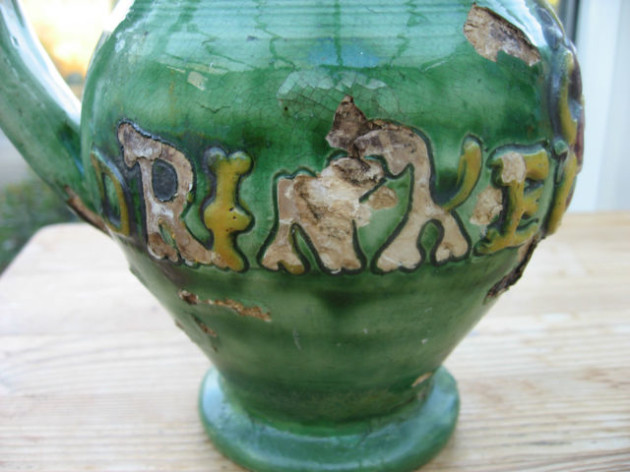 19th. CENTURY CASTLE HEDINGHAM JUG, PERHAPS  A BIT BEAT UP  !
---
PUZZLE JUGS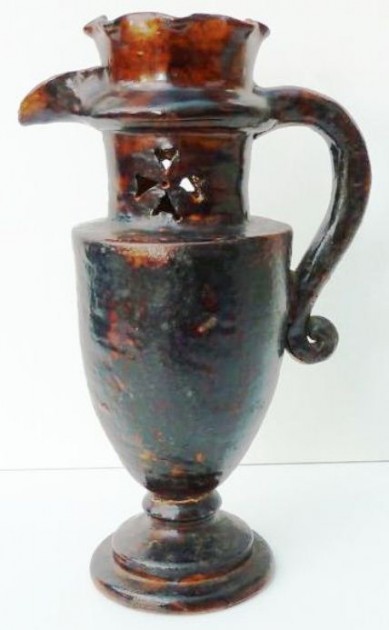 Castle Hedingham, E. Bingham Pottery Puzzle Jug,  7.2 In.
For more on puzzle mugs / jugs see: http://www.steveonsteins.com/in-the-near-future-2-1-2
---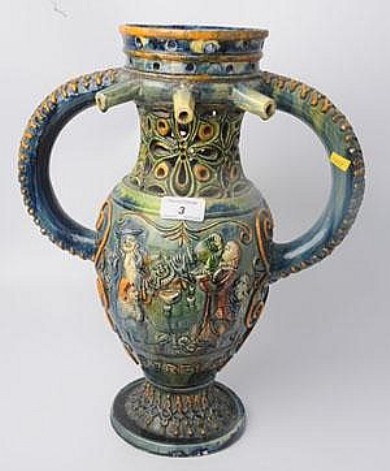 A very large Castle Hedingham pottery puzzle jug. 10.6 inches tall. [Photo: Reeman Dansie auction, Eng.]
---
[SOK – 29 ]


   Evening news is where they begin with 'Good evening', and then proceed to tell you why it isn't.
BELOW ADDITIONAL PHOTOS NEEDING TO BE CORRECTLY POSTED WHEN STEVE FINDS THE TIME.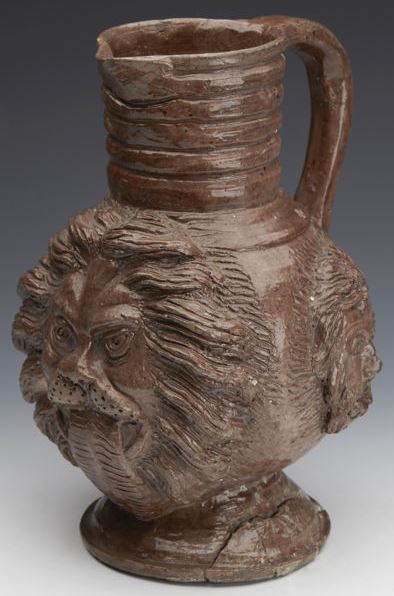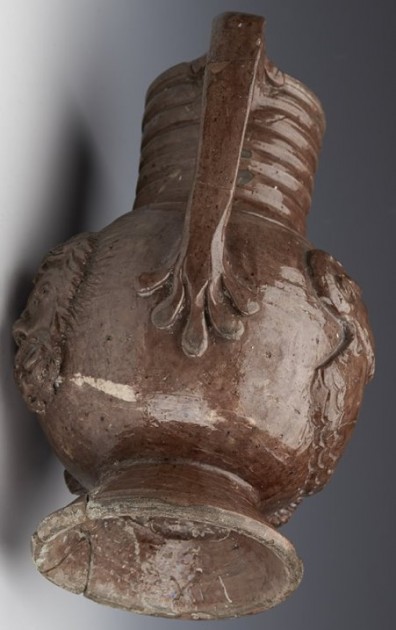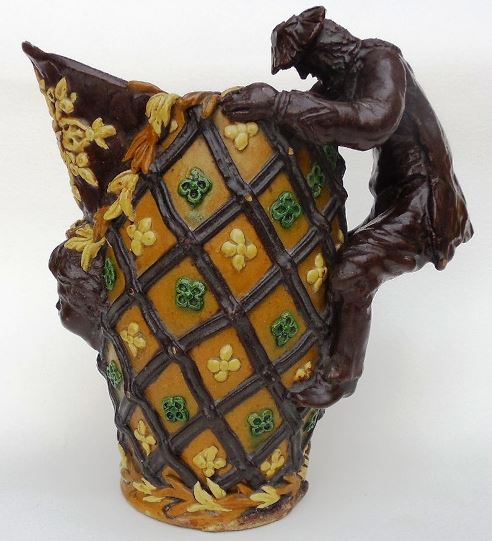 There is a different colored version of this one above.