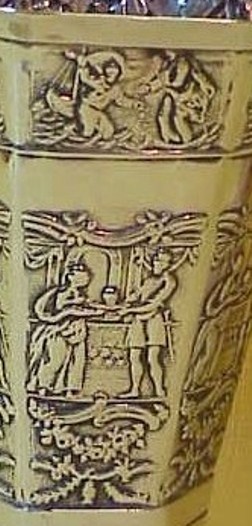 TALE NO.  1 –  "IT WAS ADVERTISED AS:  "DUTCH 830 SILVER RENAISSANCE,  Stl , 19C,  GOBLET"
VERY SCARCE HEXAGONAL BEAKER FROM ROSTOCK, GERMANY, CA, 1600'S [FWTD]
IT WAS ADVERTISED AS: "DUTCH 830 SILVER RENAISSANCE Stl 19C GOBLET." (A) "Fantastic "vase" made in Holland from the standard of 830 silver c1890 – this piece has a hexagonal shape – the rim is chased with a scene of a boy holding his boat with an adult –  below there is a maid offering a drink to a night (sic), below there are floral chains."
NOW TO WHAT IS REALLY IS: A .800 silver drinking beaker, hexagonal in shape. (Sterling silver is .925, — .800 silver was / still is the German Standard.) The beaker is five and one quarter inches tall. The same two religious scenes, one above the other are on each of the six sides.  The top scene [called "a boy and his boat"] one inch tall, is of Jesus, while he is walking on the water and is extending his hand out to St. Peter while he (Peter) is sinking into the waves for his lack of belief.
The bottom and larger scene  (Called "a maid offering a drink to a night (sic)",  made me fall off my computer chair laughing !!)  . is two and three quarter's inches tall shows King Herod presenting the head of St. John the Baptist, to Salome (the daughter of Herodias) (see: Matt. 17: 8-11); scrolling designs to the bottom.
There is a single hallmark- middle of one the top lip sections – from Rostock, Germany, within the 1600's. (See Tardy's, International Hallmarks on Silver, p.46 and Wyler's, The Book of Old Silver, p. 406 for near identical marks.Assay mark 1  is located center of bottom; 'knight with initialed helmet, with 'M'.  Used 1814 to 1906, see Druk's, Nederlandse Goud-en-Zilvermerken, p. 46, bottom No. 2. Assay mark 2 is located top middle of upper scene in panel to right of hallmark; 'lion with 2', used 1814 to 1953, see Druk's (as above) p. 45, No. 6
Condition: Original joining of the six panels not exact, making some panels slightly higher or lower than the adjacent one. All scenes are slightly worn – faces indistinguishable, but the background is very much intact. Minor scratches and wear throughout.  Small repair with solder in between two of the panels, by lip. Commensurate with age; now approximately 400 years old!This  wonderful little drinking beaker started its life out in Rostock, Germany, probably in the mid 1600's, and as indicated by the twice (later) assayed body, ended up in the Netherlands many years later. It was probably assayed twice as it has no other defining silver content marks on its body. As Rostock was a major sea port, located on the Baltic Sea in the far north of Germany, this beaker was perhaps purchased as a Christian religious gift for a wife or daughter by some Dutch sea going Captain during his travels. Hexagonal beakers are rare, perhaps because it required talent to drink out of them from the corners with out spilling the contents. The Metropolitan Museum of Art, New York, offered a reproduction of a Dutch Hexagonal beaker in its catalogs during the 1990's. It was billed for modern day use as a flower vase.
So fellow collectors,  tune you eye onto these things and what ever you do, don't believe everything you read !
TALE NO.2  – "SOME SAY IT'S ALL ABOUT ONE-UPS(WO)MAN SHIP!"
[From the Vault Keeper, not the owner.  Collectors!~ If you have a favorite story about one of your silver steins / tankards please send it to me and we may put it into "The Vault"]
It all started when my friend (the name is being with held to protect to innocent) got an auction catalog in the mail during February 2005. While reviewing it a lot caught her eye briefly as it was of a style of stein from Scandinavia with ball feet that she particularly likes.
The lot's description said: "SILVER STEIN 1.5L -11.5" Mixed metal 1650 grams, touch marks on the edge of lid. Elaborate overlay design includes lion, eagle and fish within foliage and cherubs. Three ball feet. Matching lid. Good condition  $1400-$2200."
Well our Miss looked at it again over the course of the next few weeks and never followed up on any questioning because of this auctioneer's quote about "mixed metals", and "good condition."  Now having dealt with this auction house before she should have realized they really doesn't know what they are talking about when it come to silver and they usually over rate their condition report.  She should/could have asked them to supply her with the marks; which in the past they have seemed to be reluctant to do,  (or she could have contacted me) but she didn't,  as she was already making a rather substantial monthly payment on another stein; so  she decided not to follow up on this one and then didn't bid.
The day before the auction closed a fellow collector whom  "the vault keeper" will call "Mr. X" sent her an email, along with a few photos saying he was going to bid on that lot and what, because she sometimes does silver appraisals,  did the Miss think of it?  She  didn't answer due to other time constraints in her life at the time.   A few days later "Mr. X" emailed her again saying he had bought the piece with a final bid of  $4,347.00 and would she mind looking at it and telling him what it was, or what she thought it was?  If not, he would have the auction company ship her the stein directly and save time and effort.  "No problem, have them send it to me" was the answer.
The stein arrived and she pulled it out of the box and immediately was struck with two things: [1] how damn big it is (she  had missed that in the lot description) [2] how dirty and corroded it is! Soon after, she looked at the surface of the stein's silver overlay design and then the body of the stein underneath this overlay and concluded that the whole thing has been lacquered in the past. This makes the silver on top dark due to outside wear and tear and oxidation under the lacquer, while the side of the body, under it, was still bright. This  she felt would account for the description of "mixed metals" as the surface colors are completely different now after 100 or so years.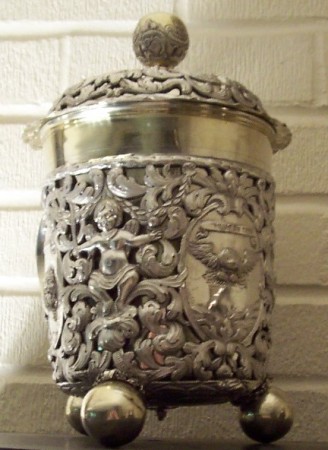 So the next day I was called in to help an old friend.  When I was asked to look at the marks I get out my eyepiece and the first thing I saw was the "Moscow mark" (St. George and the dragon) with the date "1762" on it.  When I told her that,  I heard,  "Damn, damn, damn", she was already kicking herself in the butt mentally for not even bidding on the piece. Without us checking this piece out any further at this time  she went to her computer  and emailed the owner and asked him (without telling him any of the above) if he wanted to sell it to her for what he bought it for – plus a modest increase for his time and effort He wrote back  if a few days and said "Nope", and so dashed her hopes for adding this piece  to the fine collection of silver pieces she had already amassed.
During the next week  I drove to her home and took along  my major Russian silver mark reference book (written in Russian but the French name is on the inside cover: "L'OAFEVRERIE ET LA BIJOUTERIE, AU XV –XX SS.  (territoire de la Russie) — MOSCOW 1995" = "The Silversmiths and Jewelry Makers of the 15th to 20th centuries – (Territory of Russia)" and we did the necessary research. We found out who the silver smith [T. C] was, worked 1752-1802 and the trustee (A.A over K) – was Alderman, K.A.  1762-91. The assayer's mark was [B.A] and he worked 1760-94. All this mark info fit together time-wise and was readily available on the lid and the base of the stein (should any auctioneer wanted to have looked for it.  The old Russian silver-smiths were required to mark all major parts of a piece of silver with the quality mark).
She then sent "Mr. X" an email with all the information I (with her help) had found and concluded with an estimated value of $10 to $12,000. (Plus any auction house commission (usually about 23 to 25 percent.)  This estimate was based on [1] a several day review of similar pieces in old silver auction catalogs she had  in her silver reference library and [2] tankards listed in Christie's Auction house on line 'results page' and [3] an up and coming auction in April '05 on Sotheby's web site that listed a slightly smaller, but in slightly better condition Russian silver tankard at $8,000 to $12,000.
Then much to both of our surprise "Mr. X" now wrote  back and says he doesn't collect Russian silverat all; wants only German drinking vessels and if she  want it he would sell it to her !! Saying: "what does she wish to pay for it"? Of course not: "Here, this is my $$ price wanted."
Now here she is 3000 miles away with the tankard at her place ; having told him she wanted it, he said "nope, no sale"; then she (we) tell him what it is, and where from and how old,  and more importantly what its worth [!] and BOOM, now he says "Oh, I changed my mind, I'll sell it to you" (but I want to make a profit!)
My lady friend  was now of course, between the old rock and the hard place!  Some reading this will say she should have told "Mr X" to "stick it!" right then and there (but these will probably be the non-collectors who never have understood this "passion" thing) – other's might say well he's entitled to a small or even modest profit—and others like her, would still be kicking themselves a little harder for not bidding in the first place!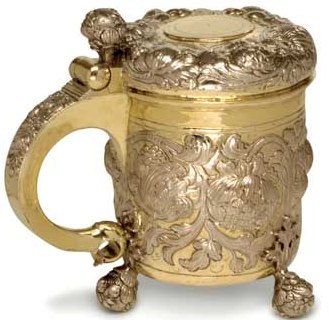 The Russian silver tankard with a $42,00 asking price in NYC.
In the meantime, for her benefit, I'm searching sites on the net that might have Russian silver tankards for sale and I remembered one called "ALVR", in downtown New York, that had advertised premier Russian items in the magazine Antiques. I found their site and they had one, again somewhat comparable to mine, only 'gilded' and in better shape. I emailed them and they say the price is $42,000.00 I write back and say why? Just because it's Russian? So large?, and/or supply and demand?  They answered "yes" to all three!  (see attached photo no.3) =  ? Now I figure they would sell it for less, and that they only paid about 50% of what the real retail value was, even so that is: $21,000.00! So I transmitted this info to my friend.
Okay, so now, based mostly on this and the up and the coming April auction, I said to her,  "look, even if it sells for in the mid range (and I, Steve know most estimates are low as the auction companies want to make their cosigner's  very happy when a lot reaches more than the high  estimate) . she could still be doing all right with that piece,   for a fairly good price.
So with me "at her back"  we start the negotiations at six thousand dollars ($6000.00) but tell "Mr. X"  quite honestly, that's her limit .and as she is still strapped for monthly cash, she  also asked for two years of time payments at $250 a month. He countered with $1000 down and two years of $250 a month also for a total of $7,000. But he left the door open by saying he would take a $6000 one time payment.  She called on the phone to try and get a  'personal loan' at her local credit union . To her's, and  my surprise it was approved (she doen't make much money). In a few days she picked up her check for $6000.00, had it made out to "Mr.X " and sent it post haste in the US mail.
Now who said blondes are dumb ? The very next day, April 21st, the Sotheby's auction closed and Lot 160 sold for $31,200 US Dollars (Buyer's premium included.) Please see the 2nd  photo below.
.
[END -SOK -RD – 5- 3D]

"When you are dissatisfied and would like to go back to your high school age, remember about 'physics.' "