Our guys are literately "into the leather (chairs)" !
So you think being "into leather" is sexy?!
That "leather look" has been around for longer than you think!
blackjack
n
a tarred leather tankard or jug
[from black + jack3]
Collins English Dictionary – Complete and Unabridged © HarperCollins Publishers 1991, 1994, 1998, 2000, 2003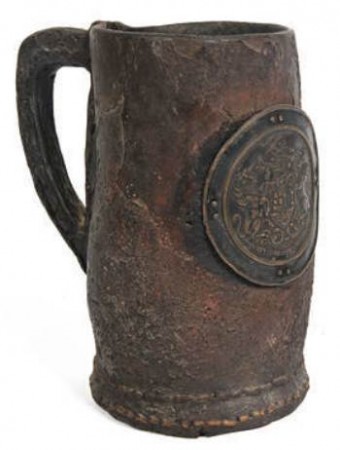 A stitched leather (authentic) "blackjack" (English name). 17th Century.
Applied with a later (?) circular plaque with the Coat of Arms of the City of Bristol. The mug is of conical form, the stitched seam with integral handle on a stitched foot. 9.5cm diameter x 17cm high.
[Steve's note: I have to agree with the eBay seller: "A fascinating and exceptionally rare item."]
.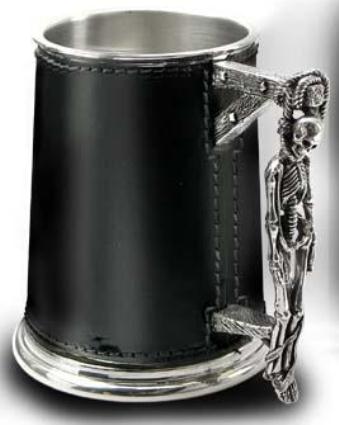 From the oldest ▲ ▲, to the newest▲.
A take off on the old English saying "The last drop." This leather covered pewter mug should be called "The last drop and then some!"
Tyg
"A quaint drinking vessel of the Middle Ages, but one which is now not often met with outside museums, was known as a "Tyg or Tig, an earthenware receptacle for holding approximately a quart of liquor, having two, three or even four handles, set equidistant from each other, and often these handles were subdivided by one or two partitions. Tygs were practically Loving or Parting Cups, used in more humble circumstances in the same manner the more costly gold and silver Loving Cups were used at the great banquets of the London and other Corporations. The origin of the word tyg, according Sir James Murray, is unknown, but it is extremely probable at it is derived from the Anglo – Saxon word tygel, denoting anything made of clay, from which we derive the word tile. The example of a Wrotham ware tyg given here shows the result of the method employed by the potter to produce what is known as slip ware, which was one of the earliest devices for varying the colour of the earthenware by the use of a second clay of a different hue, applied (when mixed with water to a creamy consistency) from the spout of a can, which was trailed upon the surface of the vessel to be decorated. Miss Meteyard, in her Life of Wedgewood, writes of a tyg made of brown clay and covered with lead glaze, dated 1612 but they were certainly in regular use in the reign of Queen Elizabeth. Tygs were mostly made in Staffordshire and in Kent – Burslem in the former county, and Wrotham, between Maidstone and Sevenoaks, in the latter."
Reproduced from the book: Drinking Vessels of Bygone Days by G. J. MONSON-FITZJOHN, B.Sc.,F.R.Hist.S.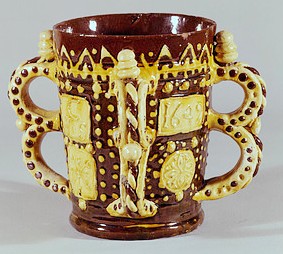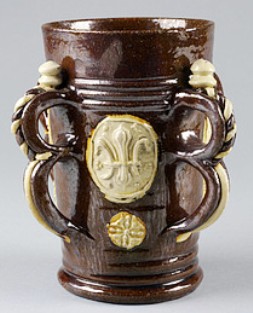 [L] TYG 1649 DATED , LEAD GLAZED EARTHENWARE AND SLIP (V AND A MUSEUM.)
[R] TYG 1621, V AND A MUSEUM – LEAD GLAZED EARTHENWARE WITH SLIP
While most tygs were made of ceramics [SEE BELOW] some were made of leather, but not many. It is very hard to work with, and the devil to keep clean.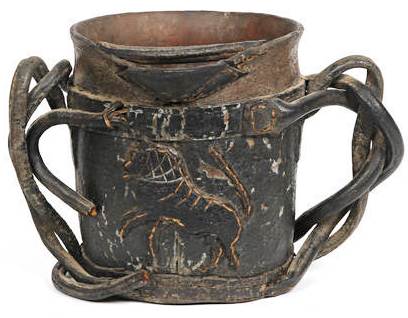 A stitched leather spouted twin handled tyg (or tyge) = English name, or a "pass cup" (loving cup.) 17th Century. Possibly Dutch.
The body is conical form, applied with a stitched lion, the rim slightly everted and with applied leather spout, the handles formed from three entwined straps of stitched leather, on a stitched foot. 18cm diameter (excluding handles) x 20.5cm high.
.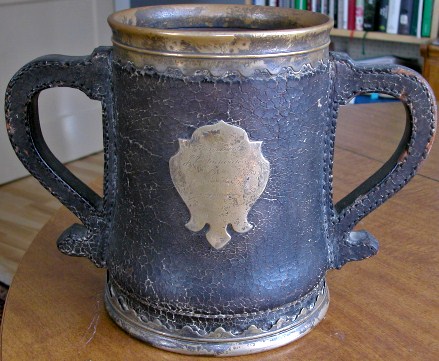 The above is slightly newer in scope, but almost as worn: This leather and sterling silver "pass cup" was presented to James Coats Auchincloss (Yale class of 1908) by the freshman baseball team (class of 1910). It is inscribed "Presented to J. C. Auchincloss by the 1910 Freshman Baseball Team in appreciation for his services as manager". The tankard measures 7 3/4" high, 6 2/8" across the base, and is marked sterling on the lower rim. J. C. Auchincloss, Jackie Kennedy relative and Congressman from New Jersey, was manager of the freshman baseball team when he was an upperclassman at Yale and was given this tankard in appreciation.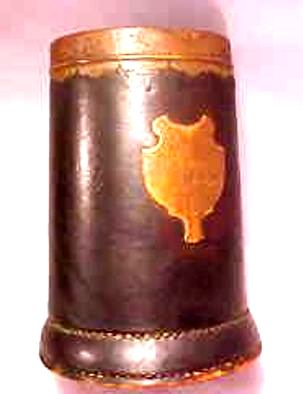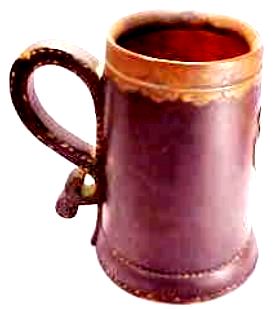 An early 1900's English style leather 'mug' with Gorham (American) silver mounts. A quart size. This style leather mug was made in both countries for a long time. [FWTD]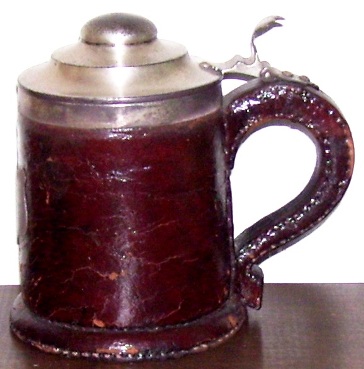 A pint sized leather stein (sterling?) silver lid. England. Circa early 1900's.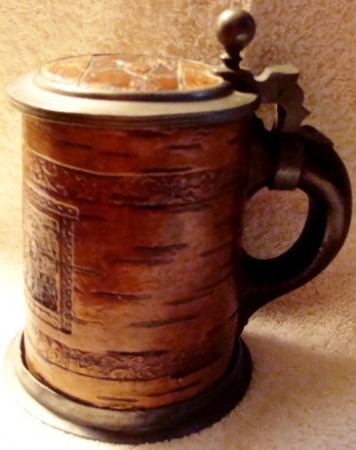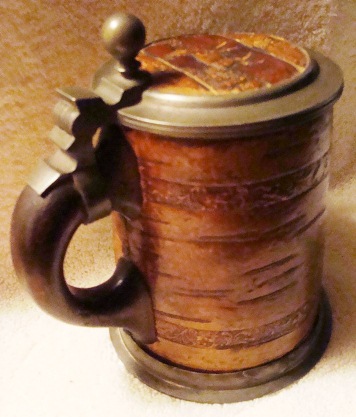 A German hand crafted leather stein. 1/2 liter. With the small ball thumblift and the closed hinge this stein is circa 1840-65. [Judith Stuart collection]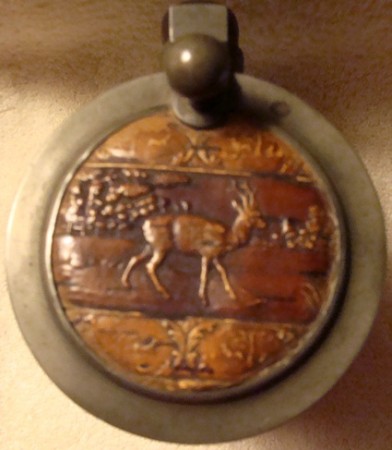 Embossed on the lid is a solitary deer indicating this stein was probably a friendship present.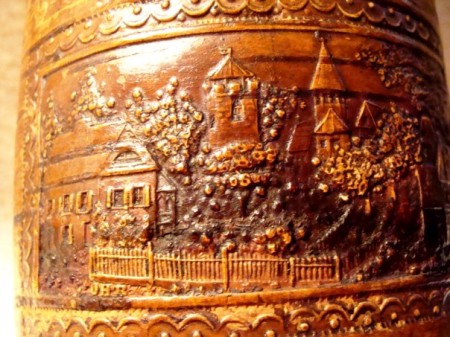 Detail of the embossing on the front of this stein. With the city wall peaked roof towers in the background, this appears to have been made in Nurnberg (Bavaria) , but might have been made in any old walled medieval city.
SOME OTHER DOULTON LAMBETH "LEATHER WARE" DRINKING VESSELS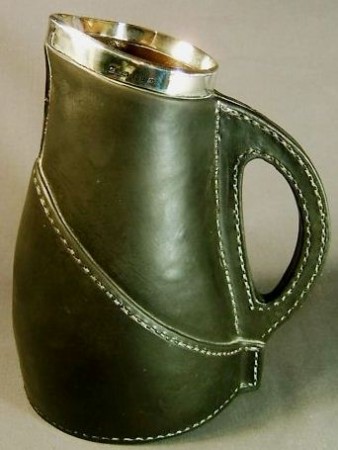 DOULTON LAMBETH "LEATHER WARE" ALE JUG, colored as a blackish green tinted leather, with sterling silver rim, produced at the Doulton Lambeth factory in the late 19th century. Stoneware made to look like a medieval stitched leather ale jug. Silver marks = Chester 1897. 9 1/8″ (23.25cm) H x 7 1/4″ (18.5cm) W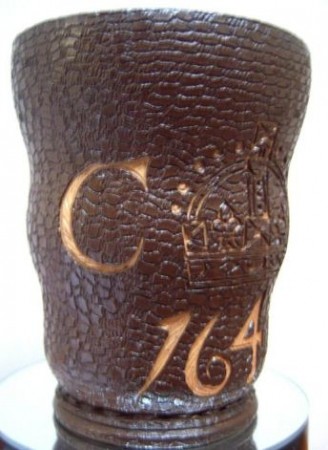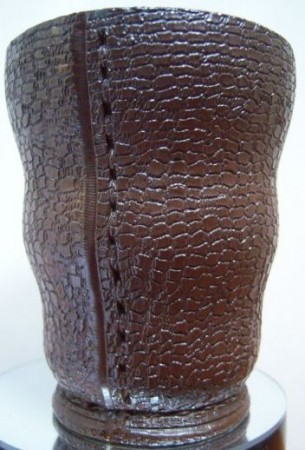 Doulton Lambeth" leatherware" beaker. Only 4 inches tall.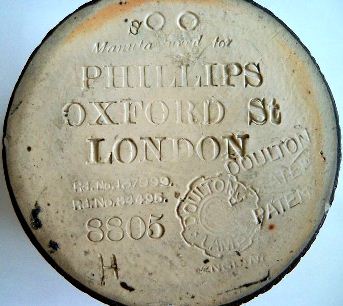 Additional markings on bottom of this beaker ' "Manufactured for PHILLIPS – OXFORD St – LONDON"
Phillips was a retail pottery and glass shop in downtown London in the 1800's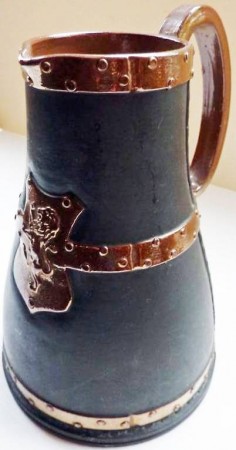 A Royal Doulton "Silicon Ware" (ceramic) copy of a "blackjack" with copper mounts.A very unusual version, as most are plain or have humorous white slip sayings painted on them.
.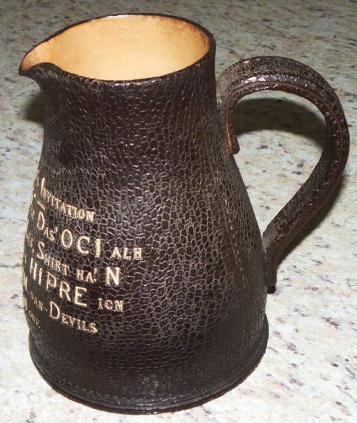 DOULTON LAMBETH "THE LANDLORD'S INVITATION"
with spacing and capitalization disregarded, it translates roughly to:
"The Landlord's Invitation: Here Stop & Spend A Social Hour in Harmless Mirth & Fun
Let Friendship Reign – Be Just & Kind – Evil Speak of None"
English. Ca. 1880's. This pitcher is a deep brown with a feel of rough leather. The back towards the handle, as well as the handle itself has a manufactured look like it is leather that has stitching. The motto is raised in a light tan coloring and the inside of the mug is a golden coloring. 9″ in height on a 6 1/2″ diameter base. Item is impressed, "Doulton & Slater's, Patent Doulton Lambeth England 9329 Rd 137999.
For an extremely interesting article and more photos of black jacks, bombards and other vessels; please see:
http://www.worldcollectorsnet.com/articles/black-jacks-bombards-antique-drinking-vessels/
AND YES BOYS AND GIRLS, SOMETIMES AT NIGHT I STILL THINK ABOUT THIS TYPE OF "LEATHERED VESSEL"
WHAT THE HELL, AT 72 THIS OLD FIRE-FIGHTER IS NOT DEAD YET!!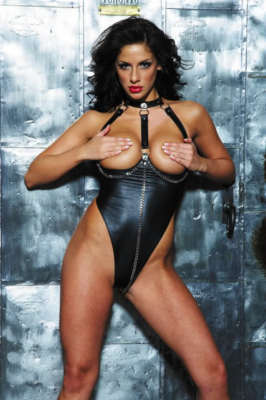 XXXXXXXXXXXXXXXXXXXXXXXXXXXXXXXXXXXXXXXXXXXXXXXXXXXXXXXXXXXXXXX
[END – SOK – 119 – DD ]

"Never underestimate the power of stupid people in large groups."