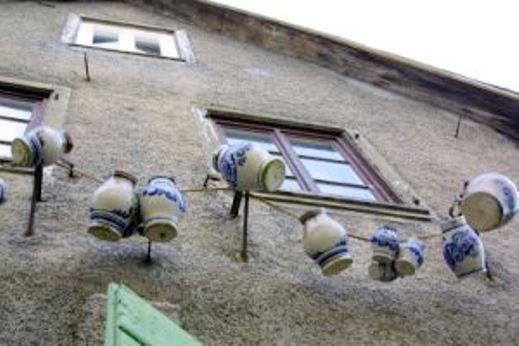 Before reading the article below-  please avail yourself of an excellent dissertation on the subject of the Westerwald at John McGregors site:
http://www.thepatriotexchange.com/pss/wester.htm
CIRCULAR JUGS OF THE WESTERWALD, (KANNENBÄCKERLAND) AND THE REGENSBURG AREA:
NOTES: [1] Historismus – A "time period" term used to define those steins and vessels designed (and produced) based largely on the old European styles, primarily the Renaissance. Some are actual reproductions, while some like the "Niche Steins" were fantasy based.  Also called 'Alt Deutsch' or 'Makartstil.' Basic forms were taken from many crafting styles, but and usually present with relief ornamental art, often engraved with representations of figures.
[2] Höhr-Grenzhausen is a town in the Westerwaldkreis in Rhineland-Palatinate, Germany. It is and has been, a center  for the ceramic industry in the Kannenbäckerland with a professional college for ceramics, another for ceramic form, and many others, hence the nickname Kannenbäckerstadt (roughly, "Jug Baking Town"). Together with the communities of Hillscheid, Hilgert and Kammerforst it has formed the Verbandsgemeinde of Höhr-Grenzhausen – a kind of collective municipality – since 1971.
.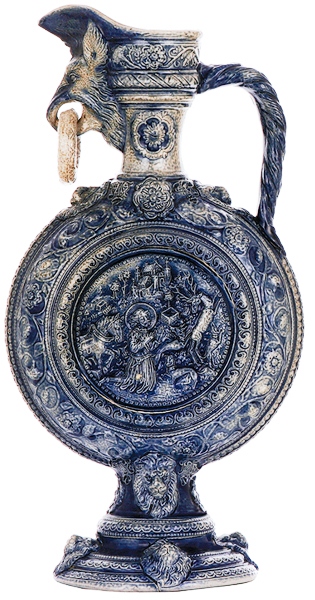 14.4 inch  [tsaco]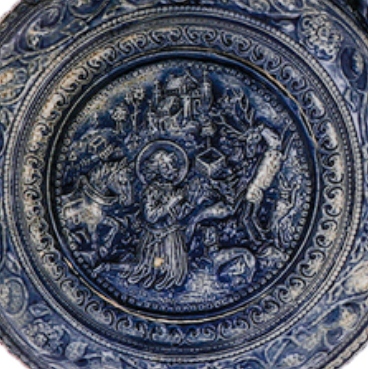 The roundel scene is of Saint Hubertus. Legend has it Hubertus, born in the seventh century, seeks comfort and distraction on lonely hunts after the death of his beloved wife Princess Floribana in childbirth. One Christmas Eve, he encounters on one of these hunts, the wondrous image of a splendid red albino stag carrying a shining cross between its antlers. Through this vision, Hubert is moved to transform his life. He lays down his high ranks of office and distributes his wealth among the poor and the church.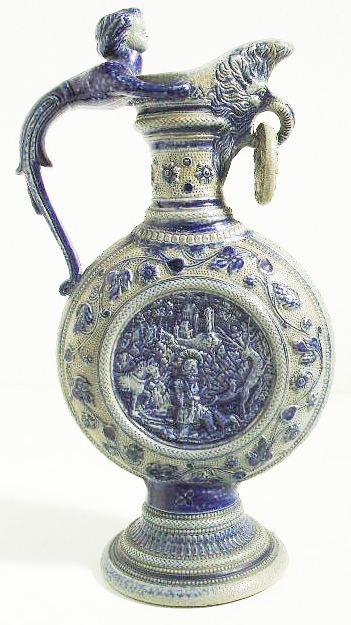 Another jug with Hubertus with a much different handle. See other examples of this handle far below.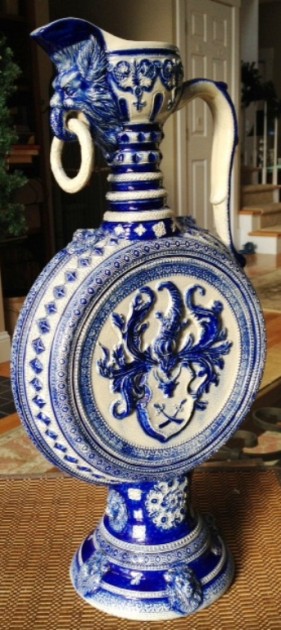 One of the many variants of the center roundel. From Hanke, Westerwald, No 108. The coat of arms is unknown as are most.
For a full length, informative article on the Westerwald please see: "Rhenish- Westerwald Pottery of the Renaissance and the Baroque," written by Gerd Kessler =  http://chronik.gemeinde-hilgert.de/dzk/lit/kessler/willam.htm
.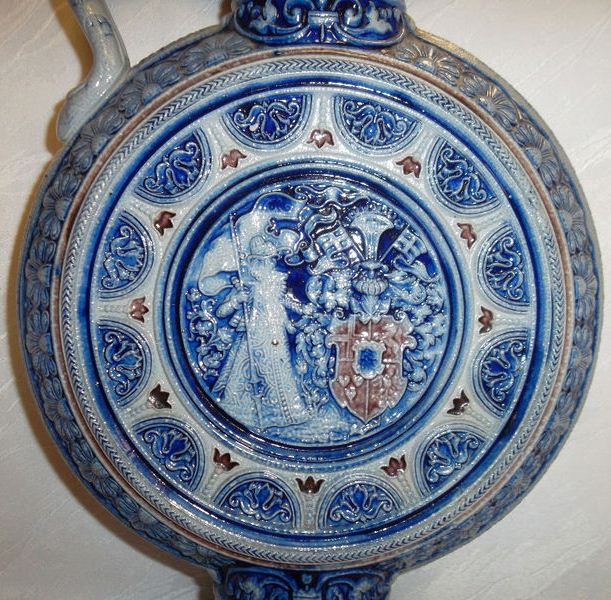 One without the beak ring = long gone. The shading on the roundel is slightly different from the example below with the ring; this is not unusual.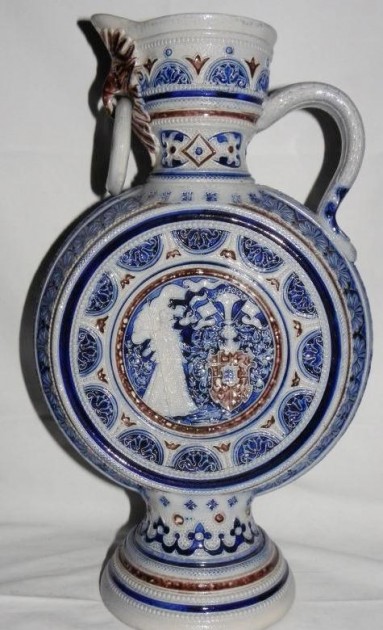 This one comes with a different base design.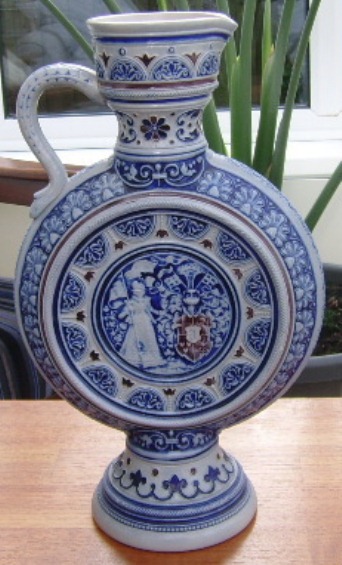 Simon Peter Gerz,  Model 570-A,  14.5 inches and no ring ever.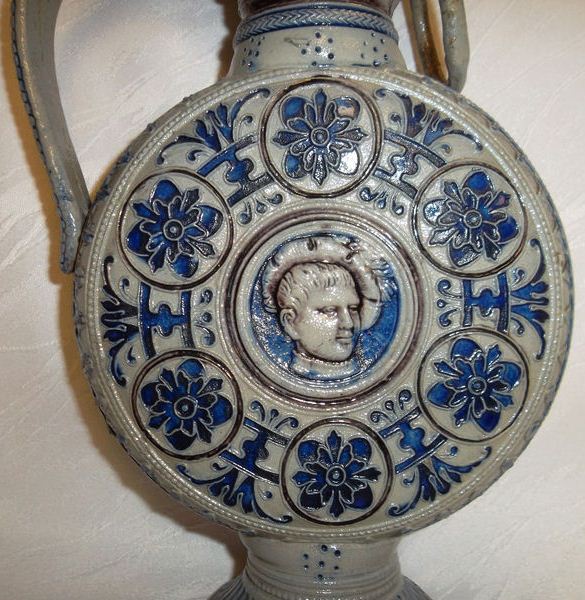 I can't locate the full body shot on this one. The mouth ring is present however.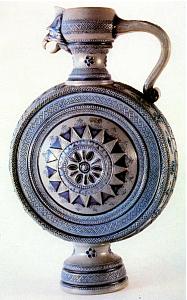 Made by Fritz Thenn in Regensburg. Server No. 251, made with an open mouth / beak and no ring.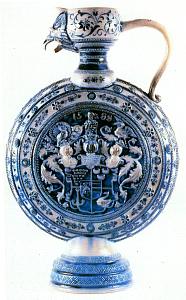 According to John McGregor's article, this is also by Fritz Thenn, Server No. 201. Made (18??) with an open mouth / beak and no ring. This one also shows the "1588" Coat of Arms.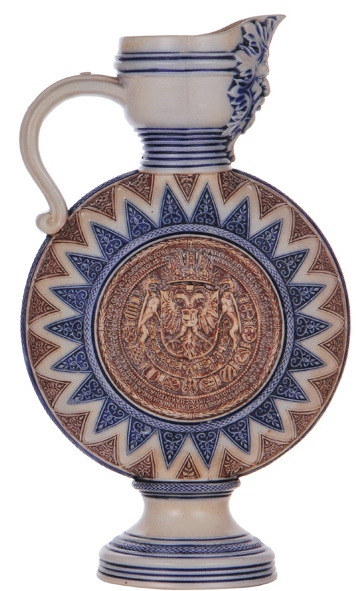 .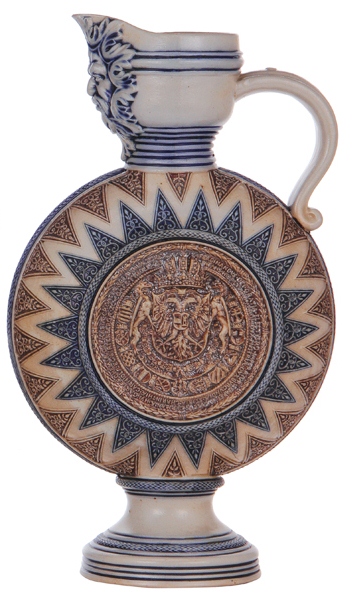 13.9 ht., by Merkelbach ans Wick, Gr. (Westerwald) with relief Austria's full Coat of Arms. Ca. 1890.
THE "RING JUGS" OF THE WESTERWALD AND REGENSBURG.   Also please see the discussion about these jugs on Page 3 =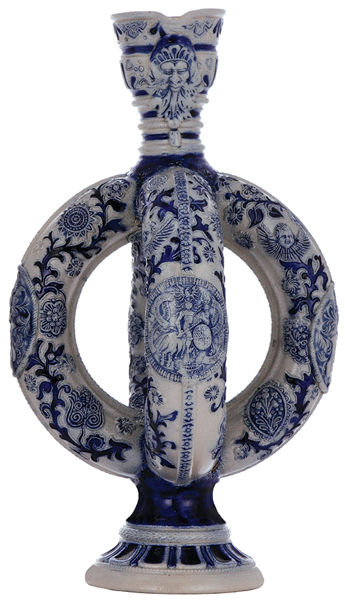 Called a "Double Ring Jug" and made in Regensburg. Ca 1890.
.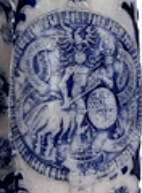 Detail: A "Ritter" in full armor, with his tournament "crest" of  a spread wing eagle on it.
.
Again this  four section ring jug gives us all those above: 15.5 inch. [tsaco]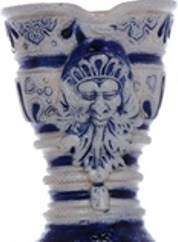 These faces  would have been cast separately and applied with "slip" (wetter clay) while the article was still in its "green" phase.  Shown: A modified "Green Man" on the spout. A lot of collector's still call these Bellarmines / Bartmans  = They are not!
SEE: http://www.steveonsteins.com/the-green-man-vs-the-wild-man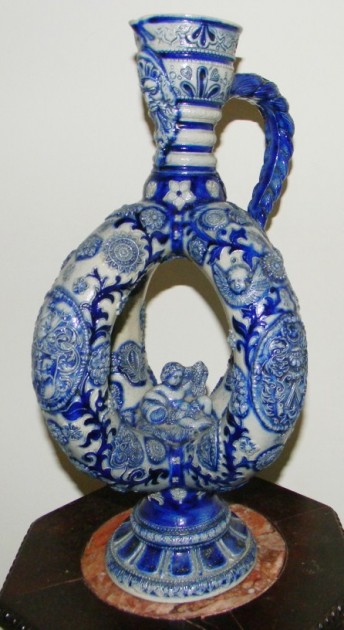 .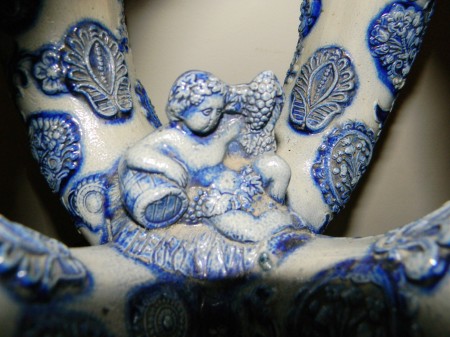 Detail of added Baby Bacchus, just to give it its wine server status in case one didn't know what the vessel was to be used for.
.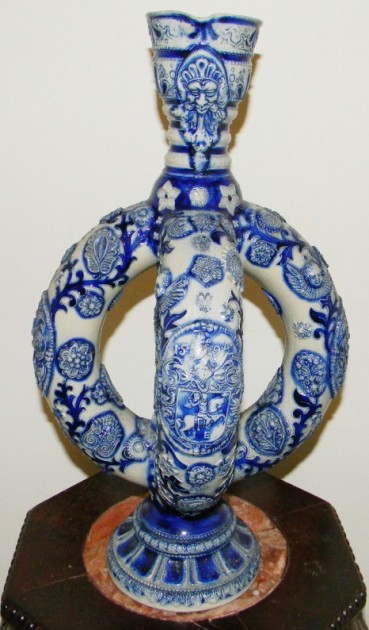 Made in the Weterwald. by ??? (I haven't had the time to seach the catalogs.)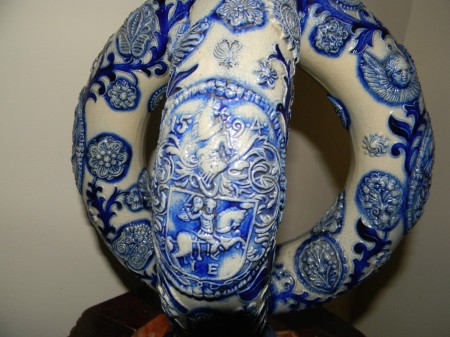 Detail of the added ring's small (fantasy, or copied from an older piece) armorial roundel.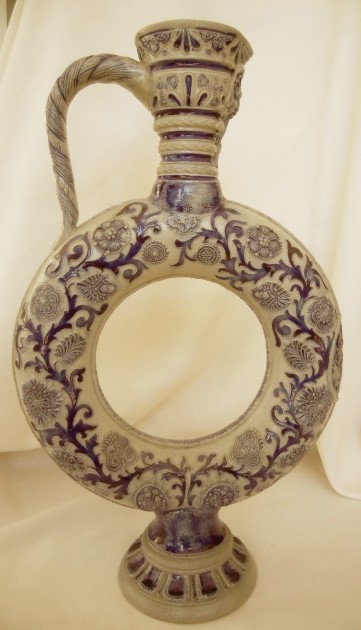 Regensburg made I think. Ca. 1870
.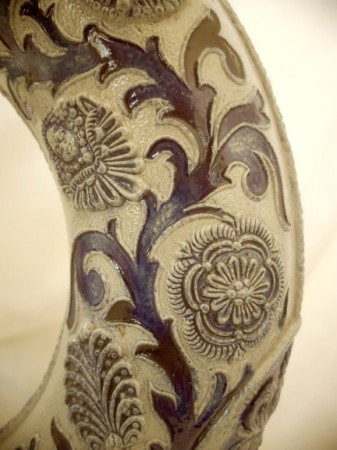 These filled in vine designs / forms that look like cloisonne are indicative of Regensburg work.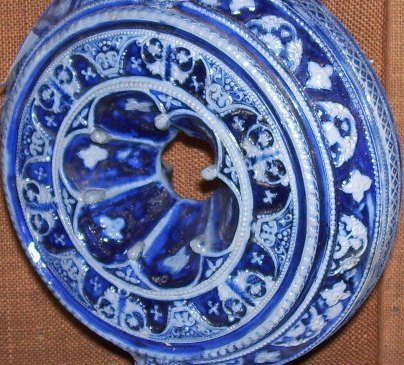 I'll bet you've never noticed the small Gothic style applied balls at the end connection of the 6 sided indented circle.
.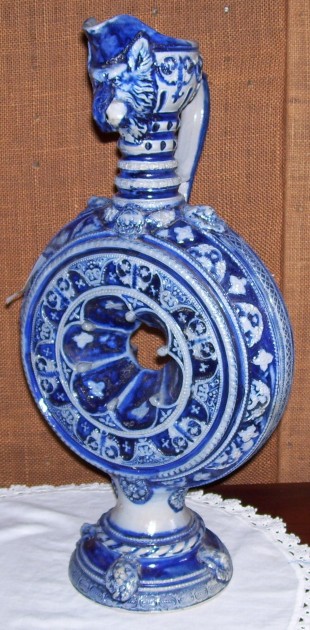 These tiny Gothic flavor attached balls in the center are definitely good Westerwald work by S.P. Gerz, or Reinhold Hanke.  I believe it is Gerz No. 507 – although the catalog photo doesn't show the heads on the bottom.
.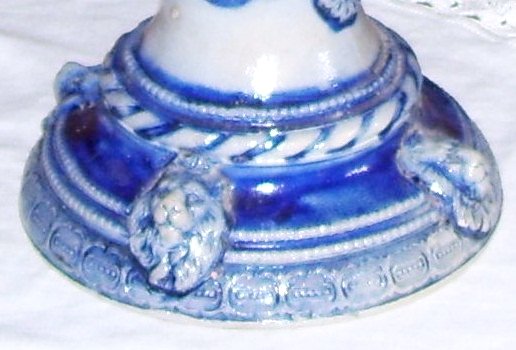 Cast and applied lion heads are usually indicative of Westerwald work.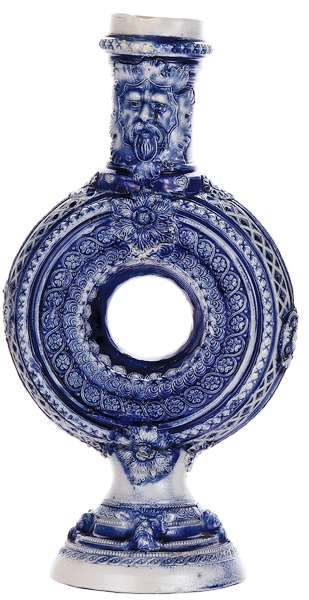 Wine ring jug with a "Bartman"  type face on its lip. Ca. 1890. Applied lions heads, so probably Westerwald. Early 1800's.
Wick -Werke  (The company was in the Westerwald also ) ring jug. 16 inches tall. Ca. 1921. Still nice workmanship.
.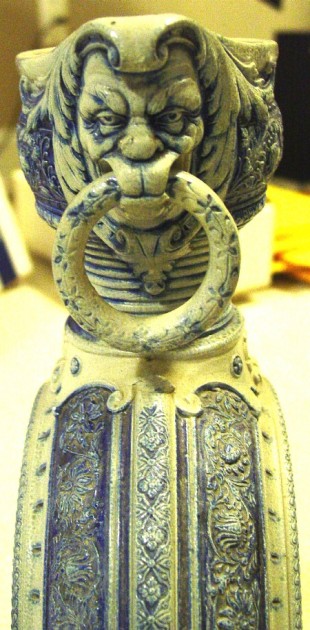 .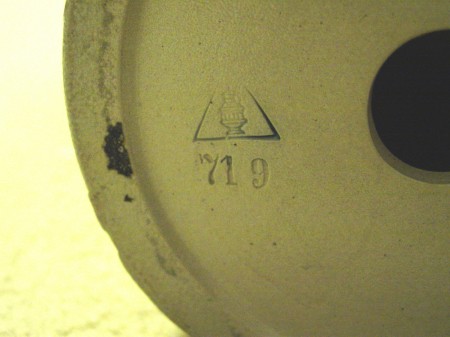 SERVER 16 INCHES –  S.P.  GERZ MADE.
"Double ring jug," Pottery, not stoneware. Ca 1870. Regensburg,  15.5 inches.
For a very short but interesting article on "Westerwald Pottery Influence in Early America." please see:
http://www.stein-man.de/early-america/early-america.htm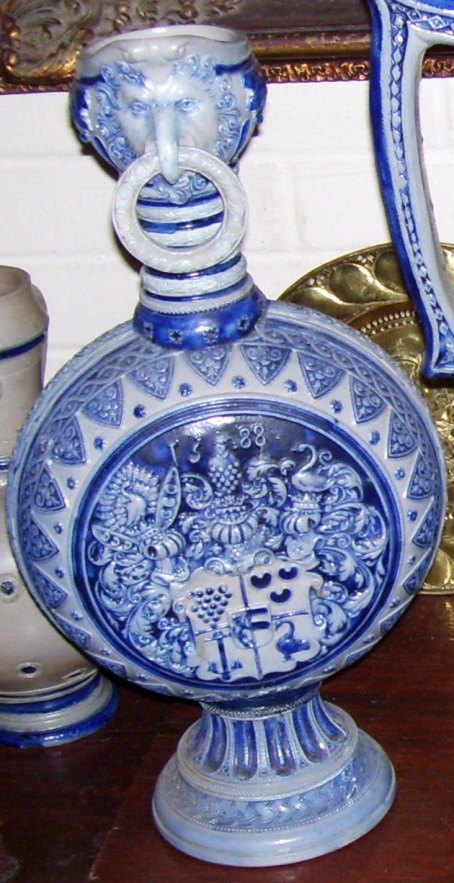 This coat of arms, dated 1588, is an indicator of a Weterwald  manufacture, specifically Reinhold Hanke's firm and it is seen on lots of its pieces. [FWTD]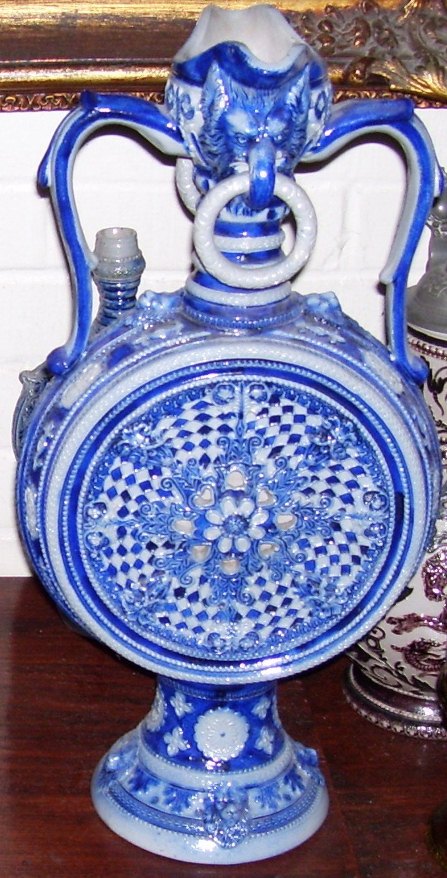 Another interesting variant, comes with two grotesque heads, both with rings. By Reinhold Hanke.[FWTD] 

This is a very large piece (over 20 inches tall)  and it has a larger version of the female's head, duplicated again for your edification, just below.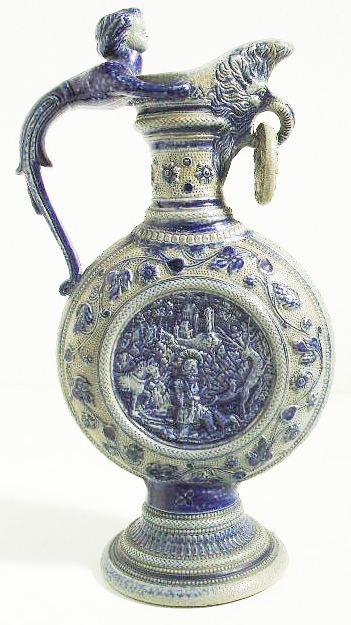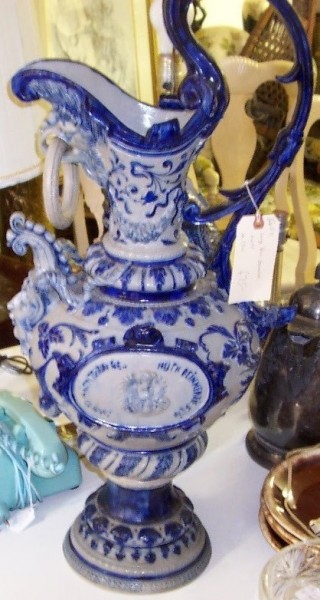 "The Mother of all 'Westerwald' wine jugs." Circa 1880, it stands 31 inches high to the top of the handle and is so heavy I doubt if it was ever used for serving!  R. Hanke made. [FWTD]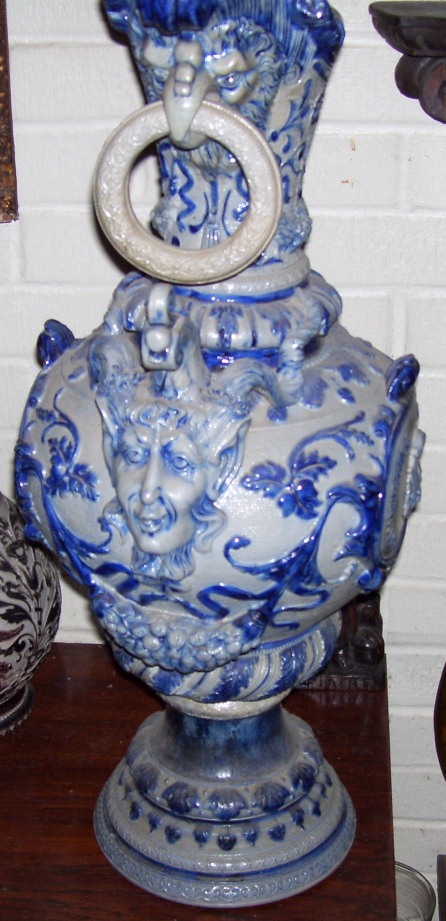 Detail of "The Mother" above. Notice the tiny relief work on the mouth's ring!
Editor's note: A few years back there was a big discussion amongst several of us, using Prosit as the vehicle. The question asked was: "What was the use, if any, of the large ring in the grotesque's mouth?" At that time I proposed the use of a towel draped through it, to keep the wine from spilling on any well thought of table / tablecloth. Still a good idea I think (and practical) , but then I wondered where did the design of "anything" having a big ring in its mouth come from? In reading a book about medieval bronze works, I believe I found where the idea "might" have originated, but I still have to find "The Missing Link."  Curious (?), then e-mail me.
[END – SOK – 50 – R5]

     "Live each day like it was your last; someday you'll be right!"