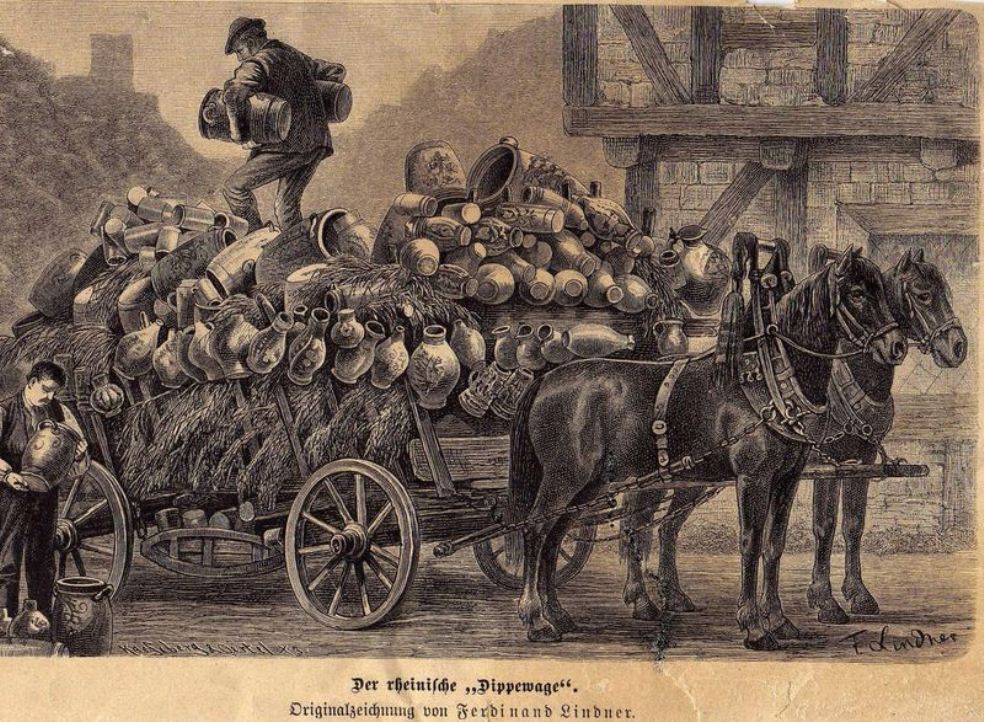 It is interesting to note that will all the stoneware pots and jugs here are no "Ring Jugs" pictured on the wagon, those were probably purchased at the "big city" stores and those sold to the peasants were strictly housewares and utilitarian.
FIRST BEFORE WE GET TO THE BODY OF WORK CONSTRUCTED FOR THIS PAGE, HERE FOR OUR REVIEW ARE SOME "SIMPLISTIC" GEOMETRIC DESIGNS: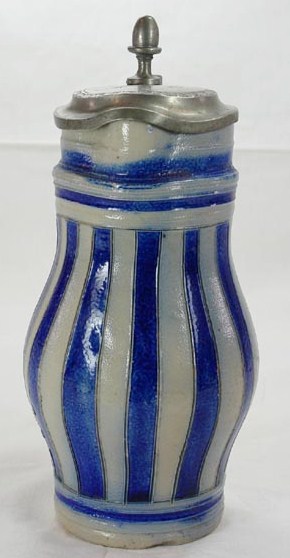 About as plain and geometric as one can find. .5 Liter, late 1800's.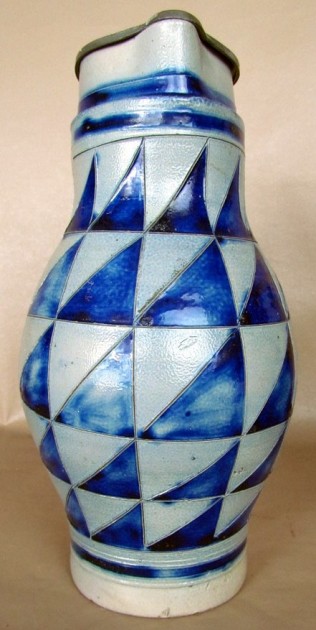 This one involved a little more work, but the effort to apply the blue evenly wasn't so well done. Maybe it was a "FridayPiece?"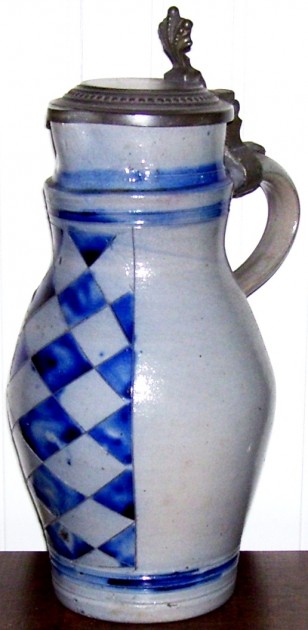 About the same amount of effort, but a better design I think. But that's with a man's perspective. I didn't have to live with and use these guys in my home as the German women did. With that style thumblift, I think this one liter server is Circa 1850.
This page is dedicated to two good friends and fellow collectors from the Pennsylvania Chapter of SCI, "The Keysteiners." The first is Mrs. Dagmar Reeves who had a very large collection of these large "Pear Jugs" in her home and it was the first time I had seen lots of them all displayed together. Dagmar is of German decent and along with her husband Jack, had just about vacated the 100 square mile area of Pennsylvania Dutch land around their home of any collectable stein for years. What a great collection! Sadly Jack, who I thought was just a super guy, died of cancer several years ago.
The second friend and collector that had an impact on me and all of my collections pieces is John Mertz. John is a great photographer; that was his profession at the University of Pennsylvania for many years. John once gave a slide show lecture and I was in attendance. The theme is that to really enjoy your own collection you have to get your steins out of the cases or off the wall shelves every once and a while and look at them. Essentially just look at them all over and digest their creativity and let them talk to you!
Well a few days ago I was lounging in one of my recliners in "The Copper Room" (most every room in our small home has a specialty sub-set of stein in it) and I got to looking at my small collection of Westerwald "Birnkrugs. If someone had asked me to mention something about these "Simpler – Leaves and Vines" jugs I probably would have said the designs were pretty much all the same.
Not being a "green thumber" I just kind of dismissed these as just being variants of each other. So that night I once again took John Mertz's advice and got some them down and looked at them all side by side. Just below are just a couple of the differences to be found. I did try to located some of these "Leaves" on Google's "German Plants – Images" but there were way to many images and quite a few (as with most of their pages) that had nothing to do with that subject.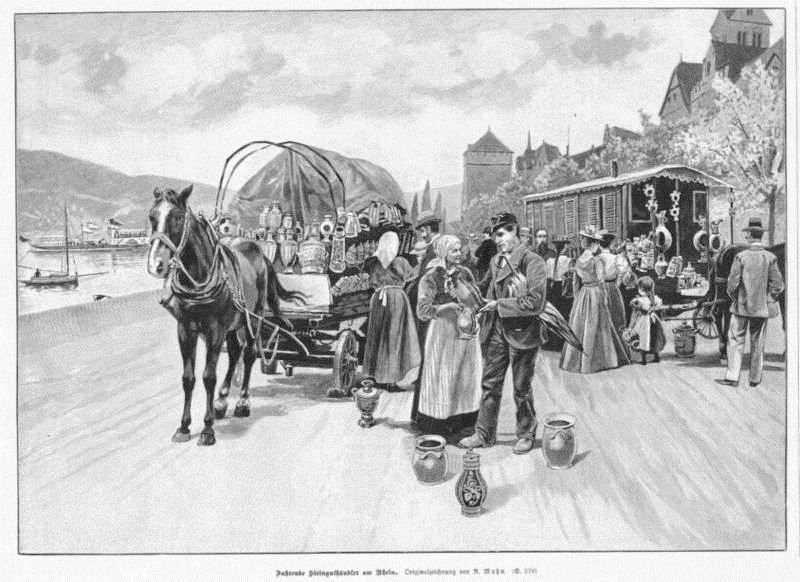 Shown above: Traveling sales women in the Westerwald (and other close by areas) would come by wagon to a small local market and sell there wares, purchased from the Jug makers. German print , mid to late 1800's.
So when I did I saw that they were if fact all very different from each other!!
While those below are not all mine, they will give the reader a quick glance at what differences I saw. That '"happening" was the impetus for the writing of this page. I believe, given all the work that went into making these, that these jugs are highly undervalued by beer stein collectors.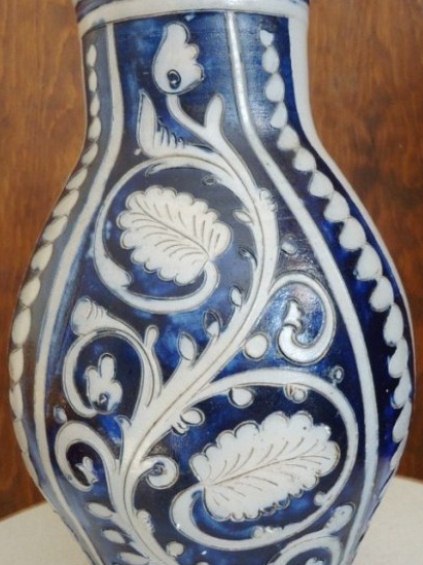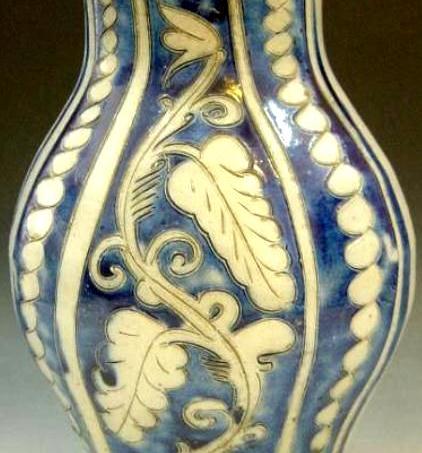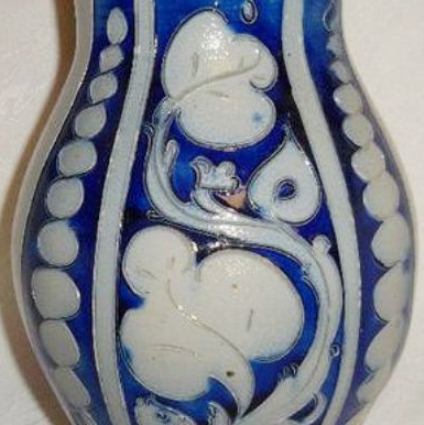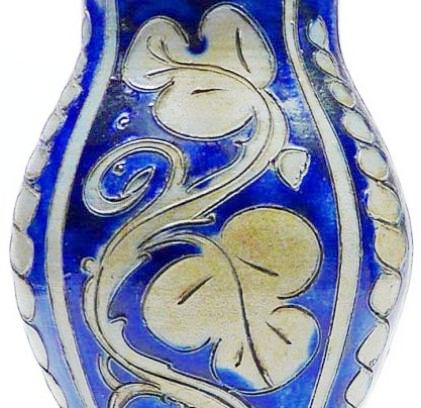 Now while the leaves are similar on these pairs, they are not exact, and the vines traverse in the opposite direction.
Below one will find some of the older and more elaborate designs that can be found on these "Pear Jugs; in other words not the "Simple" ones that this page is dedicated to.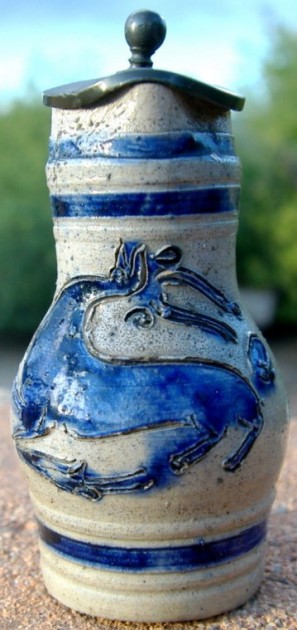 While only 4 inches tall this little guy is a good example of the Westerwald's folk art associated with these "Pear Jugs." Ca. 1830.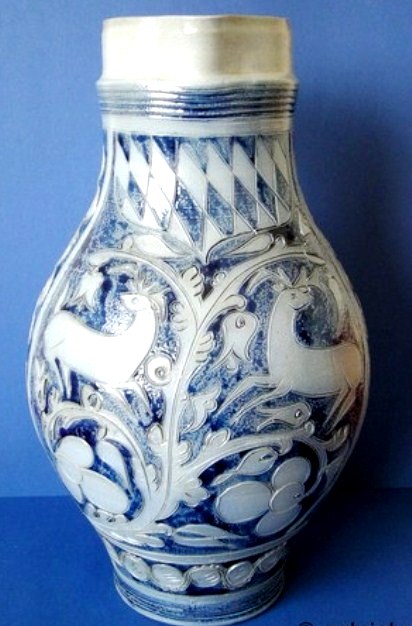 Two deer incised with vines with a few small leaves. Ca. 1840 – 60.
In order to explain photographically again what "Simpler" means to me in this category:

HERE ARE FIRST A REVIEW OF WHAT I CALL "THE LEAVES AND VINES DESIGNS"
One of the oldest found to date of the Leaves and Vines. Westerwald, 12 inches tall. Circa 1800. This one has four repeating panels of a single leaf and vine. This one is really quite elaborate for its type.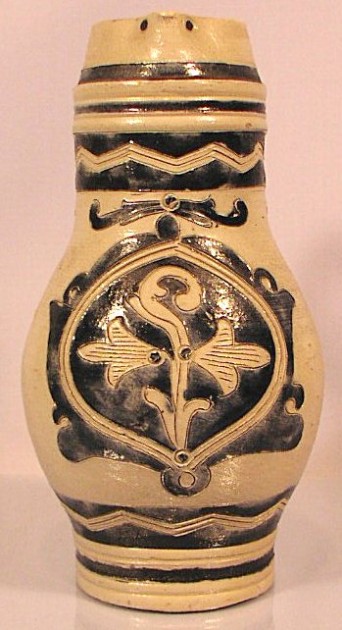 One single vine and two leaves. Ca. 1820 -40.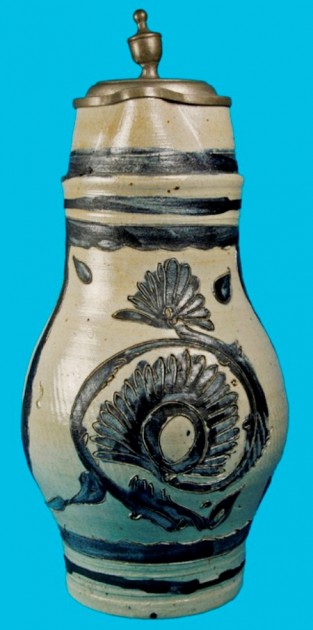 Older with one circular vine stem and two incised flowers. Ca. 1820 – 40.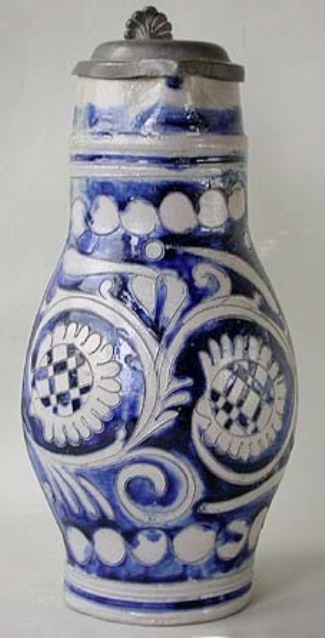 Also Ca. 1820 – 40 with a circular vine stem, two large flowers and small leaves. A nice design I think.
END OF THE MORE ELABORATE AND THE BEGINNING OF THE SIMPLER "LEAF AND VINE" BIRNKRUGS"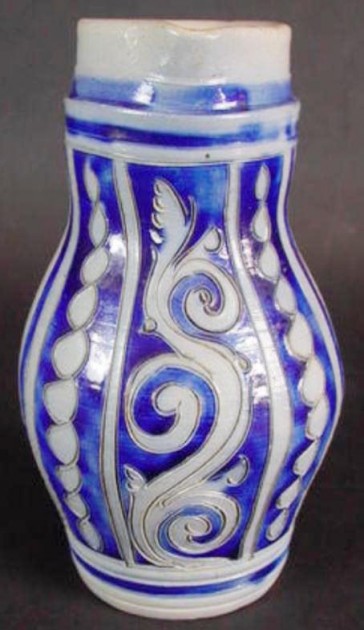 1/4 of a leaf (very top) and only a 1 Liter.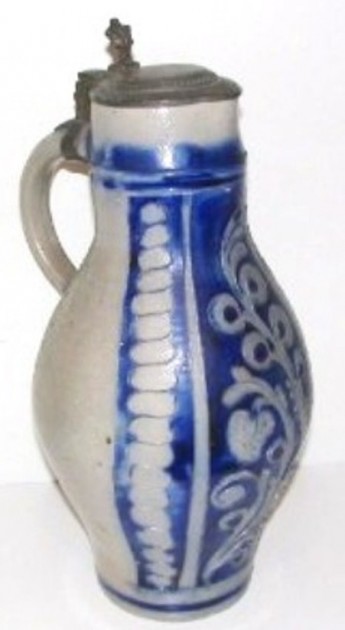 1 or 2 small leaves ?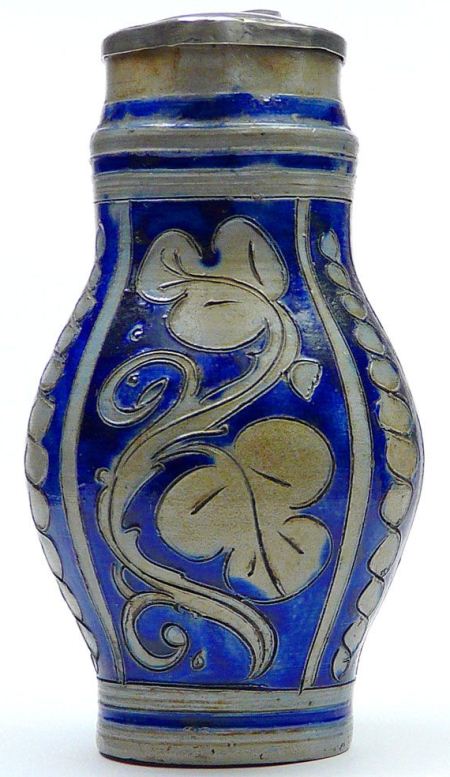 2 large three sectioned, rounded leaves with stems. A 2 Liter piece.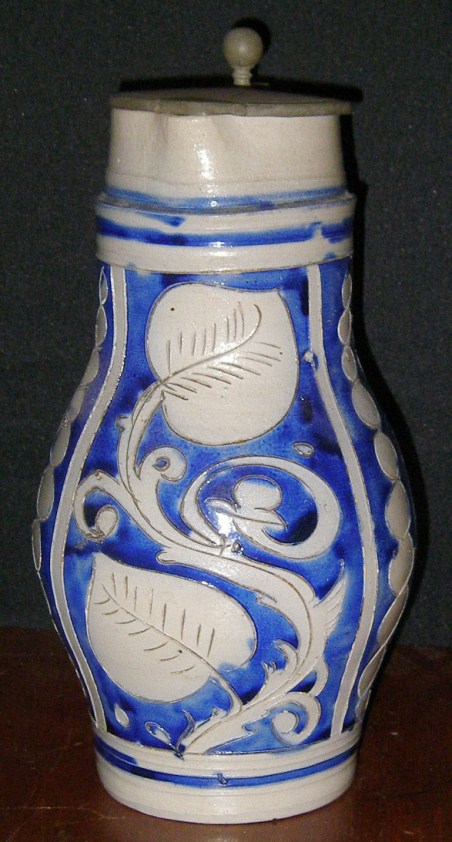 2 large leaves with stems and offshoots. 2 Liters, 11 inches to top of finial.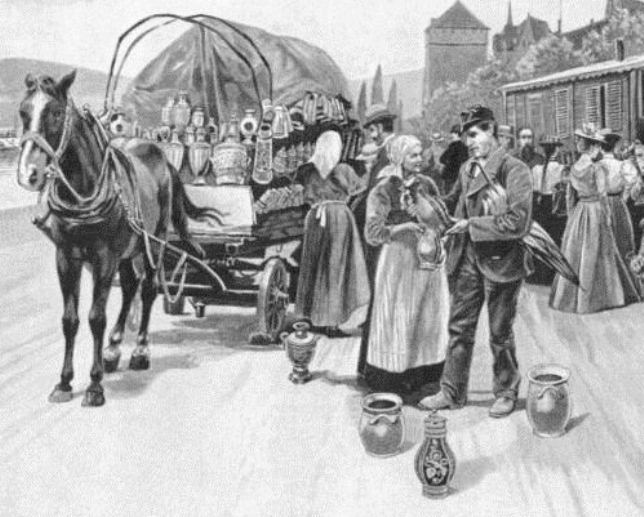 Detail of print above: Westerwald ware traveling sales women at a small local market. The Pear Jug in the foreground looks somewhat like the example just above with its "S" vine motif.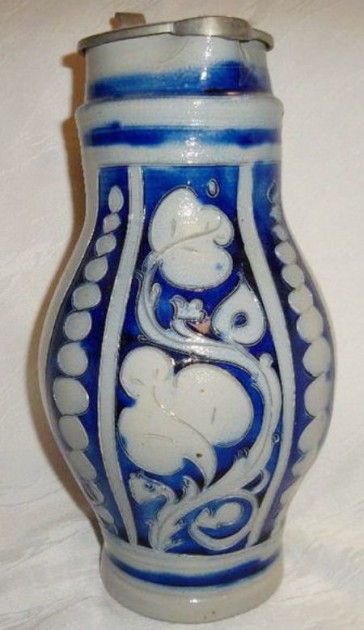 2 large three sectioned, rounded leaves with stems and one smaller leaf with a spot. 11.5 inches. About 2 Liters.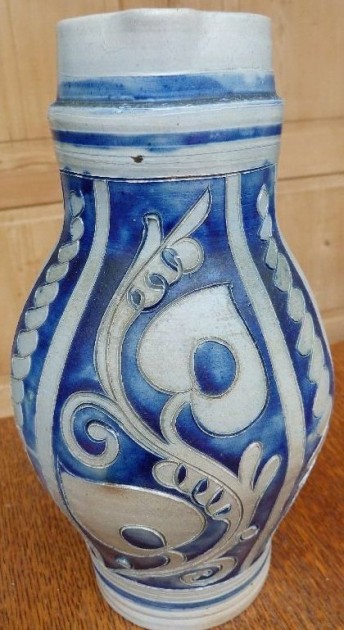 2 pointed leaves with spots. 2 Liter. Ca. 1850-80.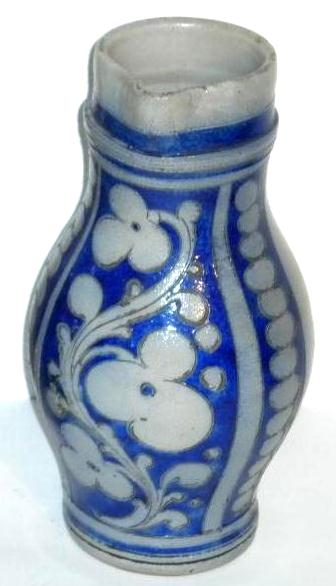 2 large three leaf clover type leaves. 12 inches tall.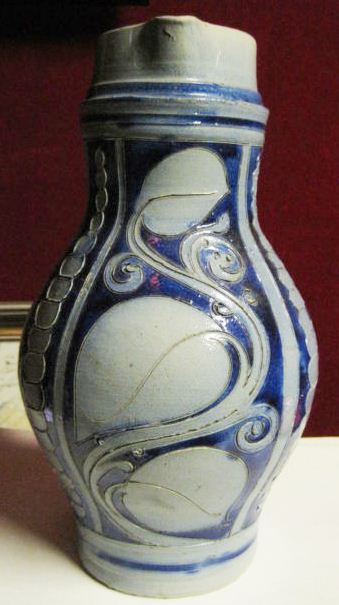 3 large Ivy type leaves. No size given .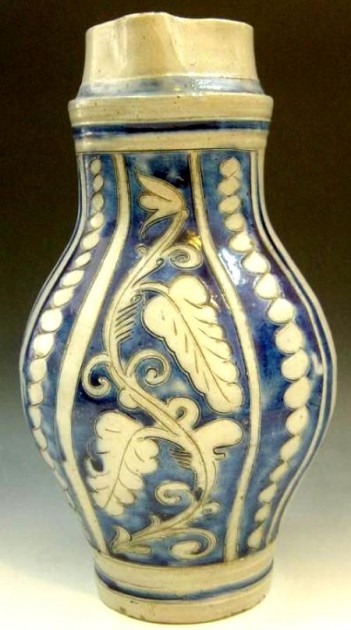 2 1/8 large fan type leaves, 12.6 inches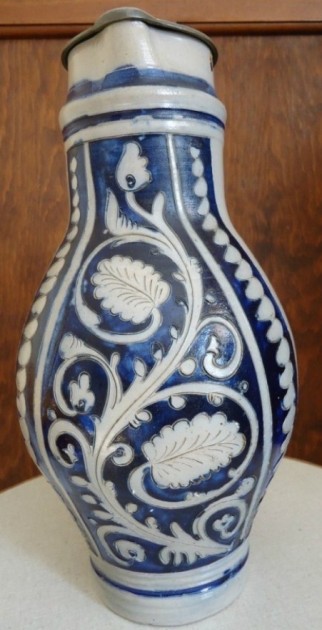 2 1/4 large fan type leaves. 4 Liters.

3 large pointed tips and 3.5 [?] small spotted leaves. Ca. 1850 Westerwald. 12.8 inches.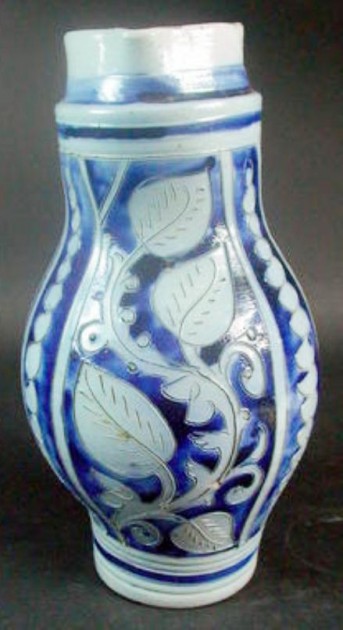 4 pointed Ivy type leaves. 11 Inches tall.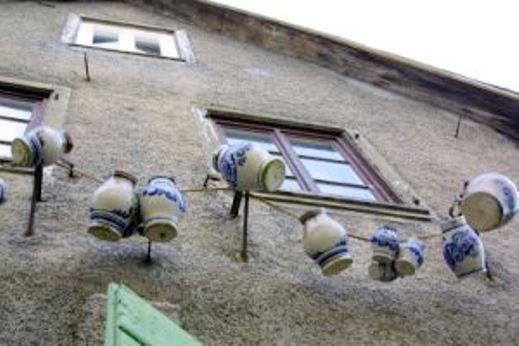 A later day (after WW I) way of displaying one shop's wares. Most all of these are the hand painted really wide sided Westerwald "Pear Jugs."
A minimally incised jug of a later vintage say 1900-1920. I surmise this reduction of effort was a manufacturing cost savings plan. But there doesn't seem to as many of these on the secondary market as the older ones; they were probably fast "going out of style" by then.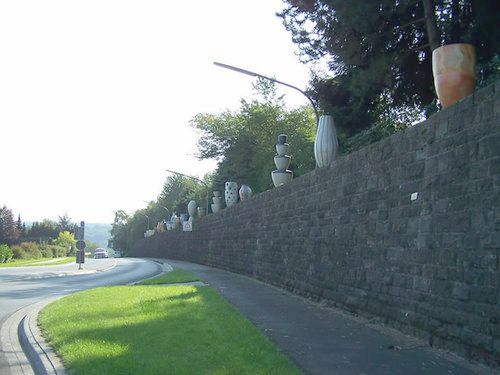 "Kannenbäckerland" – Literally = "Can (jug) baker's land". Meaning the "Westerwald" area of German. Shown: display stoneware around a maker's plant in the Westerwald.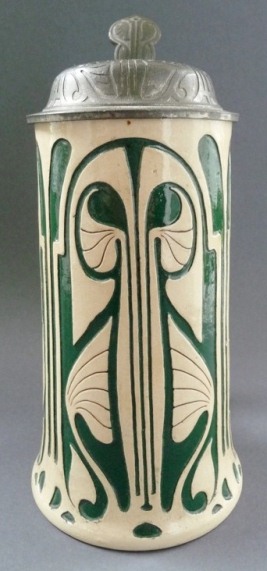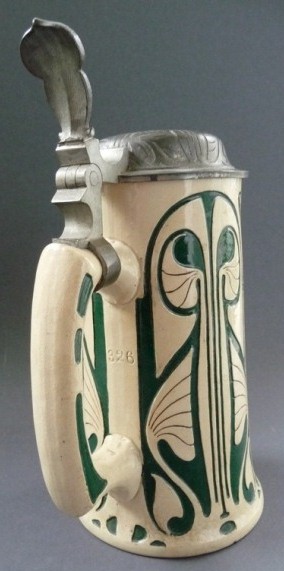 And so this ▲is what happened to the realistic Leaf and Vines designs after "Art Nouveau" and "Jungenstill" came into prominence. Some of us are glad the old ones were made in stoneware so many have survived.
[END – SOK – 32 – R5]
WISH TO CONTACT ME? STEVE (STEPHEN) =

The wife has been missing a week now. Police said to prepare for the worst, so I went to the thrift shop and got back all her clothes.
.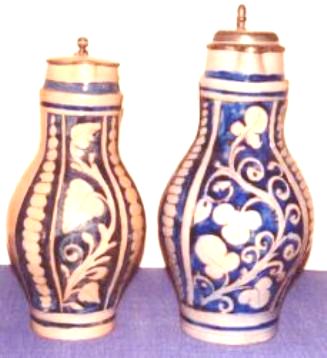 Westerwald's – On John McGregers web page – different designs than above. httpwww.thepatriotexchange.compsswester.htm
L – 4 .25 tri-foil leaves