. DOING OTHER THINGS, BESIDES DRINKING BEER!
"THERE ARE OTHER THINGS TO DO?"  THE GNOMES ASK.
I have for over a year now placed these three short "notifications" at the bottom of each page!
 There are way too many variables: condition, location, time of year, present trends in stein collecting, local (and now national) economics,  never seen before (therefore no comparables); but most of all = prior expectations by the owner, are among the reasons!
I just do not have the time.
My web site was really started as an informational site for beginning beer stein collectors that would be looking for the info and not the general public.
My So if one put in "Wood Steins" or "Hand painted steins,"  it
STILL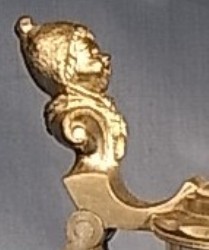 Just being a young boy gnome.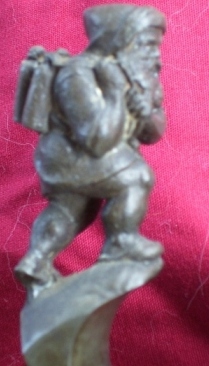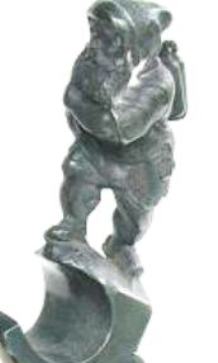 Carrying the pewter six sided wine flasks ("Schraubflasche") to the bowling party shown below: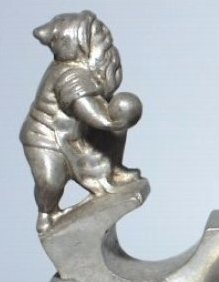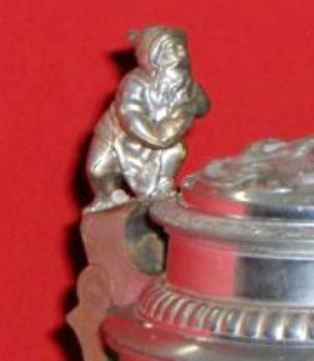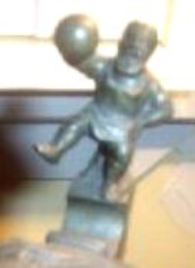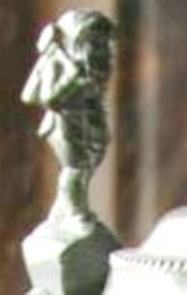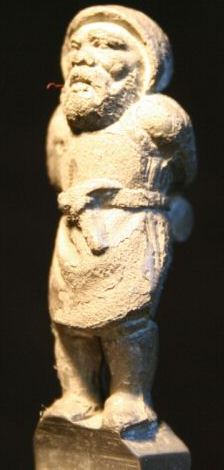 "If I had a hammer, I'd " Both miners  I believe, carrying their hammers.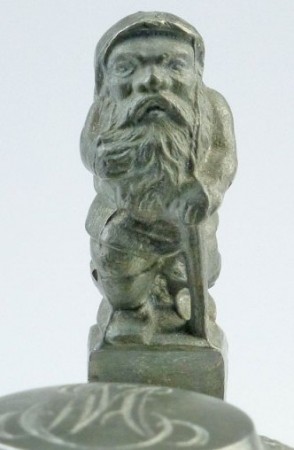 Hiking with his "walking stick "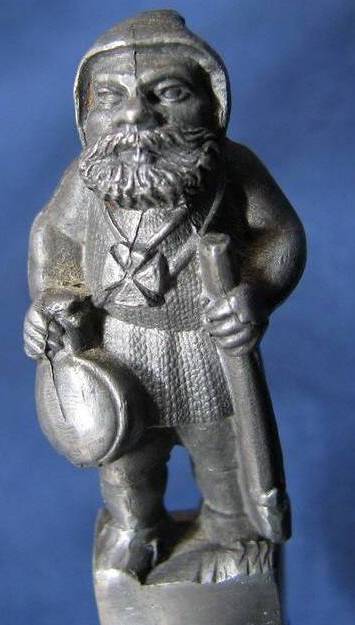 One of my most favorites as it is so different. He is a "pilgrim" dwarf / gnome. He carries a pilgrim's flask and also has his walking stick ,plus  has a medieval pilgrims "Christian's cross" around his neck. He is probably on his way to "Santiago de Compostela" in  Spain, the largest and closest real pilgrim shrine to Germany. See http://en.wikipedia.org/wiki/Santiago_de_Compostela
MUSICIANS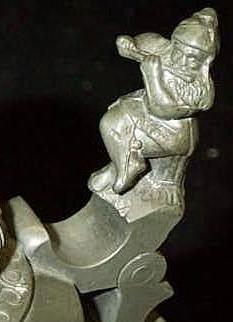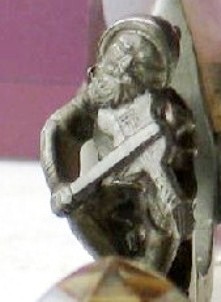 "Flute and fiddle."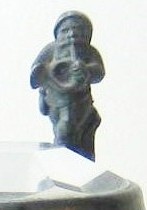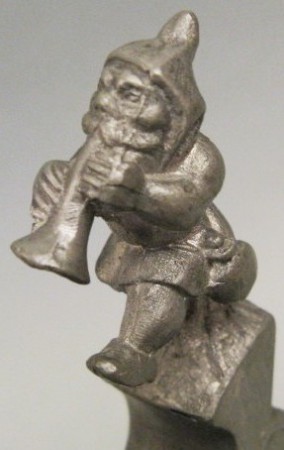 Horn players, not the same, the hand positions are  different .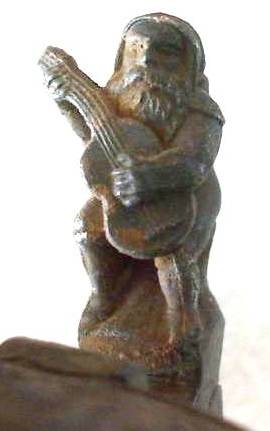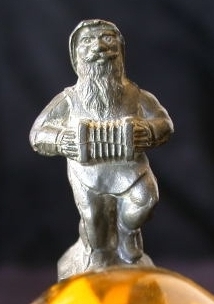 [L] His name is "Garth, who lives by the Brooks."   [R] "William Roman" and his squeeze box.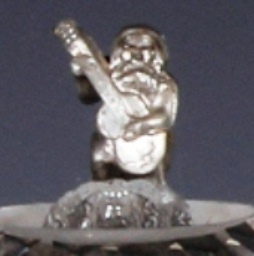 A much larger guitar.
.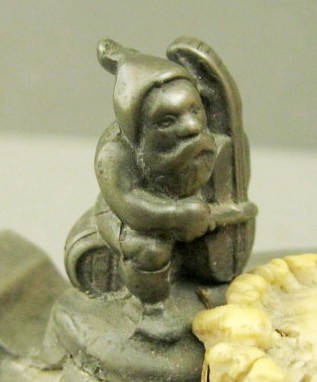 Gnome sitting on keg, playing a bass.
.
RELAXING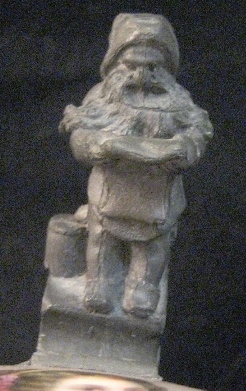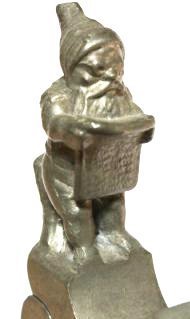 [L]  Reading a book , [R]  reading the "Gnomeville  Daily News."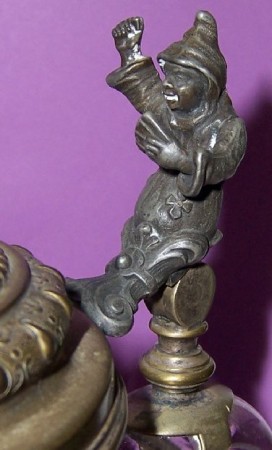 A silver plated card player, by WMF.
AND JUST GETTING BY AS BEING "LITTLE PEOPLE"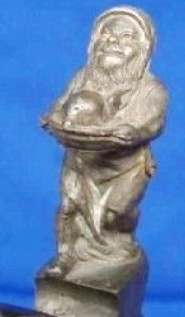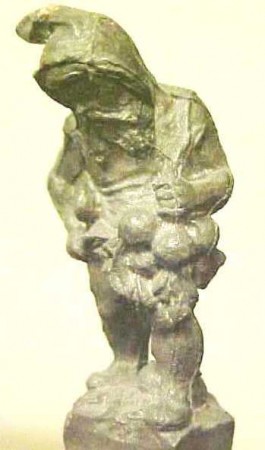 [L] Bringing in the roast boar for dinner. [R]  Chew some of these radishes with the beer and the boar's meat and .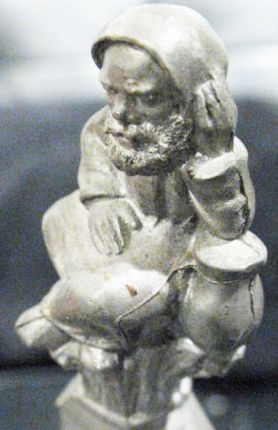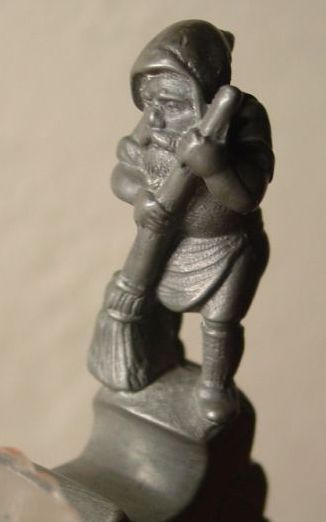 [L] one of the consequences of overeating: a headache, and a bigger belly. [R] Next time to clean the kitchen area with a broom,   and then there is: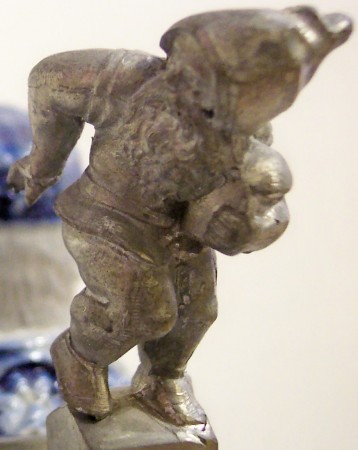 moving the air / gas away! Another one of the consequences.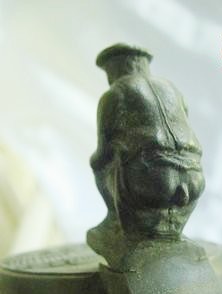 But for some, a good meal just means more gold coins for the Dwarf's treasury!
[END – SOK  – 27 – noDD]

_____________________________________________________________

"People will believe anything if you whisper it."