I have for over a year now placed these three short "notifications" at the bottom of each page!      
 

There are way too many variables: condition, location, time of year, present trends in stein collecting, local (and now national) economics, never seen before (therefore no comparables); but most of all = prior expectations by the owner, are among the reasons.       
  I just do not have the time.       
My web site was really started as an informational site for beginning beer stein collectors that would be looking for the info and not the general public.       
My So if one put in "Wood Steins" or "Hand painted steins,"  it       
STILL  

 

  =
ANIMALS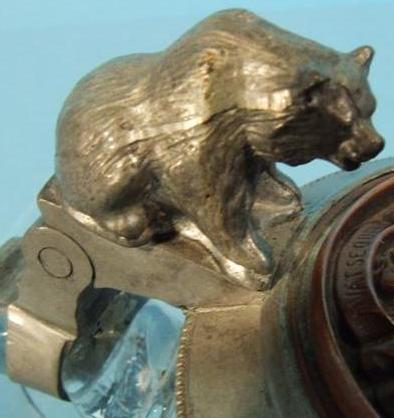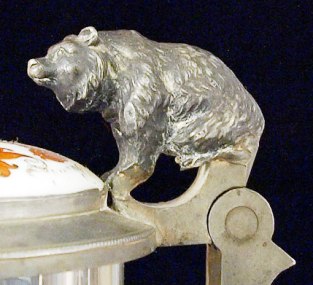 BEARS. NOT THE SAME  SEE NECKS

.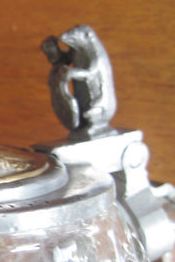 AN INTERESTING VARIANT, BEAR WITH A SHIELD = BERLIN? 
.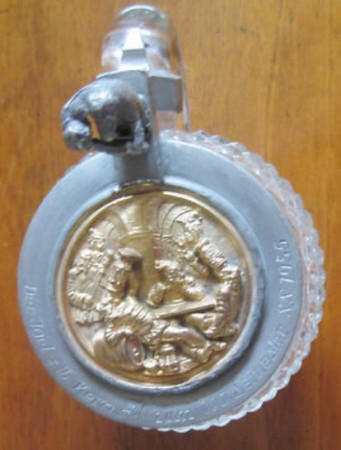 DETAIL OF "BRONZED" INSERT OF MEN DRINKING FROM POKALS,WITH ABOVE.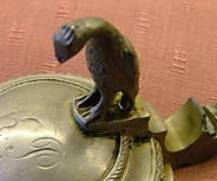 BIRD, (A tired old one), CIRCA 1840-70.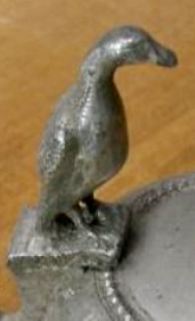 BIRD – (DUCK?), ANOTHER, SAME TIME PERIOD AS ABOVE.
. 
 DOVES – Different varieties of "the kissing doves." They can signify love / marriage and are usually seen on glass steins from the alpine regions of Bohemia. Circa 1830-65.
.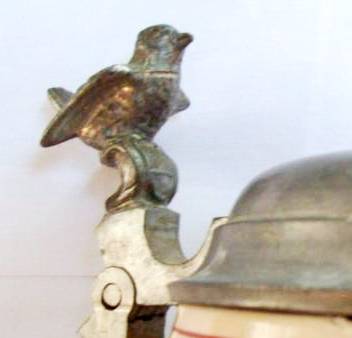 BIRD   SPARROW – SYMBOL OF THE CITY OF ULM.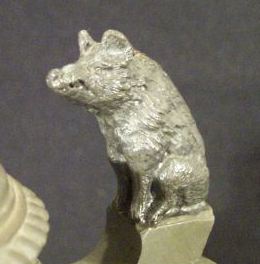 BOAR.
.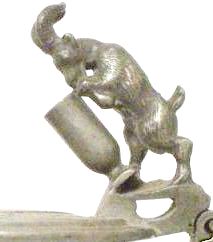 BOCK (A MALE GOAT) WITH A HUMPEN.
.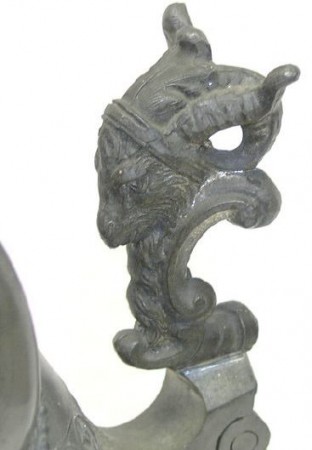 BOCK'S HEAD. STYLIZED.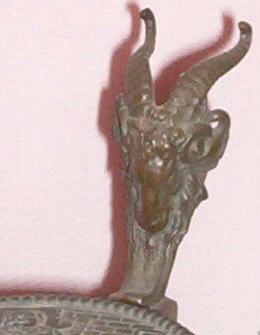 BOCK'S HEAD – ON A 'F & M, N'  STEIN.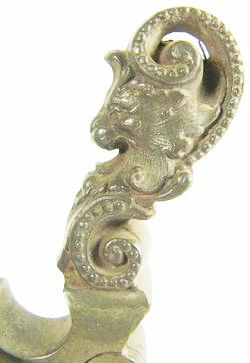 BOCK'S HEAD, BY LICHTINGER, MUNICH. [1]
.
BOCK'S HEAD, BY LICHTINGER, MUNICH. [2]
.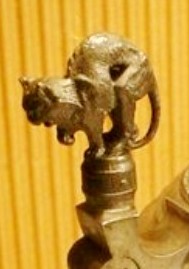 CAT, (HANGOVER) ON A BEER BARREL
.
DEER, A ROEBUCK.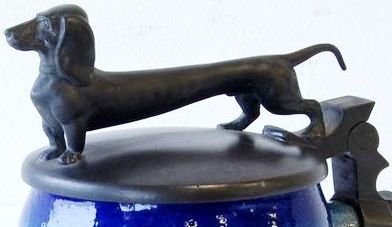 DOG, DACHSHUND.
.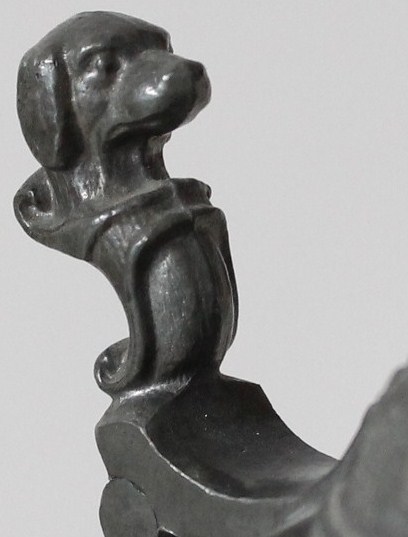 DOG, DACHSHUND.
.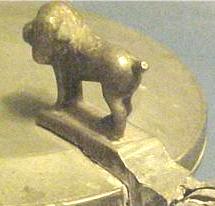 DOG / POODLE,  Circa 1850.
.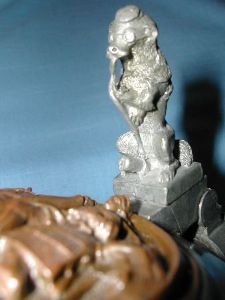 DOG, STUDENT DUELER.
.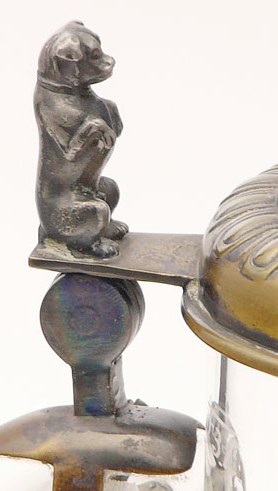 DOG, MUTT? SILVER PLATED.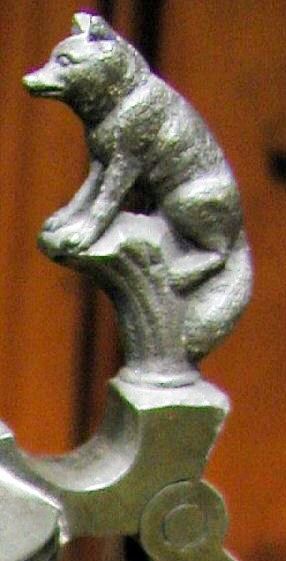 FOX, SITTING
.
FOX, ON A SILVER PLATED "MUG."
FOX, "THE GENTLEMAN" FOX
.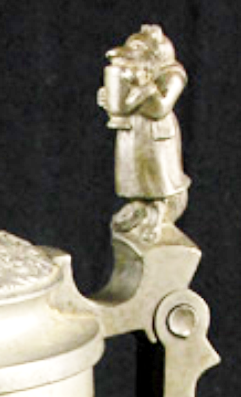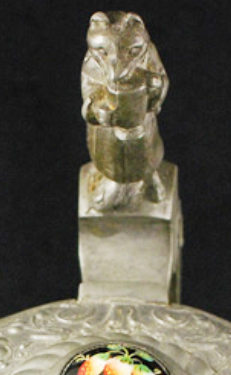 FOX, DRINKING FROM: [L] A HUMPEN, [R] A LARGE MUG.
.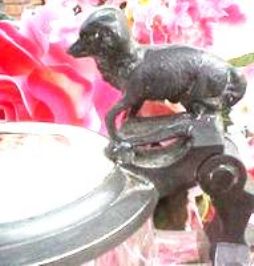 FOX, (I think) Circa 1850-70.
GOAT – SEE BOCK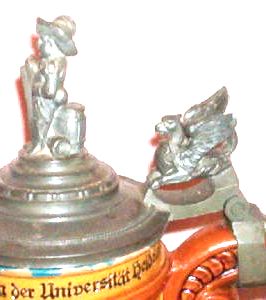 GRIFFIN, WINGED – 1
.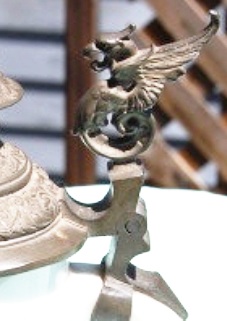 GRIFFIN, WINGED  – 2
.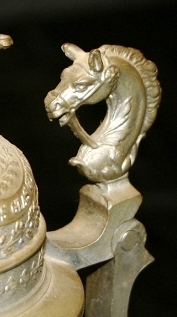 HORSE'S HEAD NO. 1
.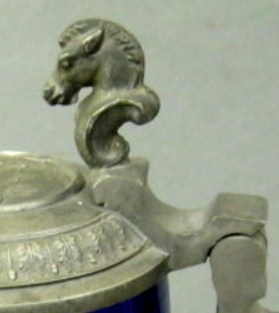 HORSE'S HEAD NO.2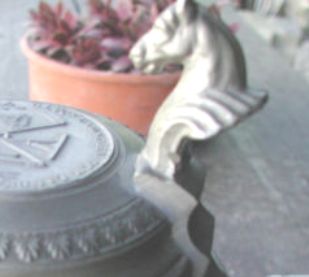 HORSE HEAD NO. 3, WINGED, on a 1860ish farmer's 1.25 liter "mud" stein.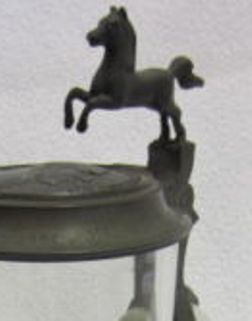 HORSE'S FULL BODY,   seen on a Saxon clear glass stein,   Ca. 1860,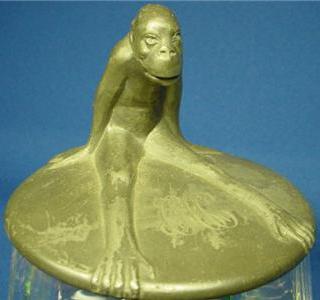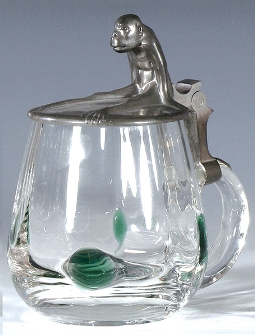 [L] MONKEY, UGLY (REALLY UGLY!) ART DECO STYLE [R] LID IS NOT QUITE SO ABUSED.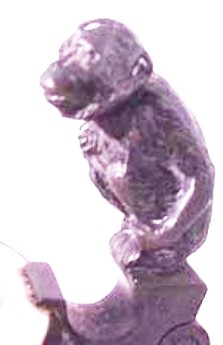 MONKEY, SQUATING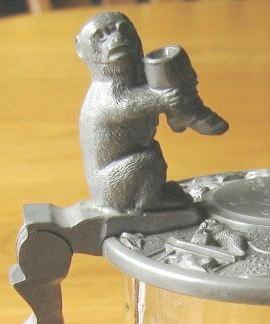 MONKEY (DRUNKEN / ALCOHOLIC) DRINKING FROM A BOOT.
FROM THE OLD SAYING:"HE WHO CAN NOT DRINK HIS BOOT FULL IS NOT A TRUE BAVARIAN MAN!"
See: http://www.steveonsteins.com/the-man-who-can-not-drink-his-boot-full-of-beer-is-not-a-true-bavarian-new-10-13-11
Below: Different versions of the "LION WITH SHIELD"  mostly from about the 1860's.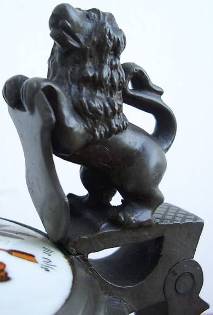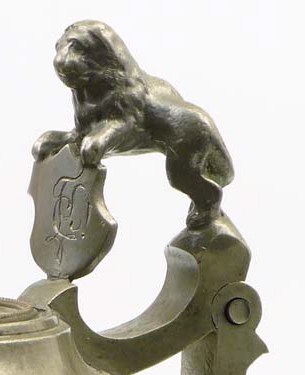 .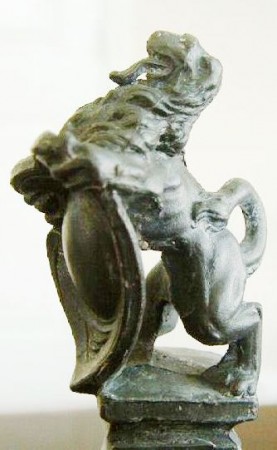 [R] LION WITH SHIELD, found on a dueling society stein. Very well done.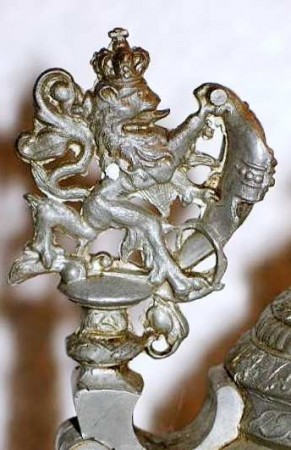 LION, RAMPANT WITH SHIELD = ONE OF THE NICEST, BY J.  LICHTINGER, IN MUNICH I BELIEVE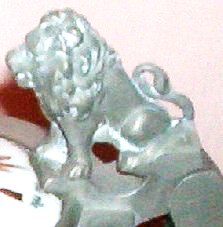 LION HAUNCHED (SITTING ON HIS REAR LEGS ) CA. 1860.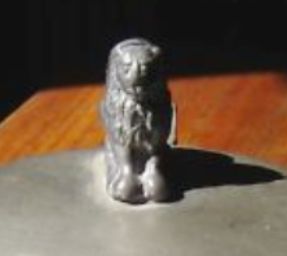 LION,  SITTING ON HIS BELLY.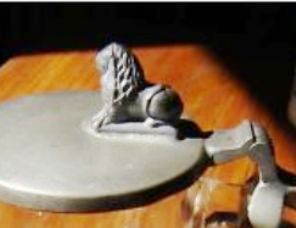 ANOTHER VIEW OF ABOVE.
.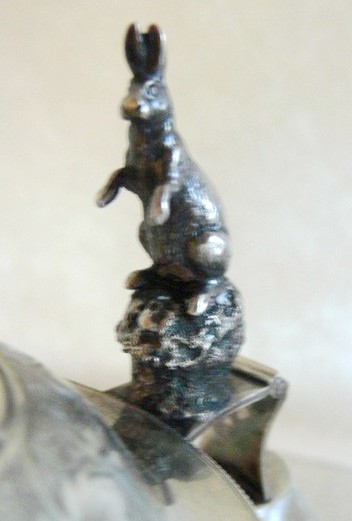 RABBIT – SILVER PLATED .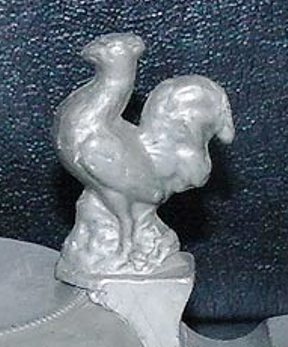 ROOSTER, CA. 1870, A VERY ROUGH CASTING
SQUIRRELS, BOTH  CA. 1860 – 80.
[END – SOK –  53 – 4D]

   "A clear conscience is usually a sign of a bad memory."