Editor's Note: While this page on Mühlendycks was started years ago, SCI's magazine "Prosit" just published (March 2014) an excellent new reference article authored by Mark E Rossman, a fellow living and shopping in Germany. In his article Mr. Rossman describes his first Mühlendycks' beer stein he was lucky enough to find at a local flea market; but more importantly his subsequent visit to the "Tüperhof "and its present owners Wim's granddaughter and husband.
If you are interested in this firm's hand decorated beer steins, I I think the one year dues to SCI and a request for this (now a back issue) would be worth it. Steve
Wim Mühlendyck. A very brief history:
Wim Mühlendyck, was born in 1905 in Porz near Cologne. He ttended the Staatliche Keramische Fachschule in 1926 – 27. His ceramic workshop: Mühlendyck, in Hoehr-Grenzhausen, Germany, was founded in 1931 and continued until the 1970's. He lived to be 81. He died in 1986 in the town of Höhr Grenzhausen.
I have found no representation that Wim was not the artist for this series of animal steins. however everyone says that he collaborated in techniques with Elfriede Balzar-Kopp.
The animals / birds; not in alphabetic order !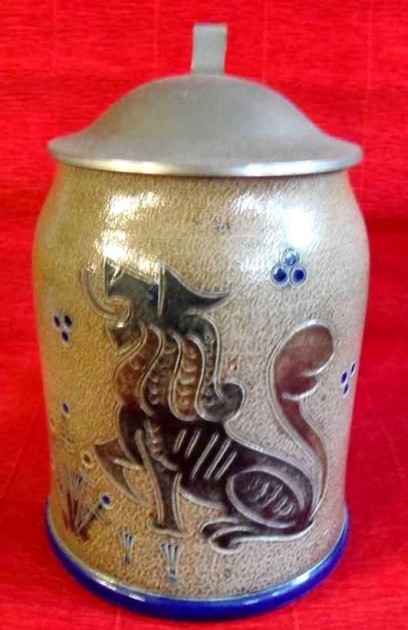 LION [1]
.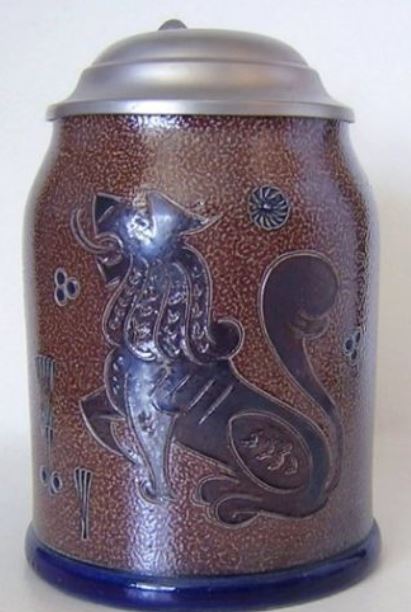 LION [2] ON LATER DAY PRODUCTION BROWN BODY [Stephen Smith Collection]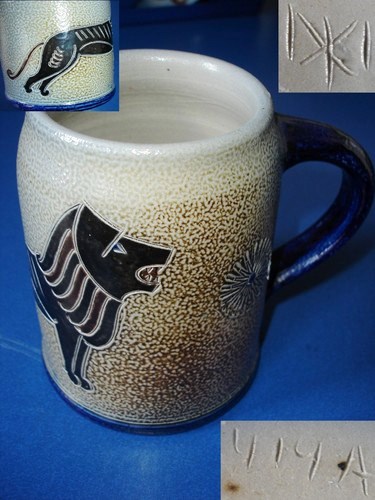 LION [3] – One of the un-lidded steins seen in this animal series; lidless steins were caused caused when Wim's lid supplier went out of business.
Excerpted and translated by me from a small document entitled "Salt–glazed stoneware: hallmark of an entire region." [Unknown Author and Date written].
The youth movement of migratory birds in the 20s of the 20th Century brought a return to a natural life studies. The profession as a craft of the potter was good. In this framework, Wim Mühlendyck came to school and studied ceramics for a few semesters. Just four years later Balzar–Kopp was born in Bendorf Elfriede in 1904.
Both these artists aimed to revive the traditional pottery of the Westerwald. Although the potters within the Westerwald were not completely extinct, there were still small workshops continued to work. From the old workshops several manufacturers had developed and were exporting their now industrially produced tiles throughout Europe (and veered away from making beer steins. A prime well known example was V & B Mettach.)

Elfriede Balzar–Kopp and Wim Mühlendyck gave the pottery production n Westerwald a boost. These two men built their furnaces and even experimented with firing temperatures applications and times, air supply and reduction. The wheel rotated with the symmetrical vessel (hand wheel spun vessels which were at the center of their creative work. The success of both potteries was great. Their work found many followers, not the least of why was because the old traditional techniques were again used.
Both of these men enjoyed the German ceramic high reputation abroad in the 1930s and 1940s . At the World Exhibition in Paris in 1937 many German potters were successful. Among them were Elfriede Balzar–Kopp and Wim Mühlendyck. Their salt-glazed stoneware presented with the traditional decorative techniques at international competitions were a great success as many of their International awards prove.
Elfriede Balzar–Kopp and Wim Mühlendyk are founders of potter families who worked lately in Hoehr-Grenzhausen.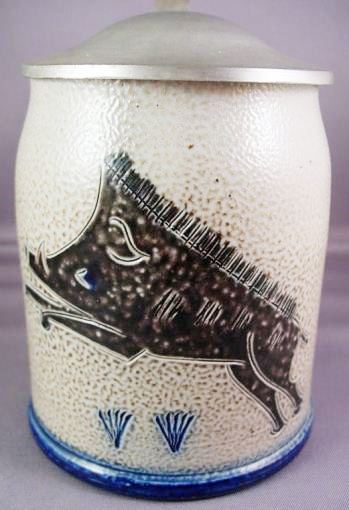 FEMALE BOAR [1] [Stephen Smith Collection]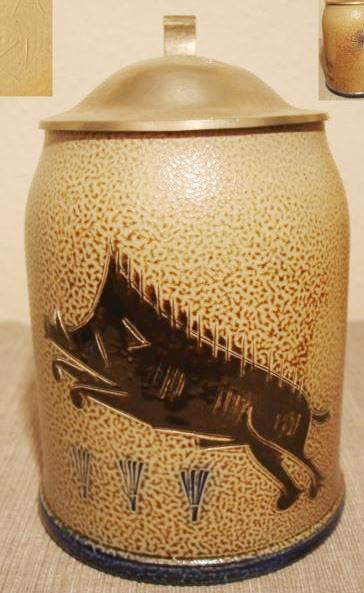 MALE BOAR [1A] – .5 liter.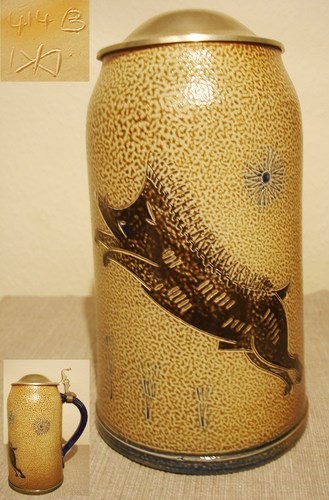 MALE BOAR [1B] – 1 liter.
While not part of this page's main 5 LITER AND 1 LITER stein series ▲▲, Wim did use his stylized animals on other pieces of his such as this 7.6 inch tall server and others . (below.▼ ▼ ▼)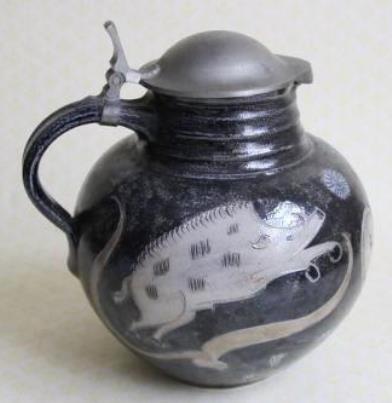 BOAR, MALE [2] SMALL SERVER
Why I (Steve,) enjoy this series of beer steins:
I usually do not care much for the so called "Jugenstil"style [Jugendstil = youth style = modern art] "done to" and "shown on" German beer steins from the period 1910 through the 1940's such as shown just below ▼: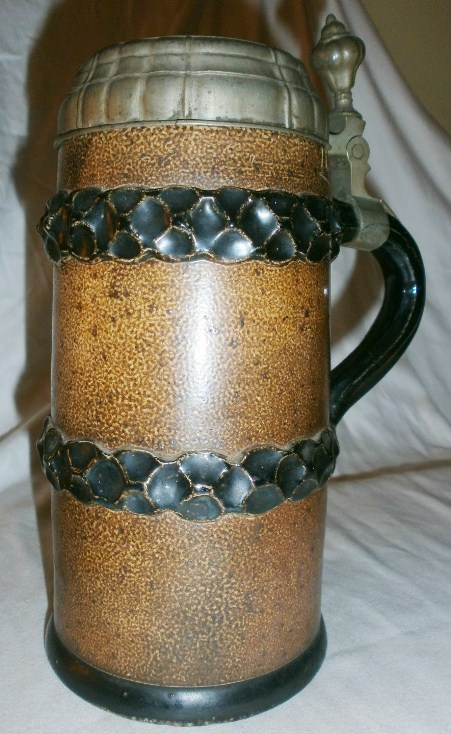 Art Deco / Jungenstil.stein. Shown: One liter stoneware. By Leybolt, Ludwig = A German designer of Jungenstil.
I guess learning when Herr Mühlendyck was in business, his beer steins could be considered very "Late Jugenstil" examples, or maybe just more "Modern"?
I have no idea the exact year or years this animal series were produced (yet!) but I am assuming somewhere about 1931 – 1960. One German eBay seller puts his 3 Wim steins for sale [ ▼ ▼ ] as being from the 60's .or 70's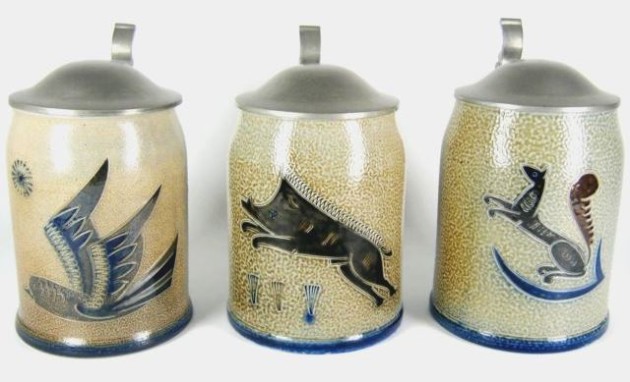 [photo from ebay's "taeglichamstrand"- these 3 steins were for sale 7-2013.
they are: DOVE – MALE BOAR – FOX
I do have however a fondness for the old Westerwald incised / engraved beer steins and servers (which I think are highly underrated in the Stein Collecting Community).
That is why there are a couple of pages and lots of photos on this web site devoted to them. These piece are where the "folk artists" of the period where hired by the stein manufactures to come up with some really splendid designs of geometric figures, leaves and vines, animals and birds, and fancy borders. As examples which shows these attributes see the two large "Pear Jugs." (Germ: "Birnkrug") shown just below▼: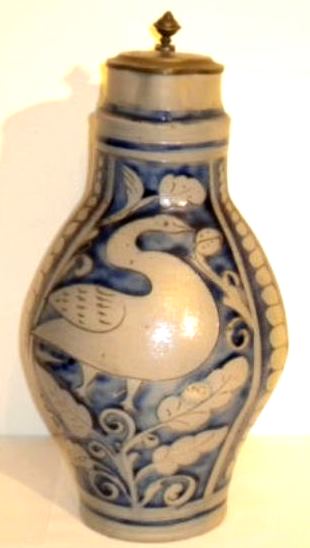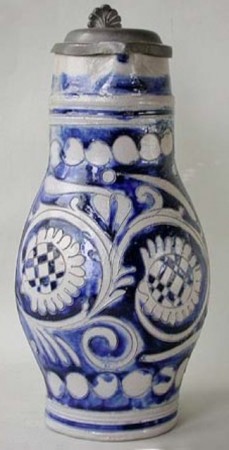 For more on this types, please see; http://www.steveonsteins.com/some-of-the-beauties-of-the-westerwald-3
This Mühlendyck series shows animals, albeit fancy modernistic ones, but when studied the methods of design are not very much different when compared to the older ones from the Westerwald, shown above ▲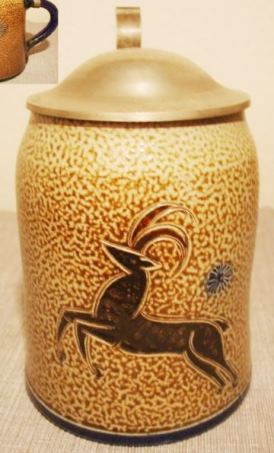 ANTELOPE [1] [Stephen Smith Collection]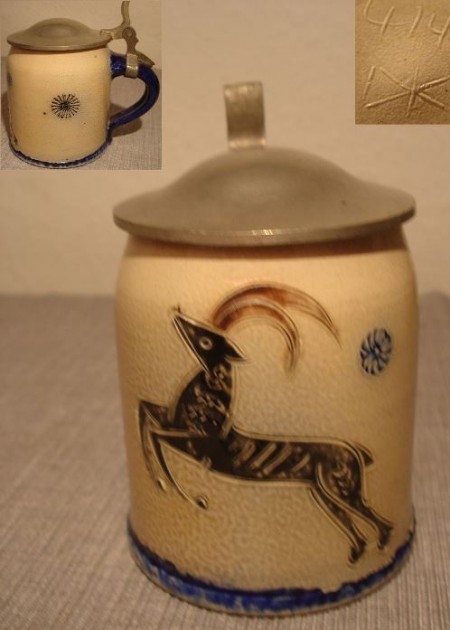 ANTELOPE [1] WITH BODY STRIPPING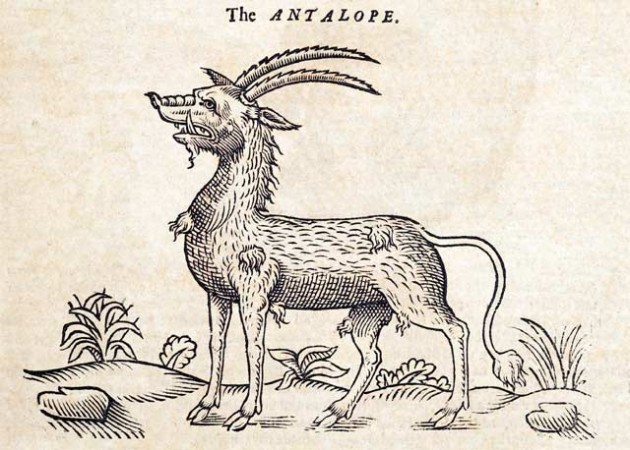 "ANTALOPE" [NOTICE SPELLING] — FROM "THE HISTORY OF FOUR FOOTED BEASTS " DTD 1607.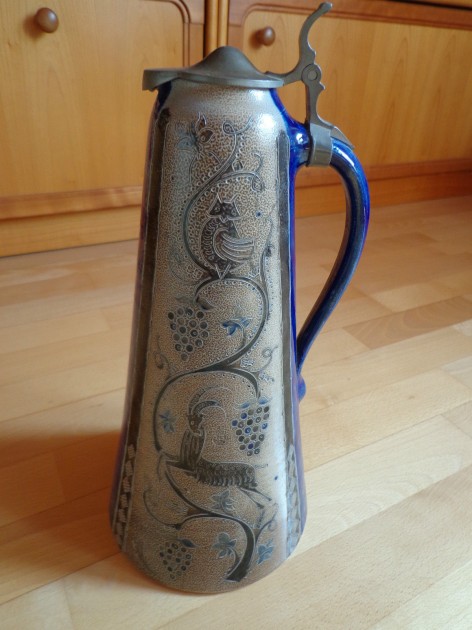 Server with one antelope.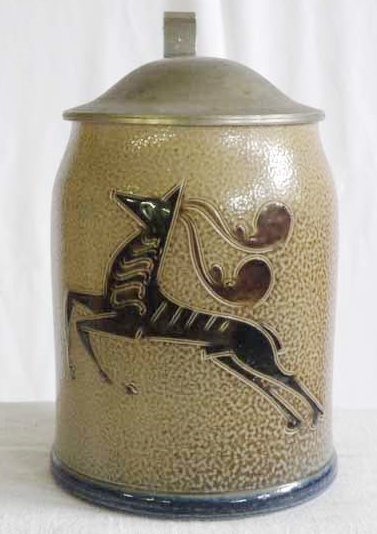 DEER – BUCK [1] – ROUND END STYLIZED ANTLERS [Stephen Smith Collection]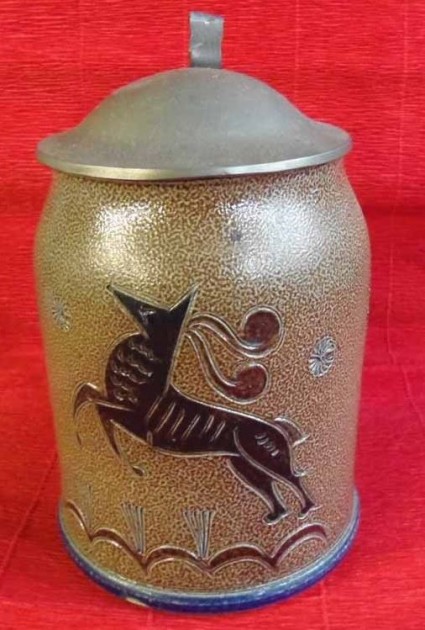 DEER – FEMALE [2] – ROUND END STYLIZED ANTLERS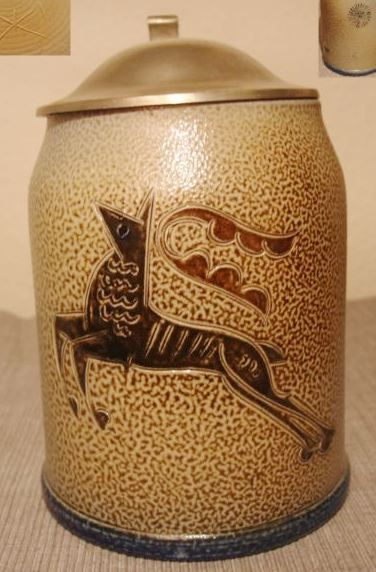 DEER – BUCK? [2] FOUR HALF ROUND STYLIZED ANTLER SPIKES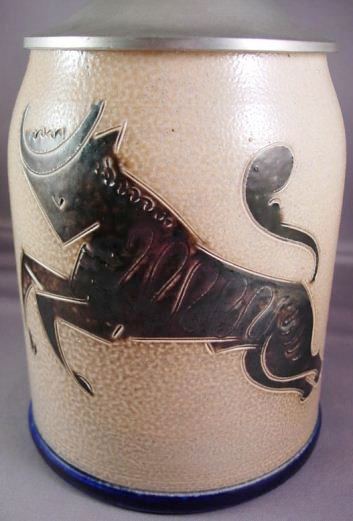 BULL [1]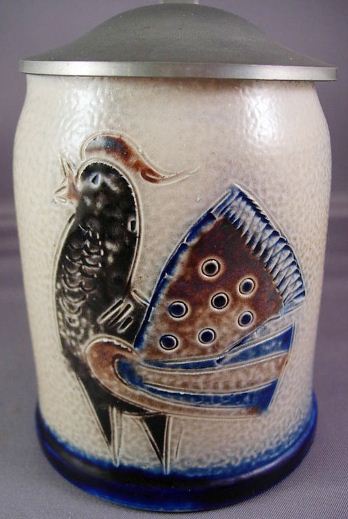 BIRD – COCK [1]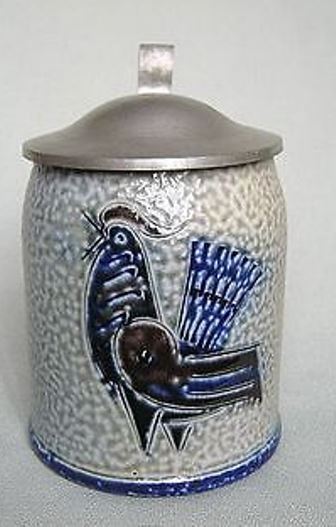 BIRD – COCK [2] MUCH DIFFERENT TAIL AND LEGS DIFFERENT ALSO 3,8 INCH [Stephen Smith Collection]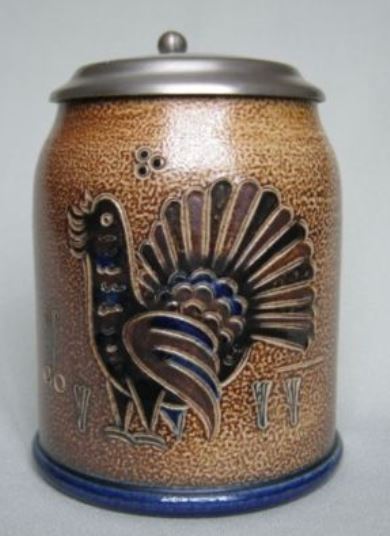 PEACOCK [1-a] ▲ 16 tail feathers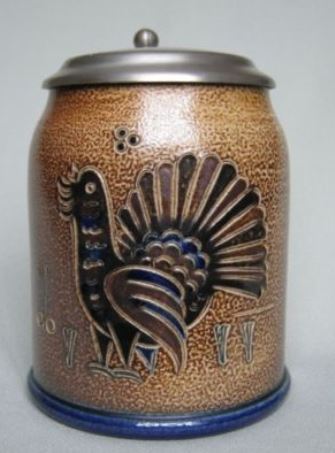 PEACOCK [1 – b ] 17 tail feathers and smaller neck ! Again showing jhow each was custom made ▲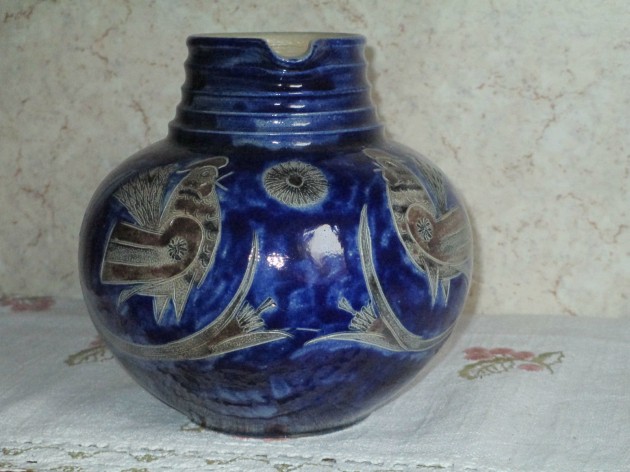 SMALL SERVING JUG WITH BIRDS – NICE COLOR EFFECT I THINK.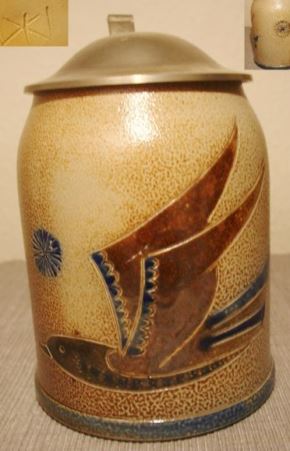 BIRD – DOVE [1]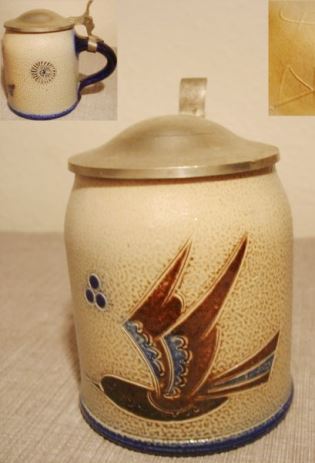 BIRD – DOVE [VERSION OF 1] –While these two bird steins appear to be almost the same , Besides the small ornament the tail feature are different, again proving that each was hand done and that a stencil was not used to draw these images on the clay before engraving them into the body.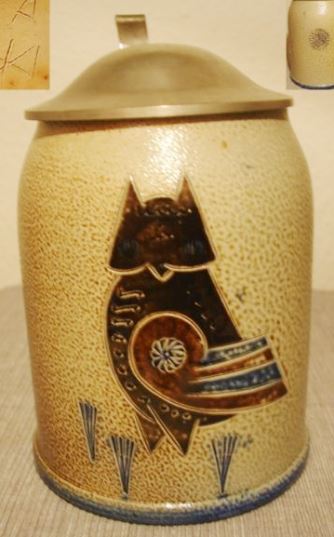 OWL [1] NO EYES .5 liter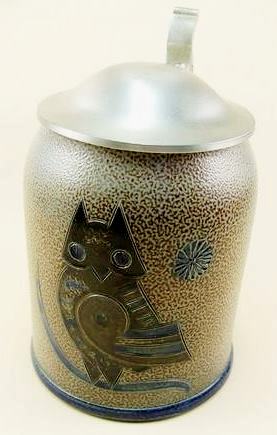 OWL [2] – .5 liter – A somewhat different design when studied. This one has a starburst and the owl has open eyes and he is sitting on a branch.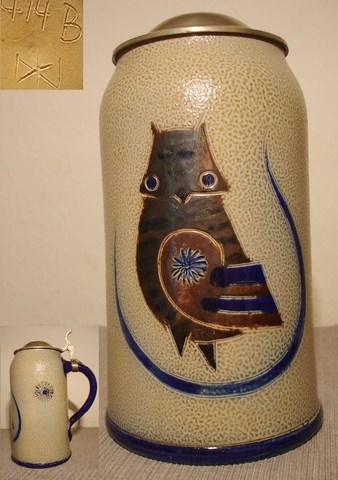 OWL [2B[ – 1 liter.
OWL [STYLE OF NO. 2 – [x] 2 – ON A 2 LITER SERVER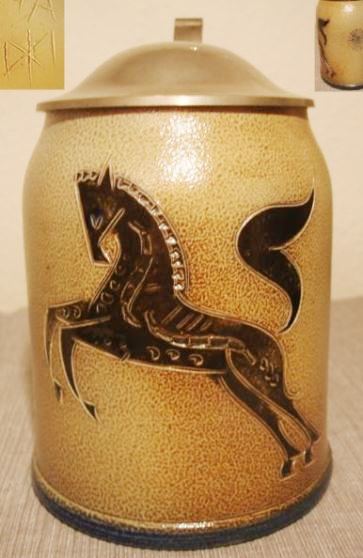 HORSE [1] . 5 LITER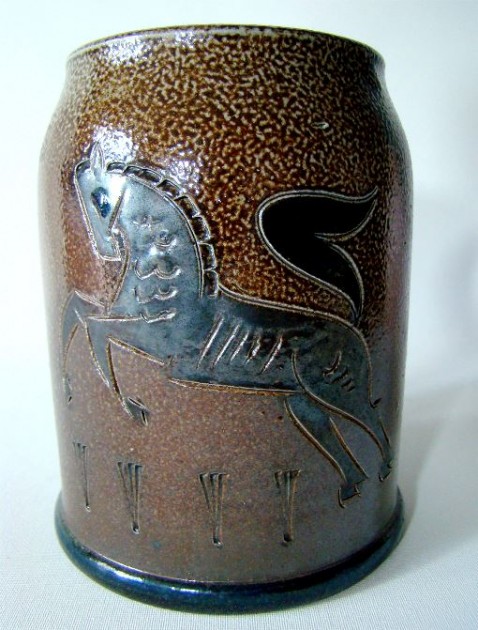 HORSE [1] . 5 LITER BROWN BODY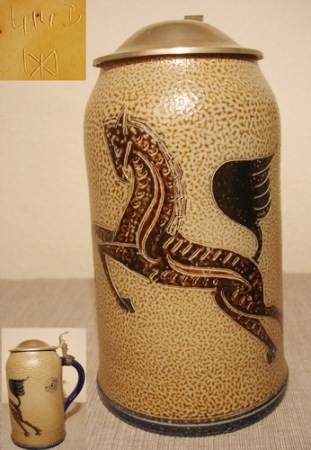 HORSE [2 ] – 1 liter. STRIPPING DESIGNS ON BODY AND TAIL DIFFERENT.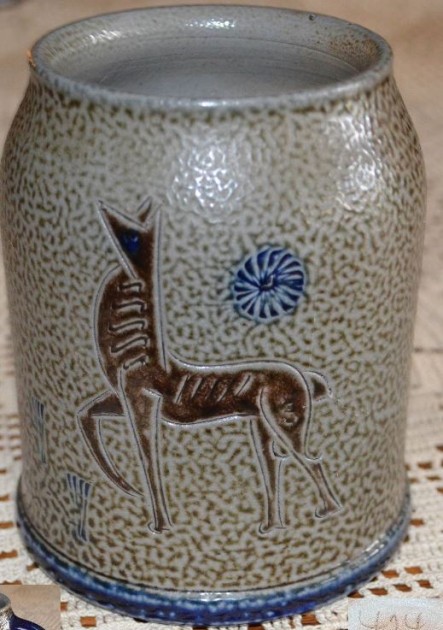 HORSE [?] [3] . 5 LITER [YOU TELL ME WHAT YOU THINK IT IS, PLZ ] .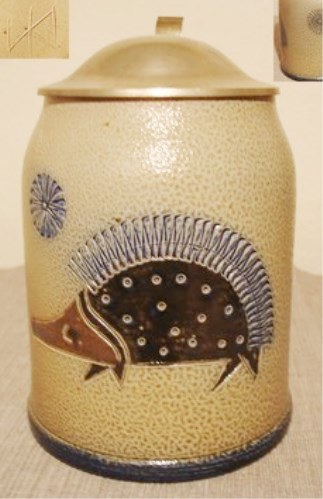 PORCUPINE [1] =A pretty novel design, I think.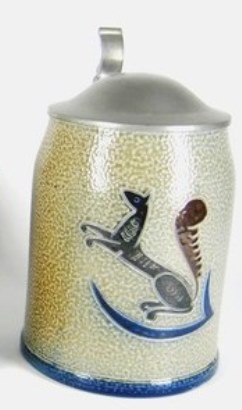 FOX [1] – .5 liter.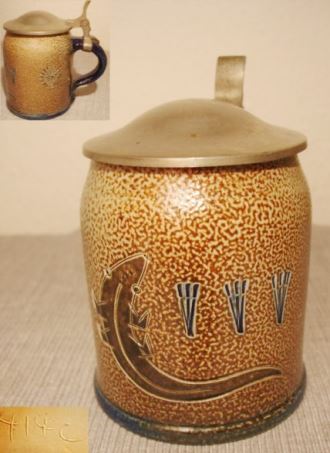 LIZARD [1] -.5 liter. -This is probably a "Salamander" as those lizards had a special meaning in Germany years ago.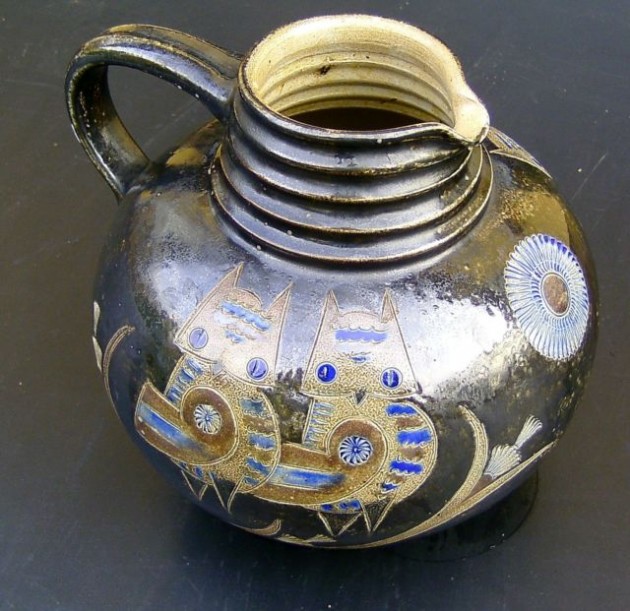 . such as larger servers as this 5 liter depicts. The OWLS [3] on this piece are turned in the other direction then those above, and their heads are of a different design.
▲ SMALL INDIVIDUAL WINE SERVER ( JUG) WITH DUAL OWLS .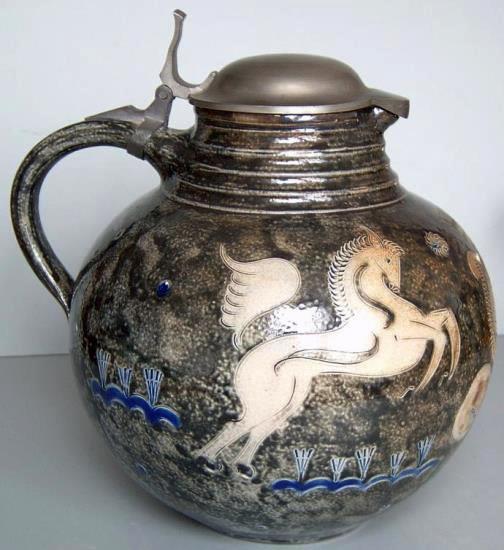 HORSE [4]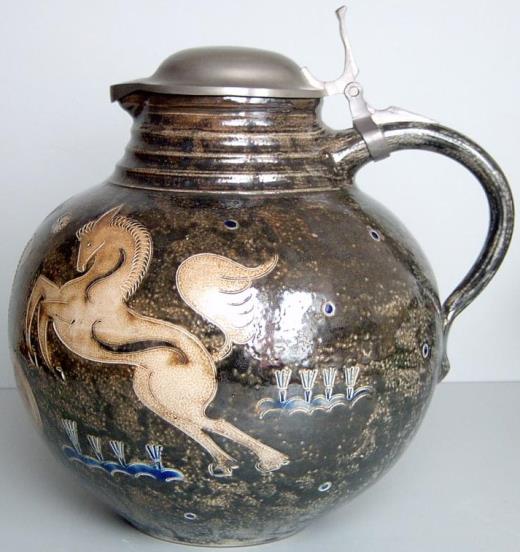 REVERSE OF HORSE [4] : A 10 inch tall beer jug.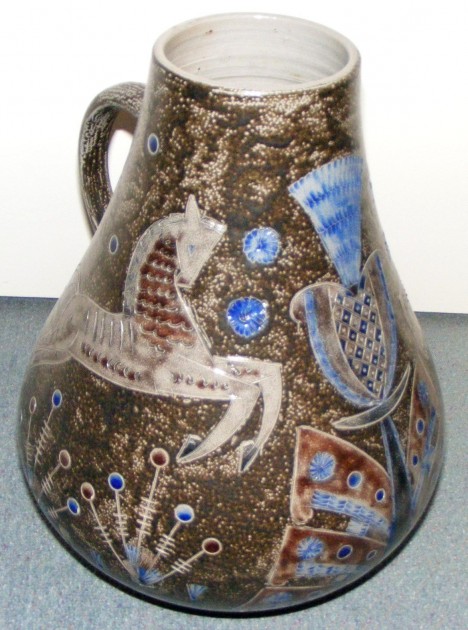 Another variant of a horse on a jug. / small server.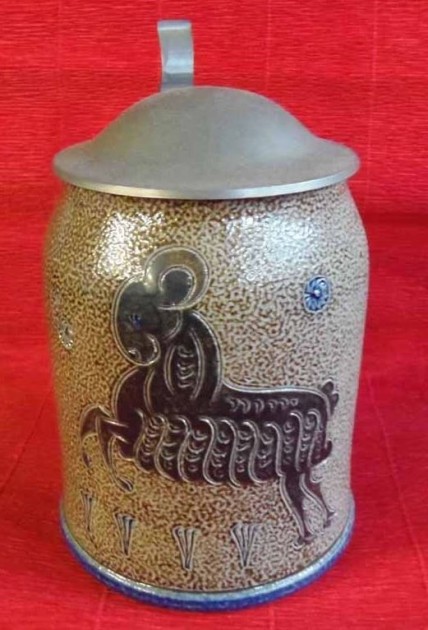 RAM [1]
Also see: http://www.steinmarks.co.uk/pages/pv.asp?p=stein173
.
BELOW ▼ ▼ OTHER DRINKING VESSELS AND ASSOCIATED WORKS THAT WIM PRODUCED THAT MAY BE OF INTERST TO MY READERS .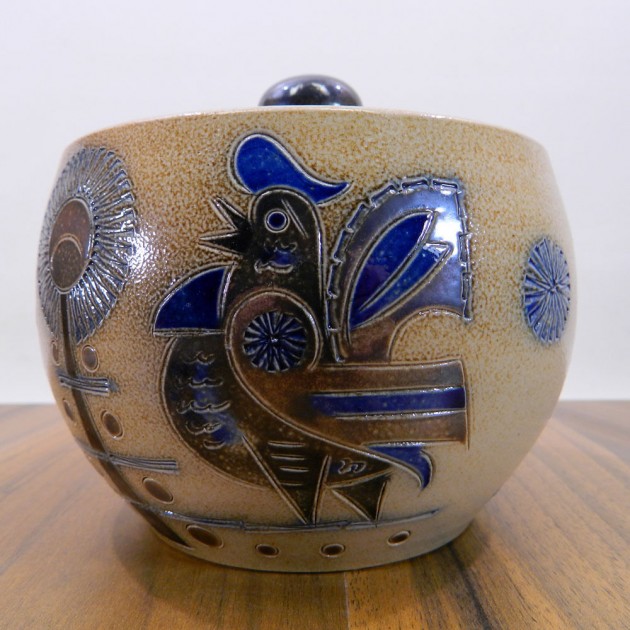 TOBACCO JAR -▲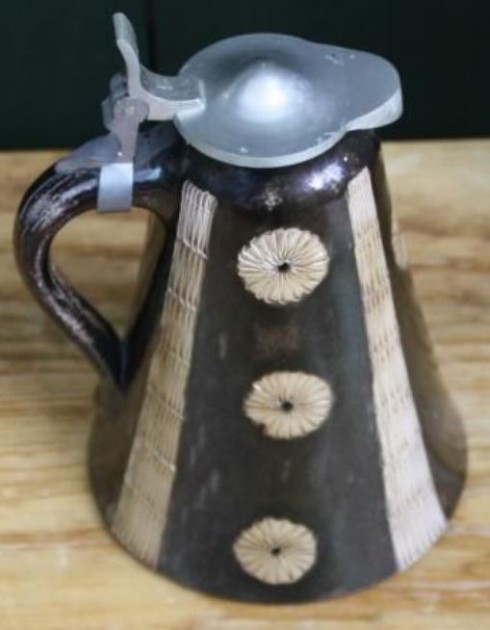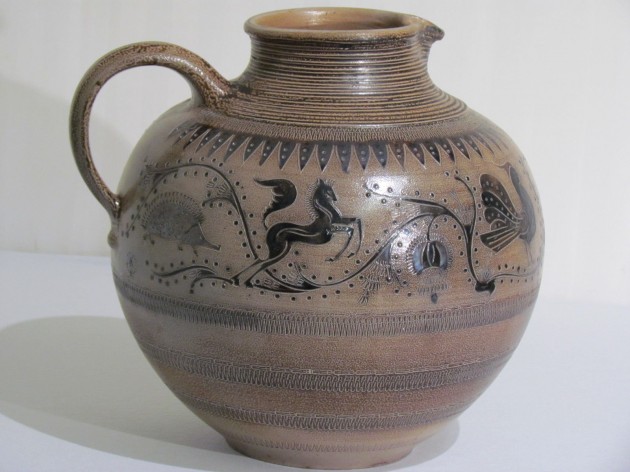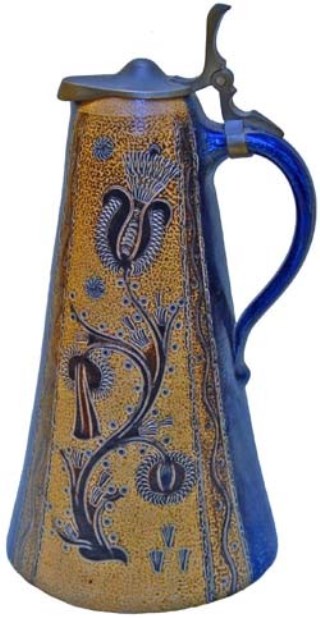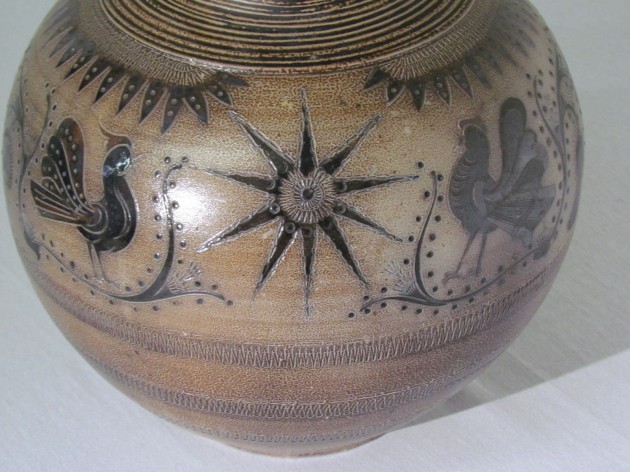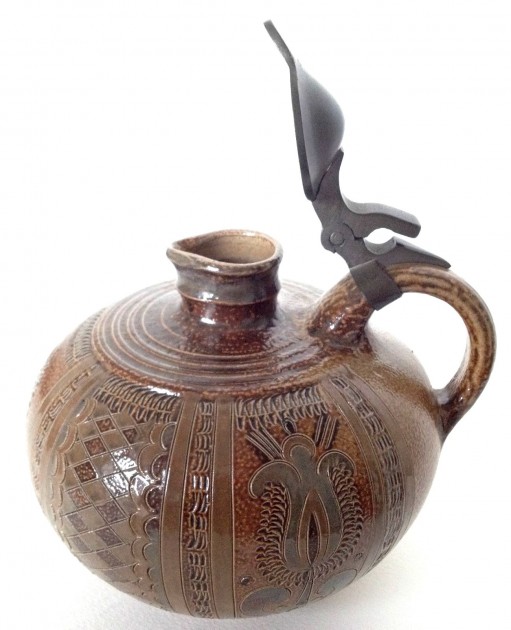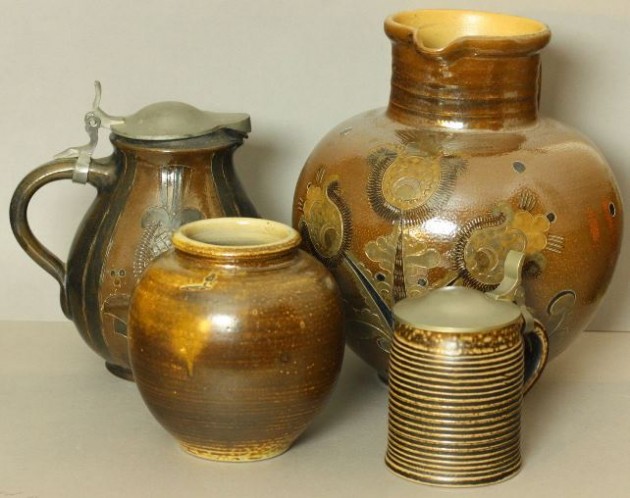 LOOK ALIKES BY OTHER MAKERS BELOW -▼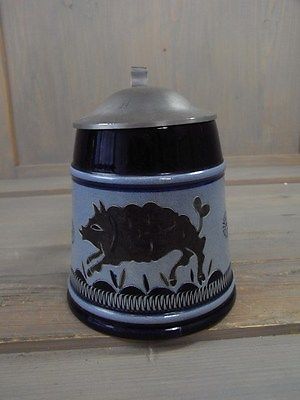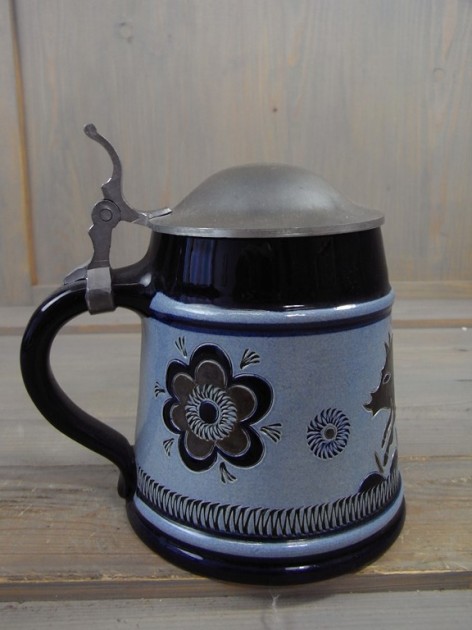 .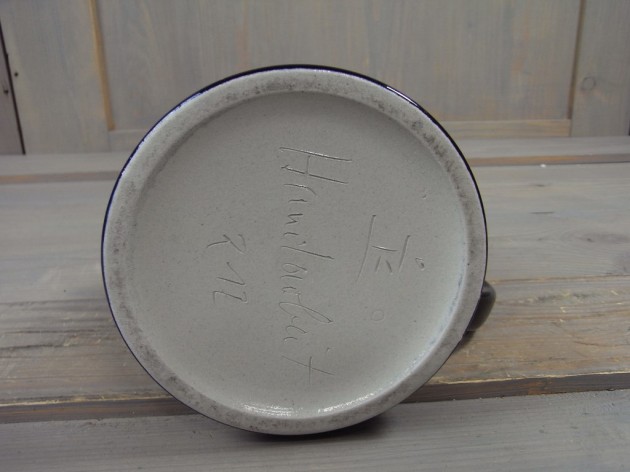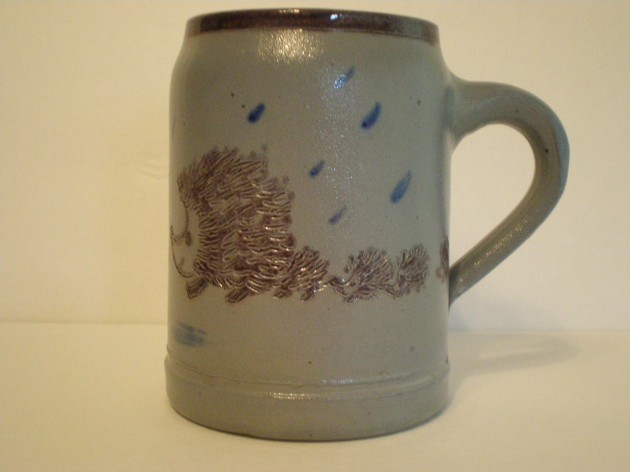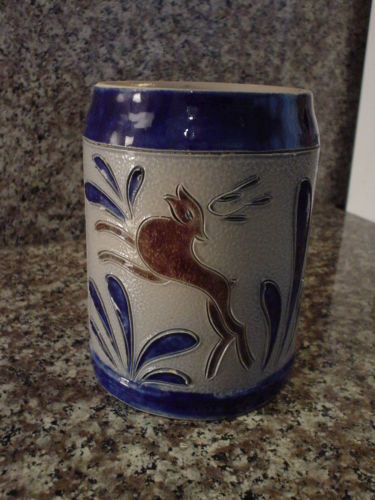 [END]
[AWPD – SP104 – 61 – R5]
WISH TO CONTACT ME ? =

"I wanna hang a map of the world in my house. Then I'm gonna put pins into all the locations that I've traveled to. But first, I'm gonna have to travel to the top two corners of the map so it won't fall down.
zzzzzzzzzzzzzzzzzzzzzzzzzzzzzzzzzzzzzzzzzzzzzzzzzzzzzzzzzzzzzzzzzzzzzzzzzzzzzzzzzzzzzzzzzzzzzzzzzzzzzzzzzzzzzzzzz
.