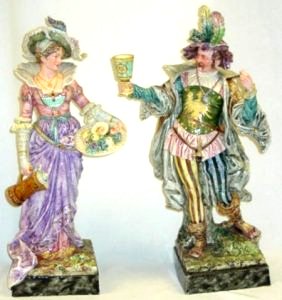 A great pair of majolica statues with a drinking theme. 25.5 inches high, to the top of the landsknecht's feather. He should be holding a wooden halberd or lance with his left hand, most often missing. Probably Austrian. Circa 1870. [FWTD] For more on Landsknechts see: http://www.steveonsteins.com/lansquenets-on-beer-steins-etc-started-10-30-xing-as-i-go

Majolica may refer to: [1] Tin-glazed pottery – decorated earthenware pottery with an opaque white glaze.Normally called Faience / Fayence.
[2] Maiolica – a type of tin-glazed pottery made in Italy.
[3] Victorian majolica – brightly colored earthenware pottery with a clear lead glaze.
Most of the beer steins and related items shown on this page relate to the 3rd definition above, more than the other two!
While most of the drinking vessels produced in Majolica appear to be "Servers," every once in a while one will hit upon a super stein. A one liter relief and hand painted, probably Austrian made. Circa 1880. [FWTD]
AGAIN: Now while all the experts say that in the beginning, "majolica "was done in tin glaze and it is the same as Delftware, and Faience, the English version of using a lead glaze was later adopted by the Austrians (and some Germans) in their stein production of beer steins. I have primarily shown the lead glazed examples produced in the so called "Golden Age of Beer Steins."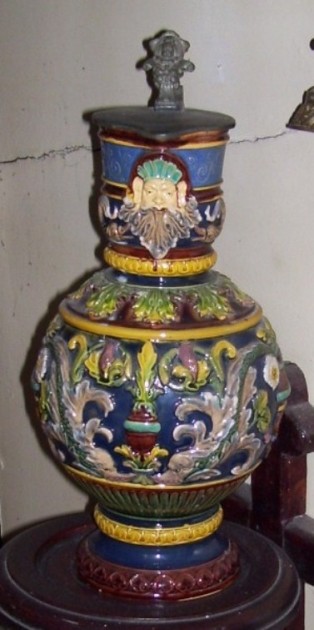 One of the most colorful pieces in "FWTD", this majolica server only holds about a liter and a half. Austrian Ca, 1870. A "Green man" face.
See: http://www.steveonsteins.com/the-green-man-vs-the-wild-man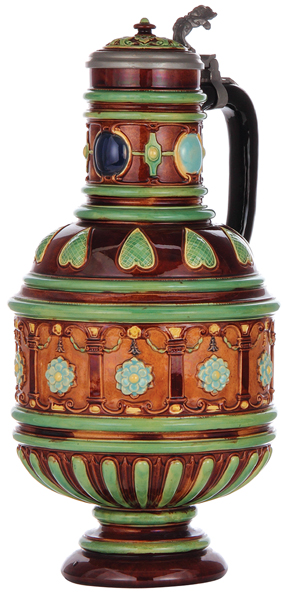 A very bright lead glaze on this 3 liter majolica beer server, most probably Austrian. Circa 1890.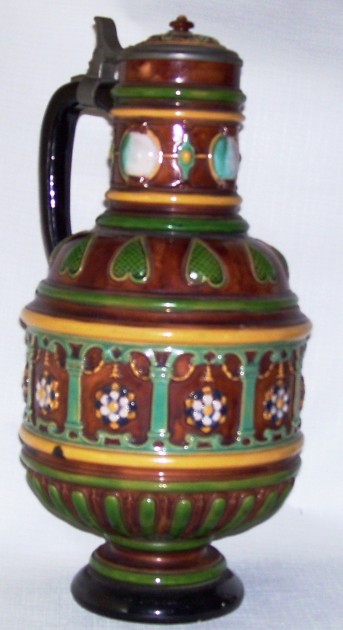 Same maker and size as above with a different center panel color design. All those dots appear to be hand applied. [FWTD]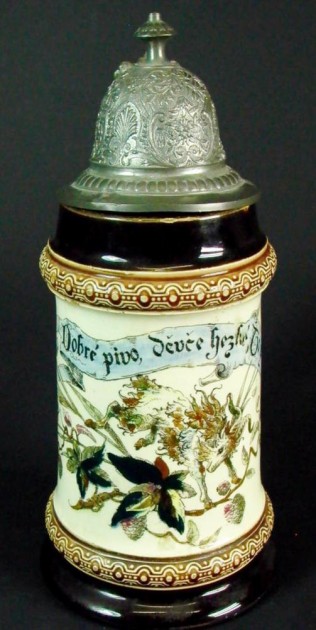 .5 liter, unknown maker (probably Ditmar), with a very unusual style pewter lid. It really doesn't compliment the stein and so it may have been added later.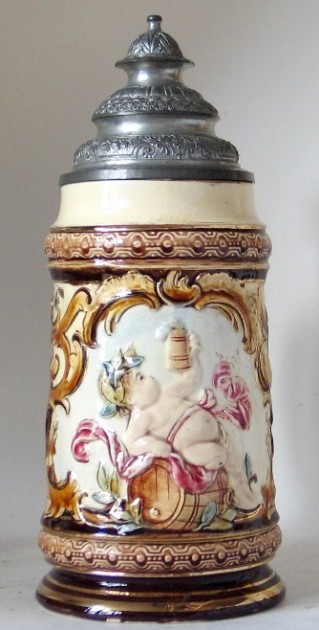 Austrian, .5 liter, Majolica style beer stein ** ▼ – showing "Baby Gambrinus " (not Bacchus) as he is drinking beer and not wine. Austrian company of Rudolf Ditmar (1881 – 1919), [Both photos comps of eBay's "Beer-Stein."]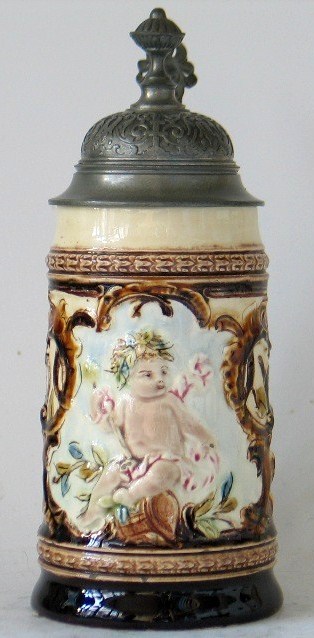 Gambrinus I think – This one shows him sitting atop a large "beaked lid" wooden serving stein. For beaked lidded steins, see: http://www.steveonsteins.com/wooden-steins-1-2
** I believe These steins that are pictured are really called "Elfenbeinsteinzeug" by ceramic scholars.
Elfenbeinsteinzeug is made from exactly the same clay as Steinzeug, but is fired in a vented kiln which allows oxygen to enter the kiln during the process that oxidizes the small amount of iron in the clay causing the beige or ivory coloration. Rather than being salt glazed, Elfenbeinsteinzeug is covered with a glass frit glaze, safer for the environment and those who produce it.
From: http://www.thepatriotexchange.com/pss/pottery.htm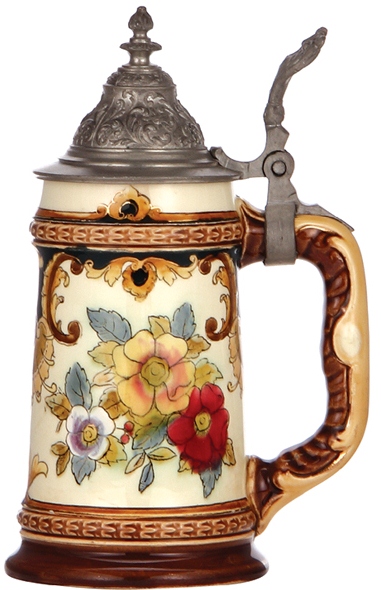 Ditmar — Same body style as above, but a .3L, called majolica, hand painted floral, pewter lid. [TSACO]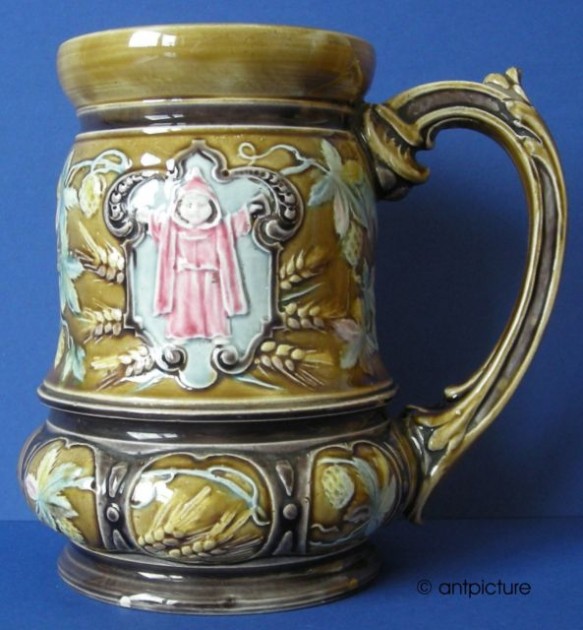 Rudolf Ditmar, Münchner Kindl .5 Liter, 1890, Jugendstil.
Mug – German, 5 in. tall with -multiple leaves, vines, hops and berries. The center roundel show German Emperor Charlemagne [?]. Scratched mold number 187, with no mark. Ca. 1870.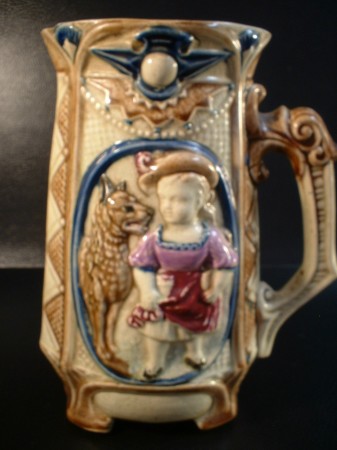 Majolica beer mug showing Red Riding Hood (Rotkäppchen ) and not "A girl with her dog" as the eBay seller advertised.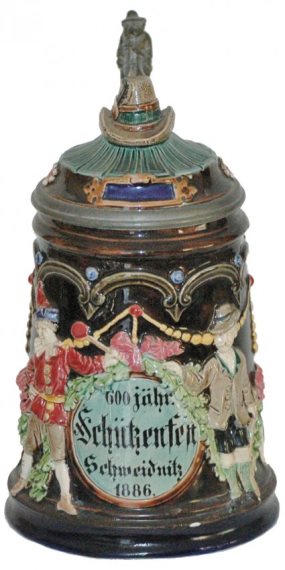 Dated 1886 Shooting Prize [?]. A 300 years anniversary. Target & hat inlaid lid . 5 liters [RFA]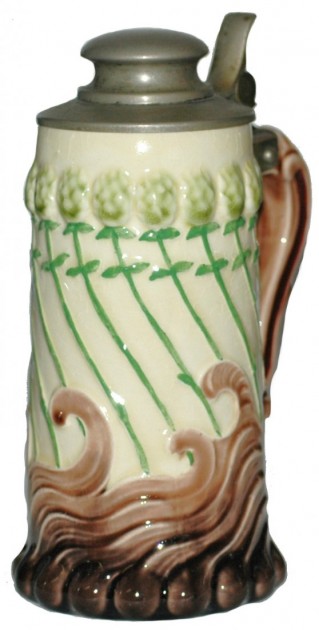 Ditmar 1/ 2L. Art Nouveau floral design. [RFA]

Majolica. 1 liter The Saxon State Coat of Arms. RFA]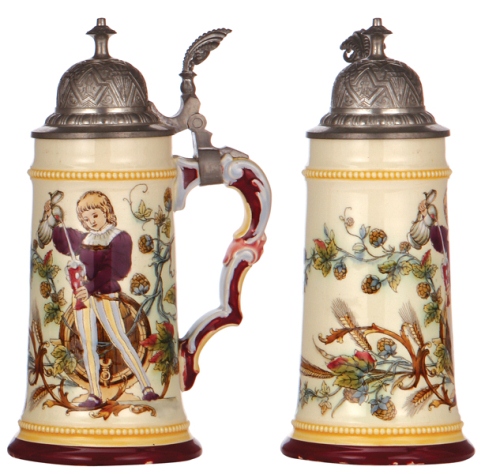 .5 liter Ca 1890. Probably Dirmar. [tsaco]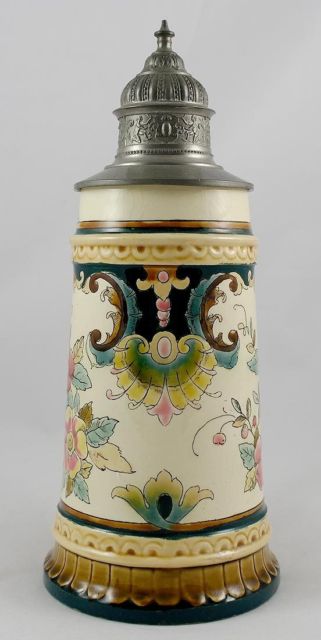 And one more Ditmar: .5 liter stein.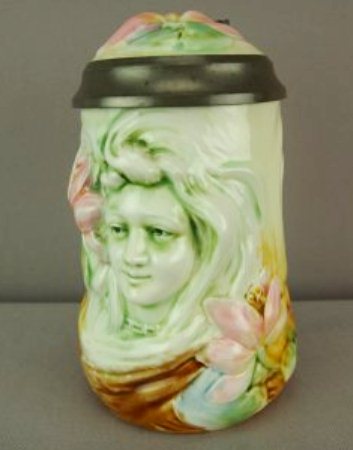 5 liter Majolica semi-character stein. Jungstill. Ca. 1905. Unknown maker.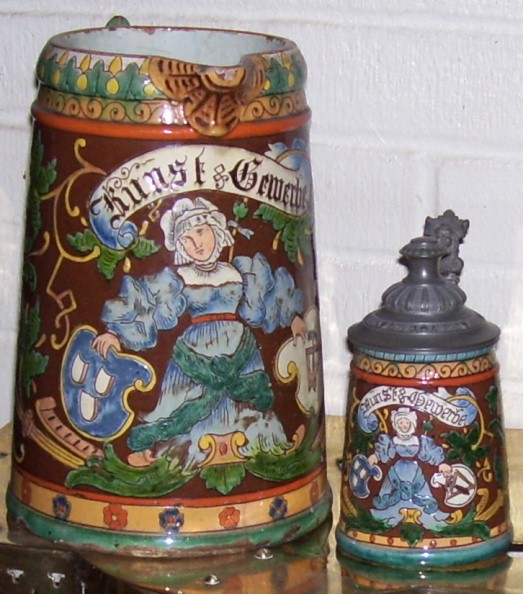 Another one of the most favorite vessels in the "From Which to Drink" collection. This is a large (2.5 to 3 liter) Theater Construction Guild's Server, made out of majolica with great bright colors! The handle is quite substantial. This must have been a favorite amongst these Austrian guilds as there is another slightly different version below. The matching .5 liter "take home guild stein" for one of the members is also shown to the server's right. Both circa 1880. [Both FWTD]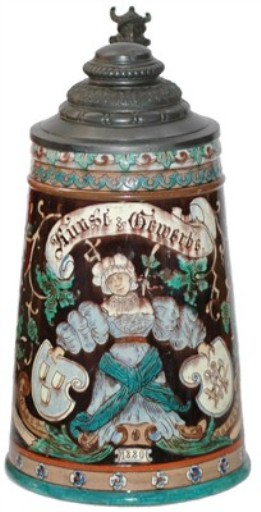 Another version of a different city's Theater Guild's Master Stein showing almost the same design as one above with different colors and a different shield on her left side, which would indicate the construction section of that guild. This one also shows the date of "1880" on the lower front. A lid has been added at a later date ? [RFA]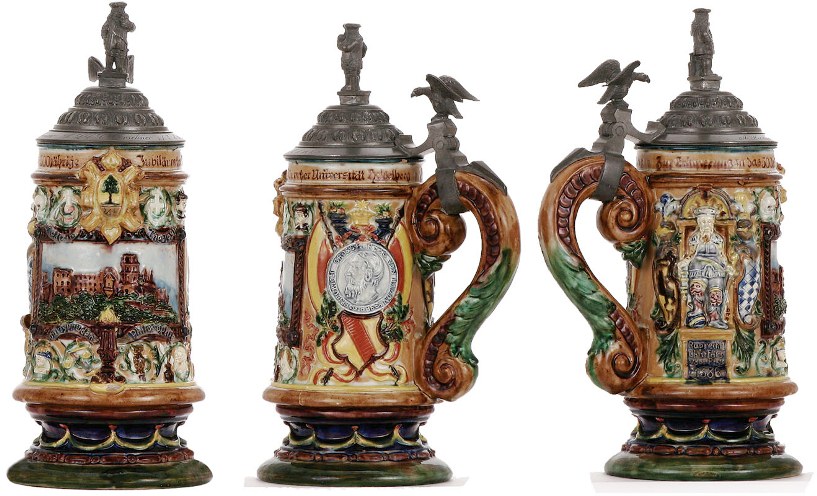 .5L relief, marked 250, University of Heidelberg – 500 Year Jubilee, probably made by the same firm as just ▲. The over-sized handles are very close in style. This is a very nice looking stein I think. [tsaco]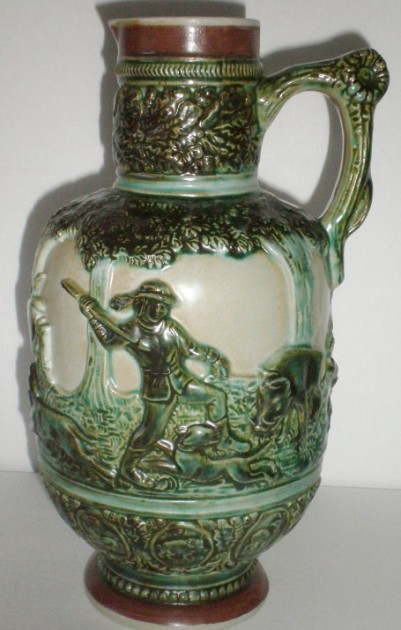 As stated earlier there are lots of Majolica servers to be found out there, and many are un-lidded. This one's detail is not the best.
.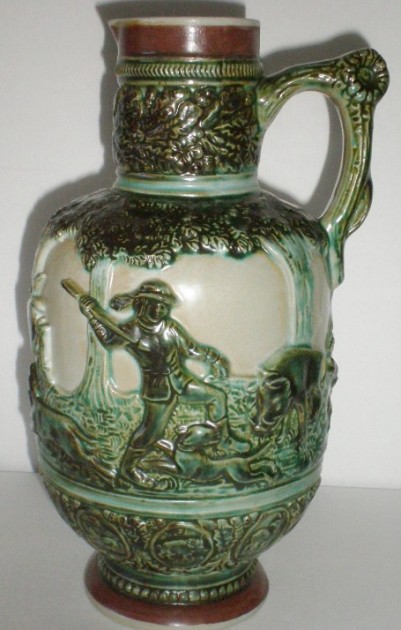 And to make it as cheap as possible the same molded scene of a boar hunt was used on both sides.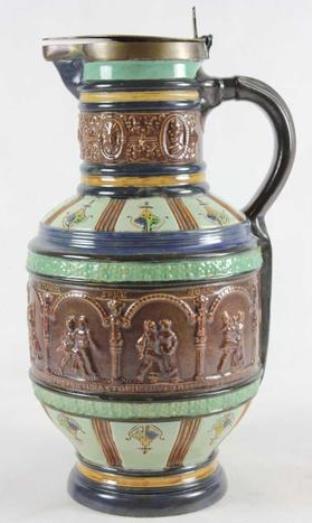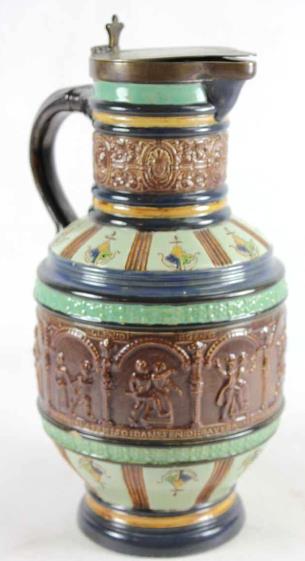 Another silver lidded example showing Beham's dancers (See "B" Compendium). Very much copied since the 1600's.
AUSTRIAN – signed -"DB " underfoot in script. H. 11.75 in. Perhaps the same maker as just above ▲ .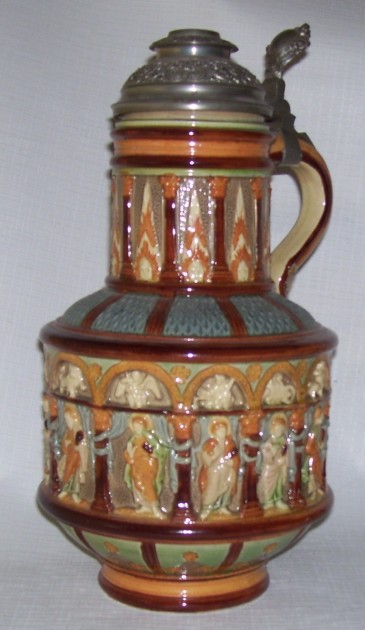 A majolica "Saints" serving stein showing the 12 apostles under the 12 zodiac signs with Thrones (flaming angels) around the neck. A seldom seem server. This is most likely a copy of a 1600's Raeren stoneware piece, but by an unknown maker. [FWTD]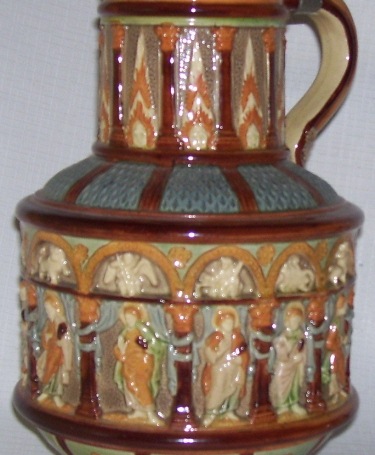 Detail of the center section showing the angels (Thrones), the 12 Zodiac signs, and the 12 Apostles.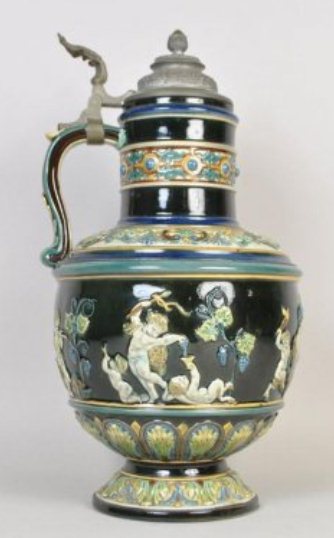 Not the best photo, but this one was probably made by the same firm as shown just above ▲.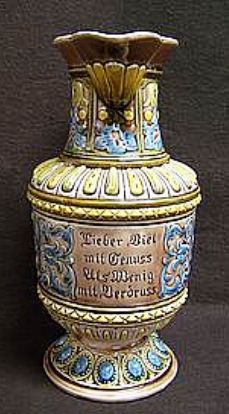 2 liter serving stein with very unusual spout. Unknown maker. [Comps: Historic District Antiques IOWA]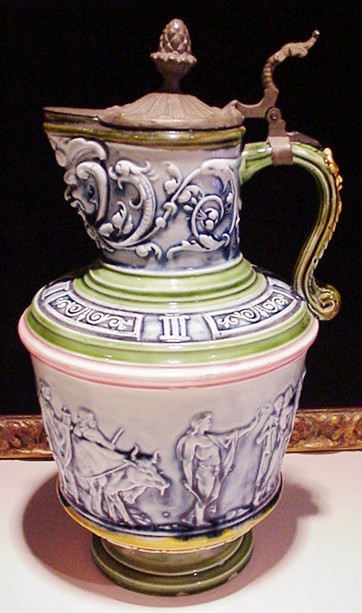 A nice classical motif serving stein; about 2.5 liters.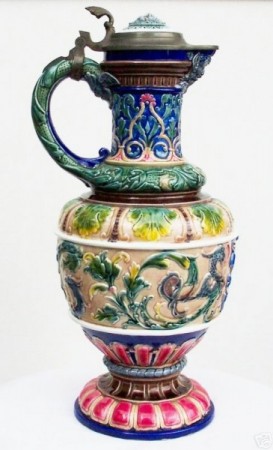 Majolica serving stein. 17.25 inches tall. Most probably Austrian. Circa 1870. This color combination is probably the brightest I have seen.
.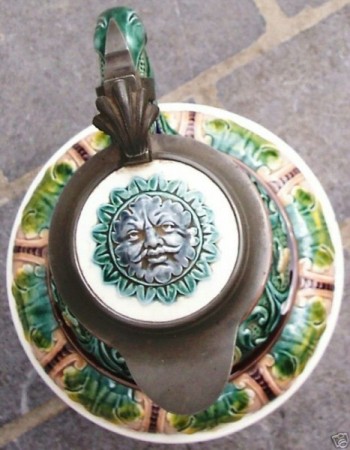 Lid to above server: "The Green Man."
See: http://www.steveonsteins.com/the-green-man-vs-the-wild-man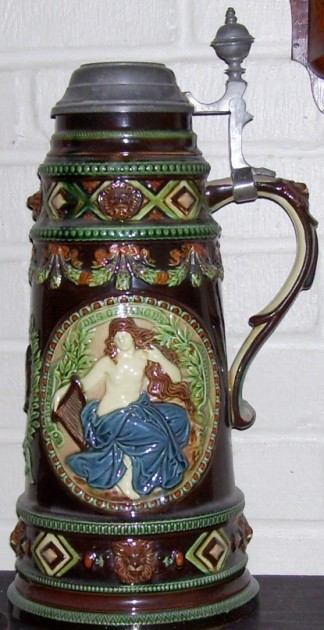 Another very pretty nice classical motif stein. About 3 liters. Austrian. Circa 1880. [FWTD]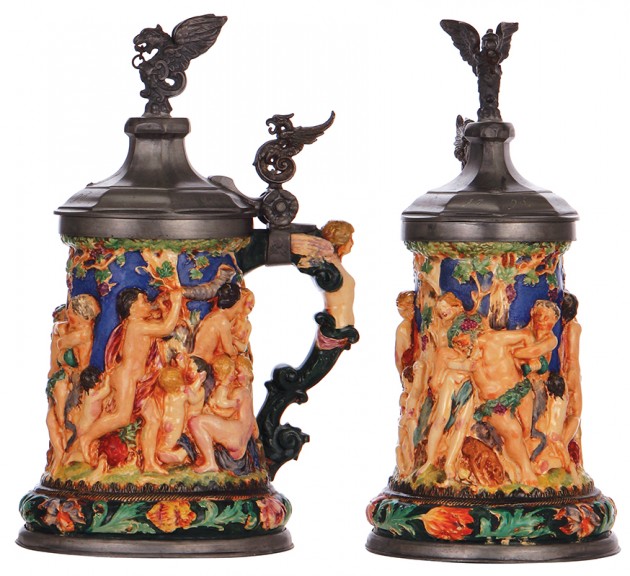 The newest addition to the SM&T majolica collection [1-2015]. 1,5 liter , 13.4 inches tal l A big guy. This one's amin scene was adopted from the Dresden's Green Cault's Ivory Bachhus stein.
For more on the original of ▲ ▲ see: Right now the info is in the article "A few silver tales," however as there is enough info now for a new page SO there will be one forthcoming soon. there will be a new page shortly Check index under "The City of Dresden's Green Vault's Bacchus Ivory stein and its Offshots"
Steve 1- 25-2015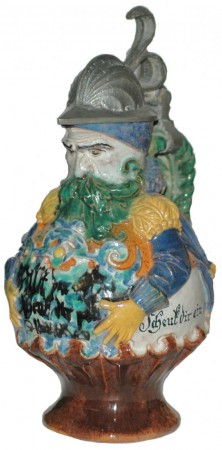 An only .5 liter Majolica character stein of a knight. Ca. 1880.
An example of "English Majolica" and made in England! George Jones was the maker. 11.4 inches, registration mark for 23-12-1871.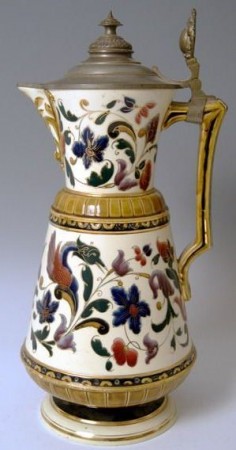 .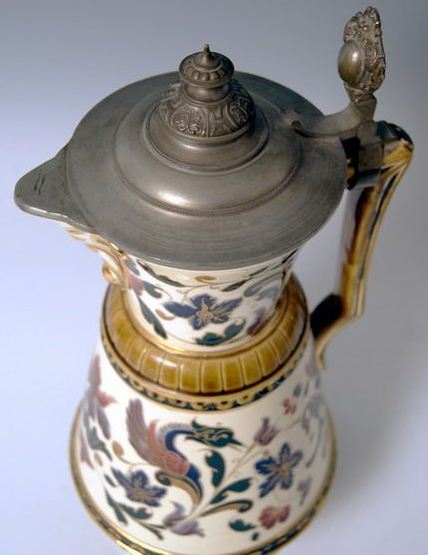 A server by Ditmar. 16.6 Inches.
.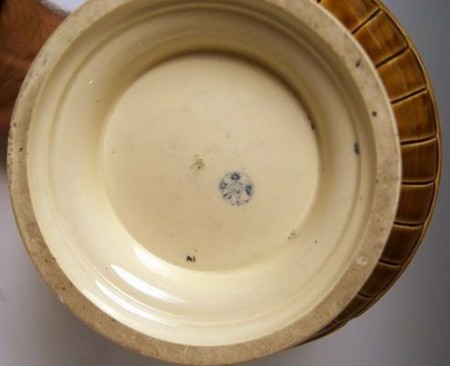 Ditmar's blue-black ink, stamped mark.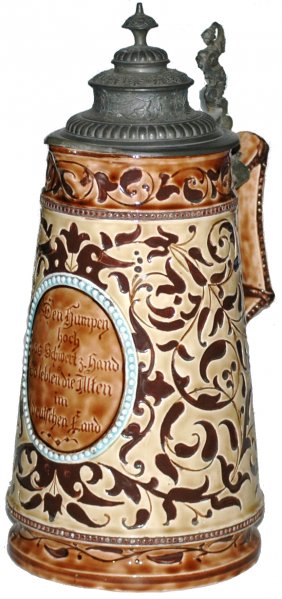 Above: Majolica. 4L A Josef Steidl Stein, Hungary. Circa 1870. As one can see this type of handle arrangement was very popular back then.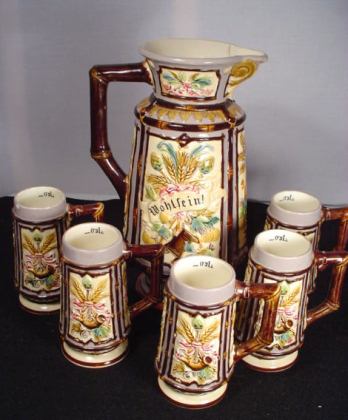 This is a somewhat cheaper Austrian drinking set with a master (lidless) server. Circa 1910.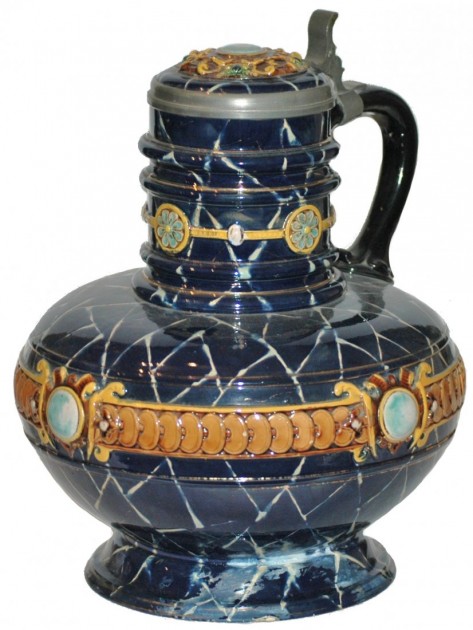 Server, by W. Scheller and Son. 3L. Marble-like design. Matching inlay lid. [RFA ]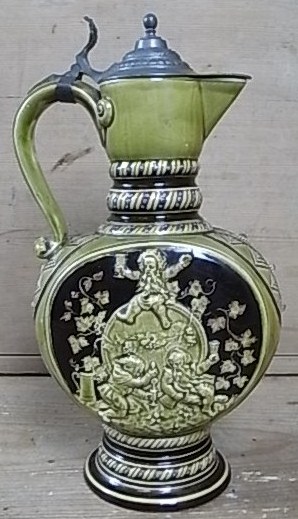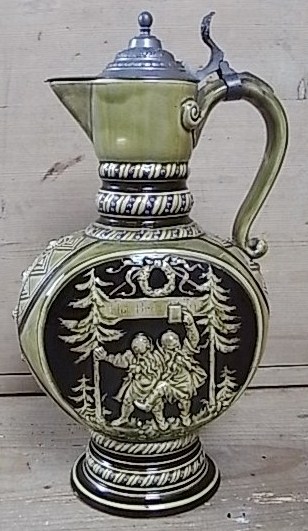 Majolica relief server. Ditmar again as the maker. Circa 1870?, as it has a closed hinge pin.
.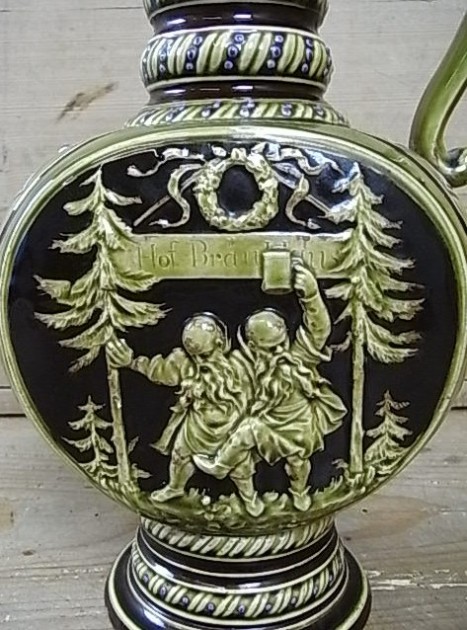 Detail of the alcoholed happy gnomes
.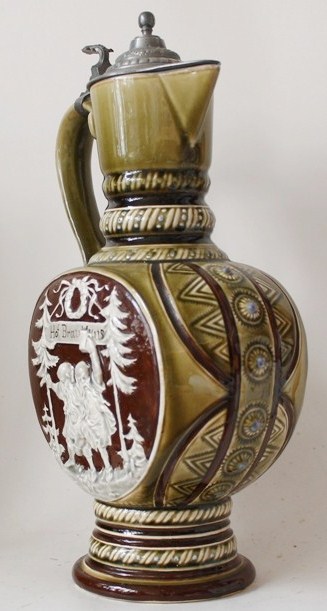 Another color version of above.▲. And the matching .5 liter as part of the set ▼.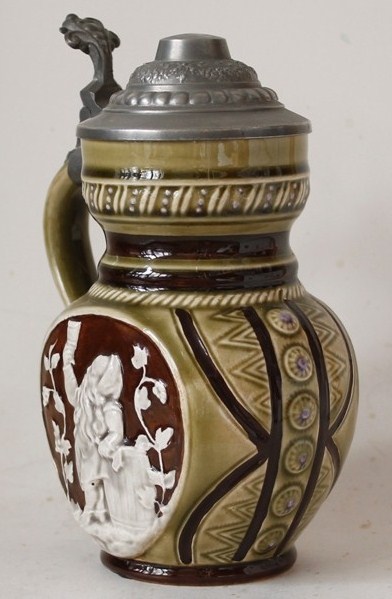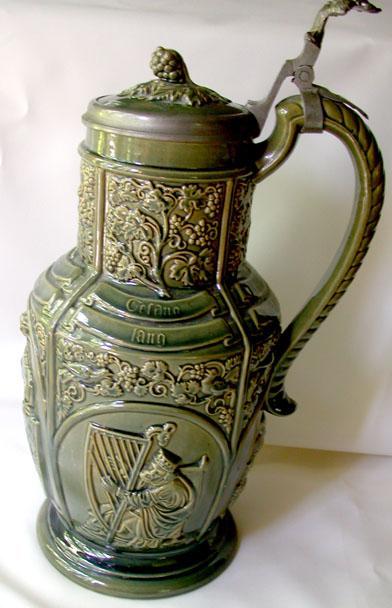 Majolica type server – This design is based on V & B Mettlach's Mold No 6; See the comparable pieces below▼No info on the marks but it appears to be an exact copy, if not a real No. 6. More research is need on this one variant.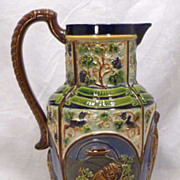 Majolica type server – This design is also based on V & B Mettlach's Mold No 6; Unknown maker but a very pretty color arrangement.
For much more info on this and the other No. 6 styles / copies serving steins please see:
http://www.steveonsteins.com/the-v-b-mettlach-no-6-think-you-have-seen-them-all-new-5-15-13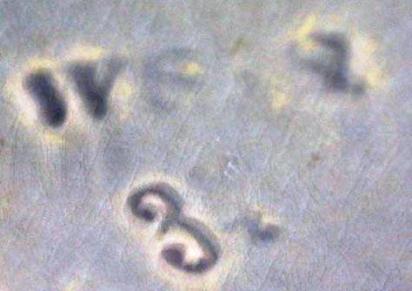 .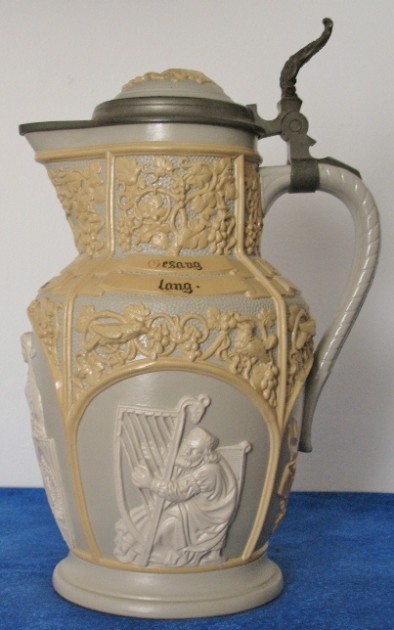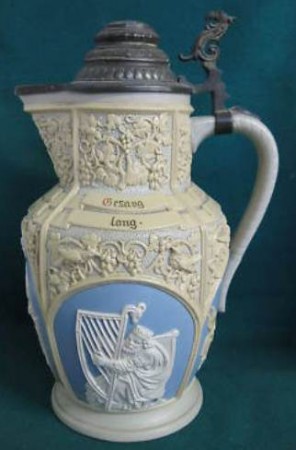 Two different versions of V & B Mettlach No. 6. A really popular design it seems as I think I have seen at least 10 versions within my short collecting life span.
See the new page on V & B Mettlach No. 6: http://www.steveonsteins.com/the-v-b-mettlach-no-6-think-you-have-seen-them-all-new-5-15-13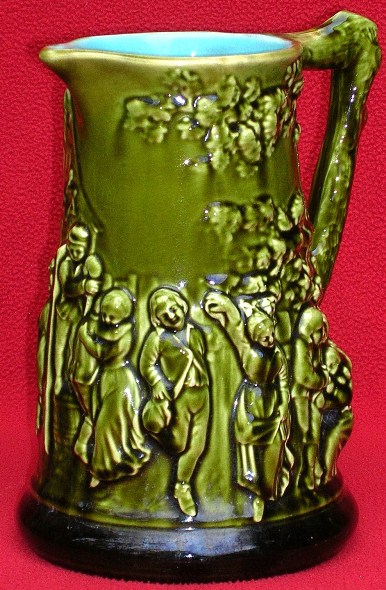 Sarreguemines (A town, both French and German depending on the years) majolica server. Ca. 1900.
For more photos, please see "Sarreguemines" in this sites Compendium.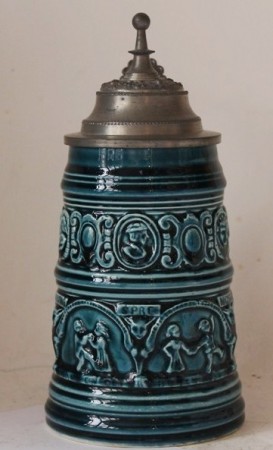 Also Sarreguemines, Majolica type surface. Ca.1870's. Much nicer lid than body. (eBay's Beer-stein)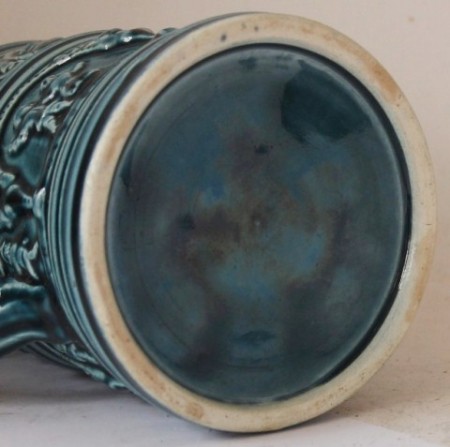 Detail of applied base and body color.
One liter, Majolica glazed "Bierkrug zur Universität Würzburg, 1881."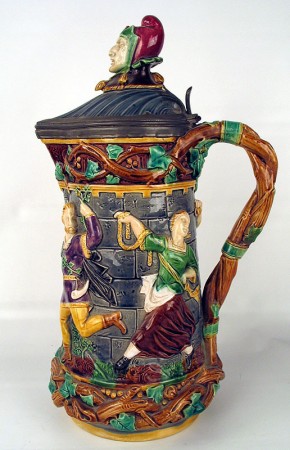 Minton pottery server England. – Shown: A Minton relief 13.5 inch majolica server; usually expensive when found.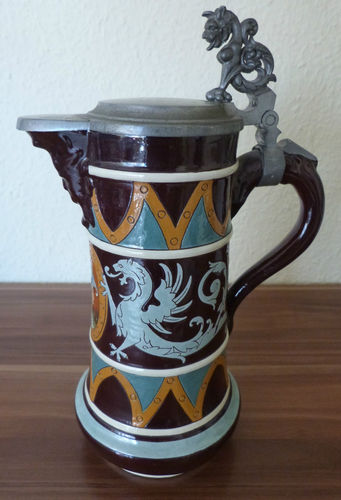 Majolika – Winterthur (Swiss), 19.Jahrhundert, tool engraved design (Ritztechnik.)
SOME AUSTRIAN [?] MADE MAJOLICA WALL PLAQUES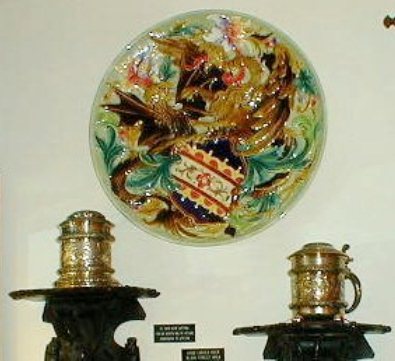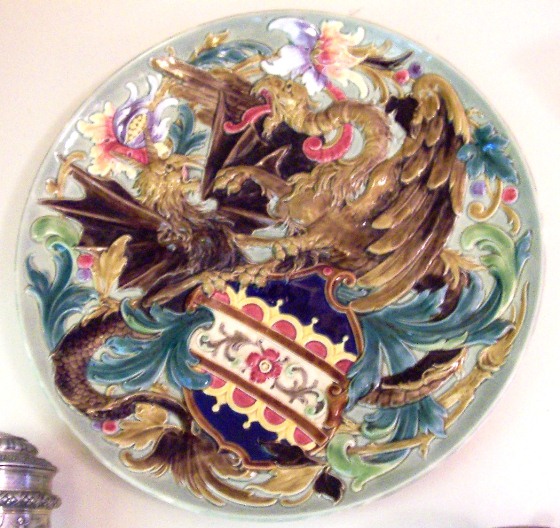 A 16 inch wide majolica wall plaque showing a European dragon fighting with the Chinese dragon. Hard to find. [FWTD]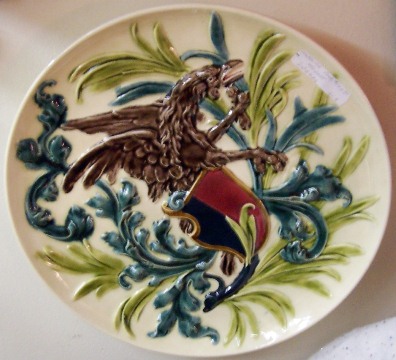 A nine inch majolica wall plate showing a modernistic eagle and the Wurttemberg shield with its colors. [FWTD]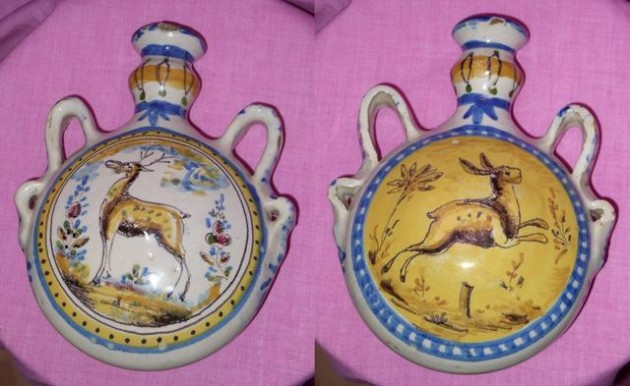 A pair of hand painted Italian Majolica "Pilgrim's Flasks. Most likely Ca.1930-1960.
HAFNERWARE / HABNERWARE EXAMPLES
Hafnerware / Habnerware beer steins; older pottery (1500 – 1600's) which had a lead glaze applied to the outside making the pieces very shiny in appearance. Decorative arts of the Renaissance and derivatives, modeled, lead-glazed earthenware often used for tiled heating stoves. Made in the 1500-1600's time period, it predates *newer" fayence which uses a tin glaze.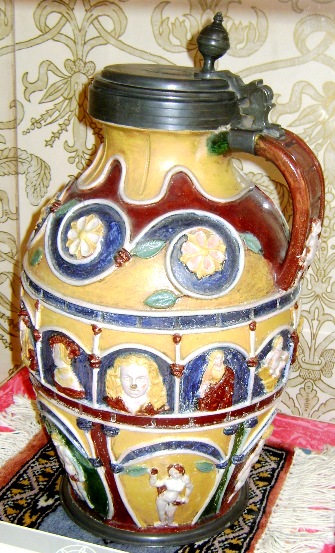 Shown above: A 16th century, 7 liter jug, from Nurnberg.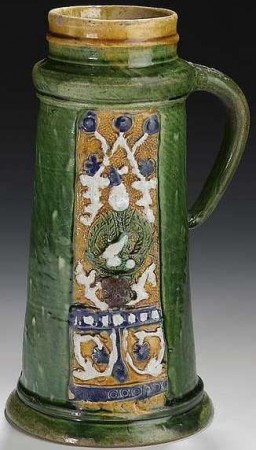 A Hafnerware mug made in Austria, second half of the 16th century.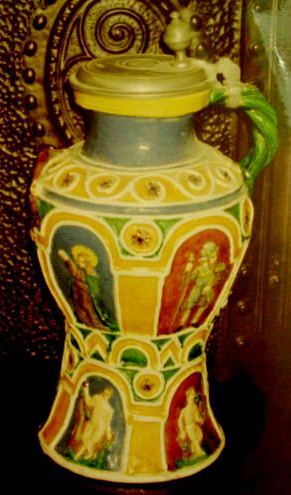 A "historismus " version of large stein in Habnerware ▲ ▼. 18 inches tall – sold for over $2k in Germany 2011.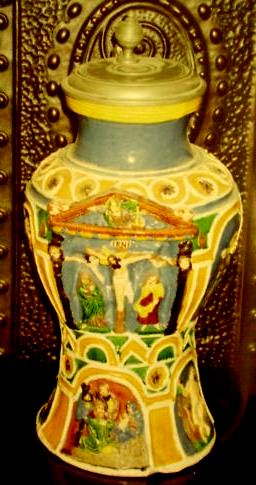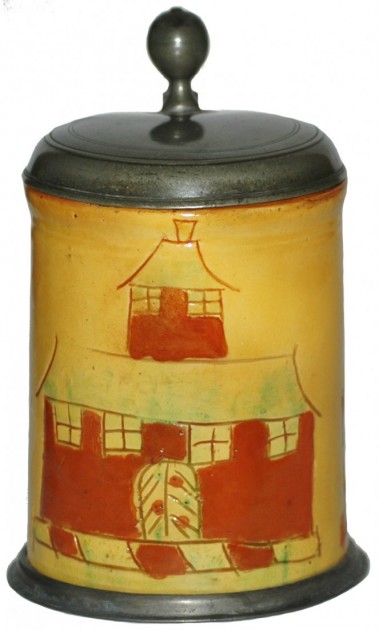 Called Hafnerware, .5 liter. North German. Scratch folk art house design. Circa 1740. [Bob Alutin collection / RFA ]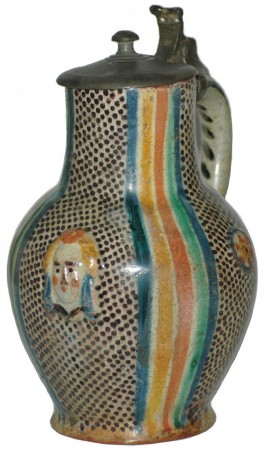 Called Hafnerware, .5L.-Winterthur (Swiss.) Added molded relief face with dot-and-line design on body. Circa-1600. [Bob Alutin collection / RFA]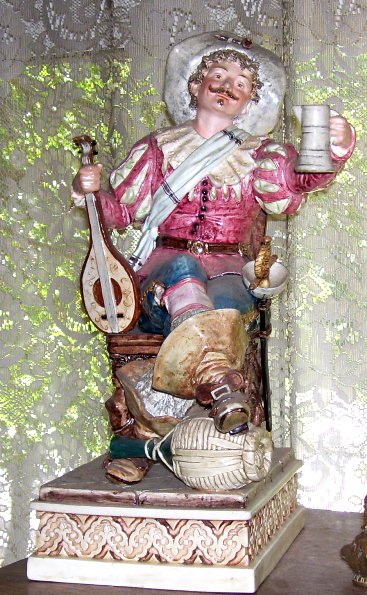 .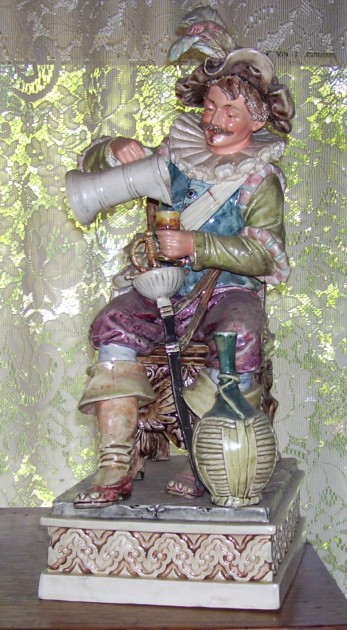 And we will leave this page with the same as we came in. A large pair of majolica statues dedicated to the art of drinking, this time it is wine! [FWTD]
[END – SOK – 76 – 5R]

"Why doesn't glue stick to the inside of the bottle?"